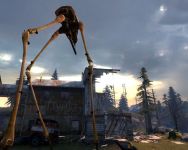 Valve have released a beta update to the Source SDK, including:
Half-Life 2: Episode Two game source code.
Removal of the need to use command-line parameters to access the Episode One-era tools or the new studiomdl and vmex.
Hammer 3D Lighting Preview (including 3D ray-traced).
scenes.image compiler for choreography creators.
Various bug fixes.
To access it, add -beta srcsdk0122 to the shortcut you use to launch Steam.
The new code supports Visual Studio 2008, once you work past the beta glitches, including the free Visual C++ Express.