Want to make your game immersive? Then good audio is key! You don't want to let it sound like a squeaking clowns shoe of you wack a guy with your 7 feet long double-handed sword. Creating the sounds of Cross of the Dutchman is in the hands of our composer and audio designer Stefan Kuizenga. Stefan, who taught himself how to make music, studied Communication & Multimedia Design in Leeuwarden and joined Triangle Studios while he was graduating. He is not only responsible for the sound of the game, he also one of our designers. A real jack-of-all-trades, but for this article we'll just talk about the music and sounds.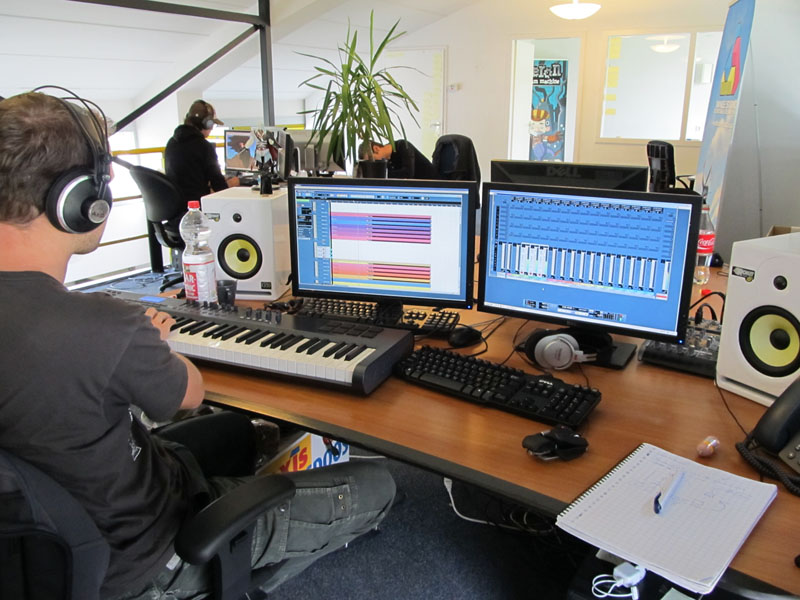 You probably already heard some of the work Stefan has done for the game. For instance, he composed the music of our first teaser trailer and later the gameplay trailer. To match the music with the vibe of the game, Stefan chooses to use bombastic elements and themes. After all, there will be quite some fighting! Most of his inspiration comes from some of the great classical composers like Richard Wagner and John Williams. Some technical info for those who like that sort of thing: Stefan uses KRK Systems Rokit 6SE Studio monitors for listening, an M-Audio Axiom 61 USB Midi controller to put his ideas inside a computer, Steinberg Cubase to put it all together and Roland RH-200S and AKG K271 Studio headphones to keep the rest of us from going insane.
No audio-article is complete without some… Audio! Today Stefan finished the first version of the menu theme of the upcoming demo. It sounds to good to keep from you, so here's a small teaser, enjoy!