Hi, guys! :) How have you been? Things have been busy here, over at NoBreadStudio! We promised to keep you updated on the development of SoulSet on a monthly basis, so here's our first status report.

Nayru will be taking it from here! o7

1. Writing:
During the first couple of days, I gathered all of the scattered and randomly written-down dialogues and ideas that kept growing ever since we started working on the demo of the game and finally managed to produce a complete and comprehensible "flow chart" out of them. Sadly, I can't show you the board, because it's screaming with spoilers, but I had a lot of fun putting all of the character routes together and already can't wait for the moment when players will be able to explore them. :)

Now, let's talk numbers. I thought long and hard about how I should share my writing progress with you while spoiling as little as I can, and I came up with this: I'll be transparent about the "bad" character routes, while keeping the "true" character routes secret. Once all "bad" character routes hit their 100%, I will keep you updated on the overall script progress of the game.

The demo of SoulSet had around 10k words, with all its variations, leaving us with 60-90 minutes of playtime. It's following the demo that either of the character routes start, so I will be leaving the demo out of the equation.

Almost each character route has some repeatable plot-related scenes at the beginning, counting at around 7k words. Since some dialogues in those sometimes vary because of different character pair-ups, I'm still going to consider them as part of every route. Beside that, everything works as a completely separate chapter to explore.

The "ready to code" script progress so far:
- Marco's Bad Route and its variations: 90% done, at 15k words.
- Yvonne's Bad Route and its variations: 30% done, at 8k words.

2. Art:
Mori's been continuing work on the backgrounds, and while we won't be showing all of them to leave some surprises for the actual release, here's one showing a location in the game we figured we might as well spoil. ;)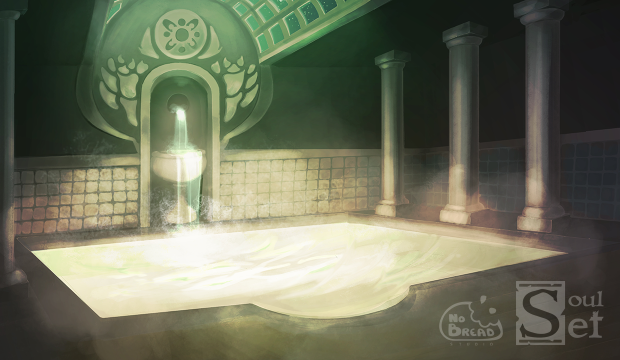 You probably know what that means... Because, yes - beside the script - I've been also working on a second set of sprites for the characters, just for this location. 8D

And while we're on the topic of character sprites...

3. Stretch Goal Announcement!
Let's face facts - hitting our stretch goals won't be happening. As it turns out, SoulSet is very likely to have more than 5 major plot routes at this point (shhh, you know nothing), so our first stretch goal is also a little out-dated by now, anyway.

But, you know, this game is something I am very passionate about, and I was looking forward to drawing those pajama sprites, no matter how little time I have for everything else. So, I am crazy and I am offering an alternative.

We can help each other out. With SoulSet being our first project, we could definitely use more attention and exposure. I learned from the girls from Cotton Candy Cyanide (best regards, MoltenCherry!) that finding an active fanbase for your game can be really encouraging and interacting with people can be lots of fun, so I decided I want to take this one leap of faith and go for it...

From this moment on, till the night between the 13th and 14th of Apris (with the 13th being my birthday, and the 14th being MstMori's birthday; crazy coincidences, I know), if we manage to get just 100 #SoulSet hashtag posts on Twitter, I will draw those pajama party sprites for the final version of the game.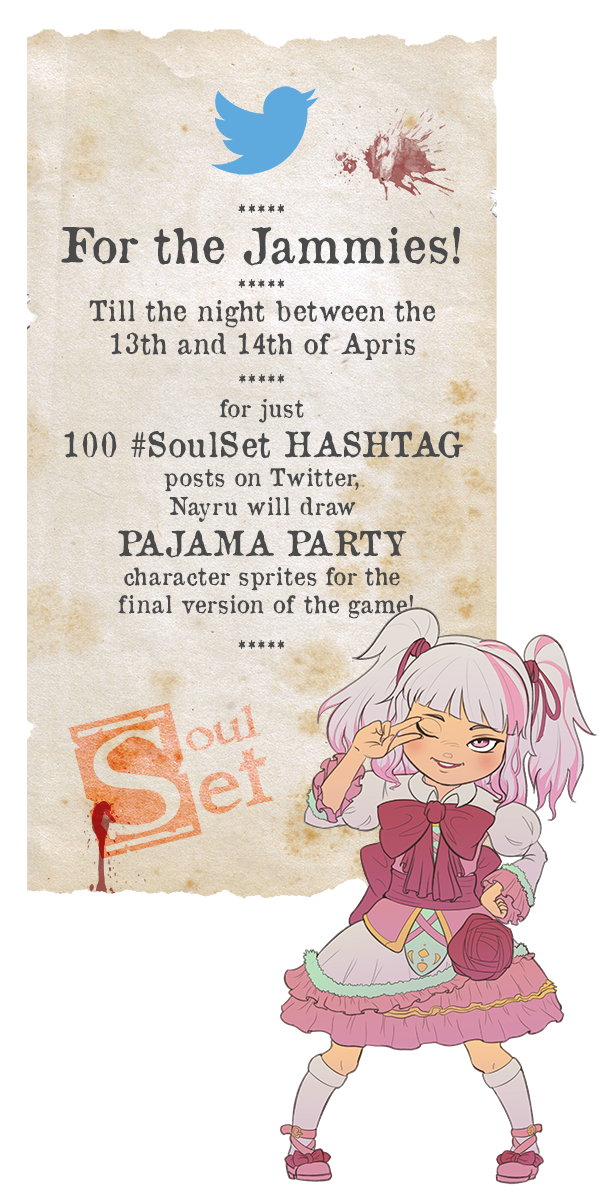 You can write your own posts or simply reblog some of mine or NoBreadStudio's. ("It don't matter. None of this matters.") You can find me here:Twitter.com

DO IT FOR THE JAMMIES!! (Because SoulSet got featured on YuriNation!)
Yurination.wordpress.com

4. Fanart Showcase!
As a reminder, the fanart contest is still on-going and we encourage everyone to take part and/or spread the word about it! Receiving any kind of fanwork makes us really happy and always works as a great boost in motivation! :)

Enjoy our fanart showcase (because we sure did!)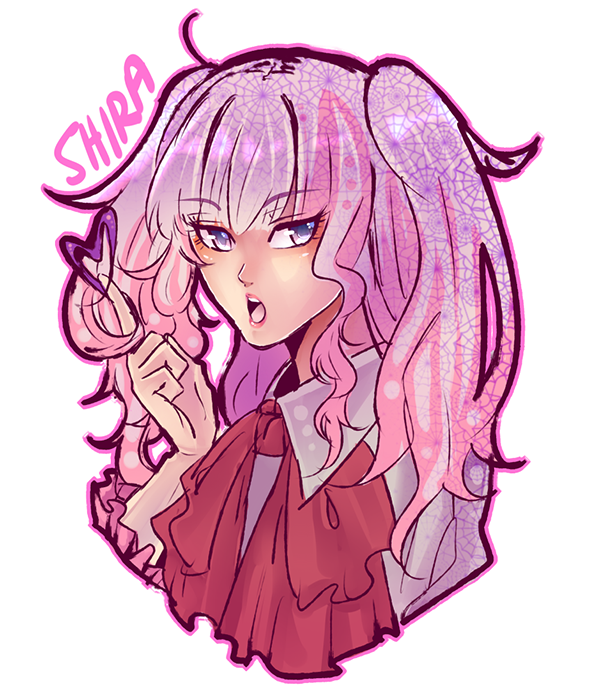 - Shira by ofdawnandtwilight
Lemmasoft.renai.us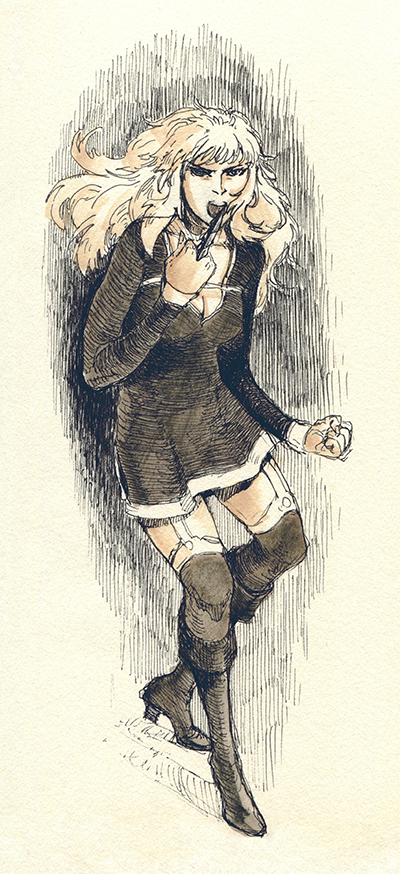 - Mariko by Marcianek
Marcianek.tumblr.com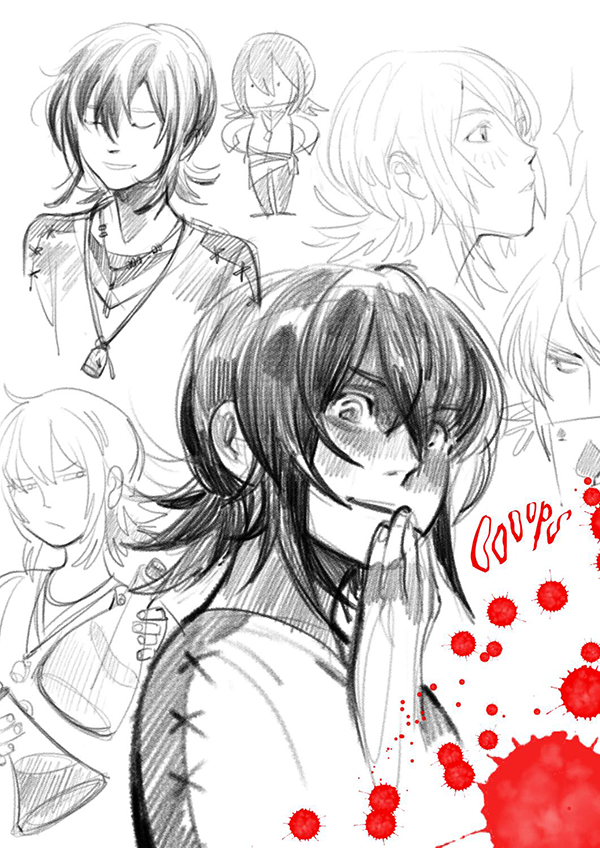 - Marco by Fari
Scherwil.tumblr.com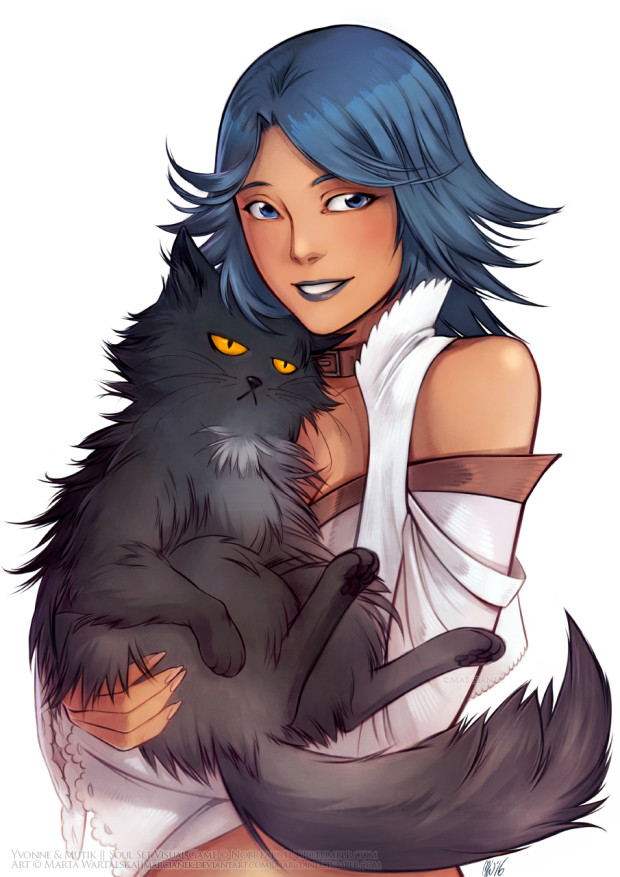 - Yvonne by Marcianek
Marcianek.tumblr.com<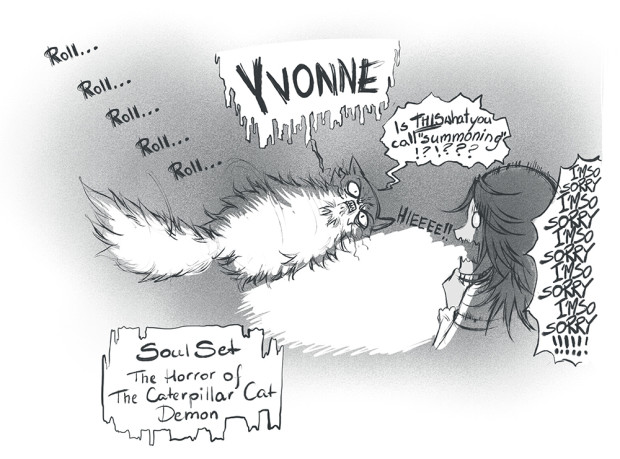 - Mutik & Yvonne by Marcianek
Marcianek.tumblr.com<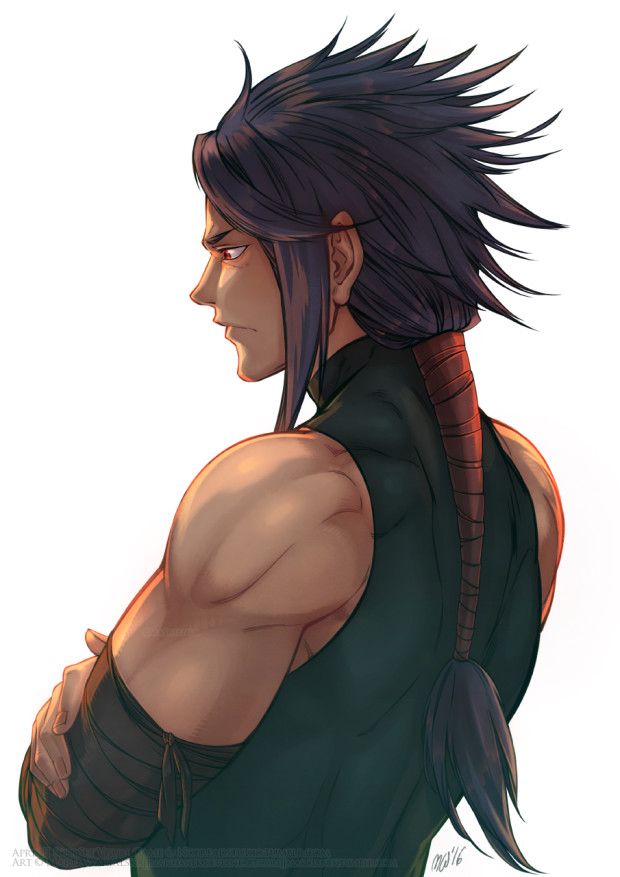 - Apris by Marcianek
Marcianek.tumblr.com<

It's always great to receive those! The support of other people encourages us to work harder! We're super grateful for every single entry!

See you around and till next month!
- Nayru