So it's been a while between updates. This is for a few reasons:
1) I've actually been REALLY busy coding
2) Life has been getting in the way
3) Coincidentally, every single member of the team who is working on something at the moment has had something important going on in their lives
4) I have been getting a few people turning off updates because they were so frequent, so I thought I'd space them out so you have fewer, but bigger, updates
So hopefully you can forgive all of the above. But progress HAS been being made! First of all, from the coding department, we're making some serious progress in the overworld. A lot of the movement handling is now totally finished, and we only have to get a couple more things working before it can be locked into Beta status (dungeons are locked in, countryside is about 80% locked in and towns about 60% locked in) so that's really cool to see.
In other back-end news, we asked the public (via Facebook and Twitter) to tell us their thoughts on the following question:
"When starting a new game, should you start in a random location or always start in the same place so that you can easily find the places that your friends find?"
When you first read it, most people very quickly fire off an answer one way or the other, but if you really sit and think about it for a second, it's actually quite a deep question and can totally change the way the game is presented. It's a big deal, basically, so we opened it up to the public to see what they think. The answers we got were really quite good. Some were short and to the point:
"Random"
"Fixed"
"Random sux. Go with fixed."
"Fixed sux. Random FTW"
Others were quite well explained and justified, and there were some really good arguments for both ways. In the end, we settled on a fixed starting point at the bottom of a relatively easy dungeon. However, when you reach the surface, you will straight away meet a member of the Blade Clergy (a recurring character from the game) who will give you the choice of staying right here, or being teleported off into the wilderness somewhere. That way, you have the choice of what you'd like to do. So that's that sorted out.
Speaking of the Blade Clergy, some of our lead voice actors have been hard at work. In the game, all of the NPCs are procedurally generated, but some of them are always the same. Those ones are the Town Guards and the Blade Clergy, and you can hear what they sound like here:
The Town Guards are some of my favourite characters in the whole game. Every town has them around, and they're well paid, but the thing is, the player is always going around killing every monster and completing every quest, so they never have anything to do. All they do is stand around in the sun wearing full plate armour, and it makes them always be bored and grumpy. This is reflected in their voice. The actors voicing them are Samuel Drake (who you can hear in the video) myself and David Doyle (who you'll hear more of as time goes by).
Secondly, there are the Blade Clergy. These guys are the hooded, mysterious caretakers of The Sword of Ahkranox. A kind of priesthood. They hear the whispers of The Sword as it slumbers and they channel its magic to their own ends. They know everything, but they don't give out information easily. They recognise you as The Chosen One but they always speak in riddles. Who knows if they're working for good, for evil or both? You'll have to find out. They are very cool characters and they come in male and female varieties, which you can hear in the video above. The three voice actors for the Blade Clergy are Samuel Drake and myself for the male versions, and the delightfully lovely Karen Kahler as the female.
So, on to the art department. Much more work has been done on the character sketches of the people who are appearing in the game (as a reward for the KickStarter pledges), but Rachel has been a bit busy lately so I haven't managed to get those pics off her yet, but that'll be in the next update. Apparently there's a few of them! She DID, however, send me the new concept art for the Gryphon. Gryphons in Malevolence are a form of civilian transport between cities: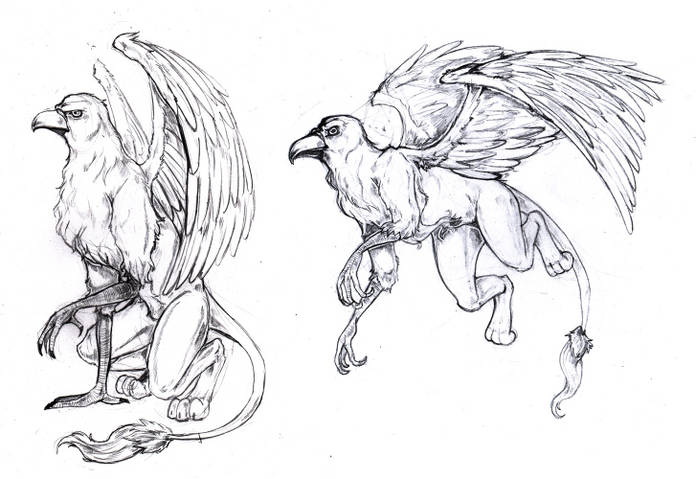 Looks awesome, hey? We have another new 3D guy on board who is doing select character models. His name is Ian Atherton and his work is spectacular. We'll have previews of that for you soon.
We've also started work on the poster art for the KickStarter rewards. We have expert abstract artist Beth Sparks working on those, and they look incredible. We'll save the FULL poster pictures as a surprise, but here's a preview of the first one: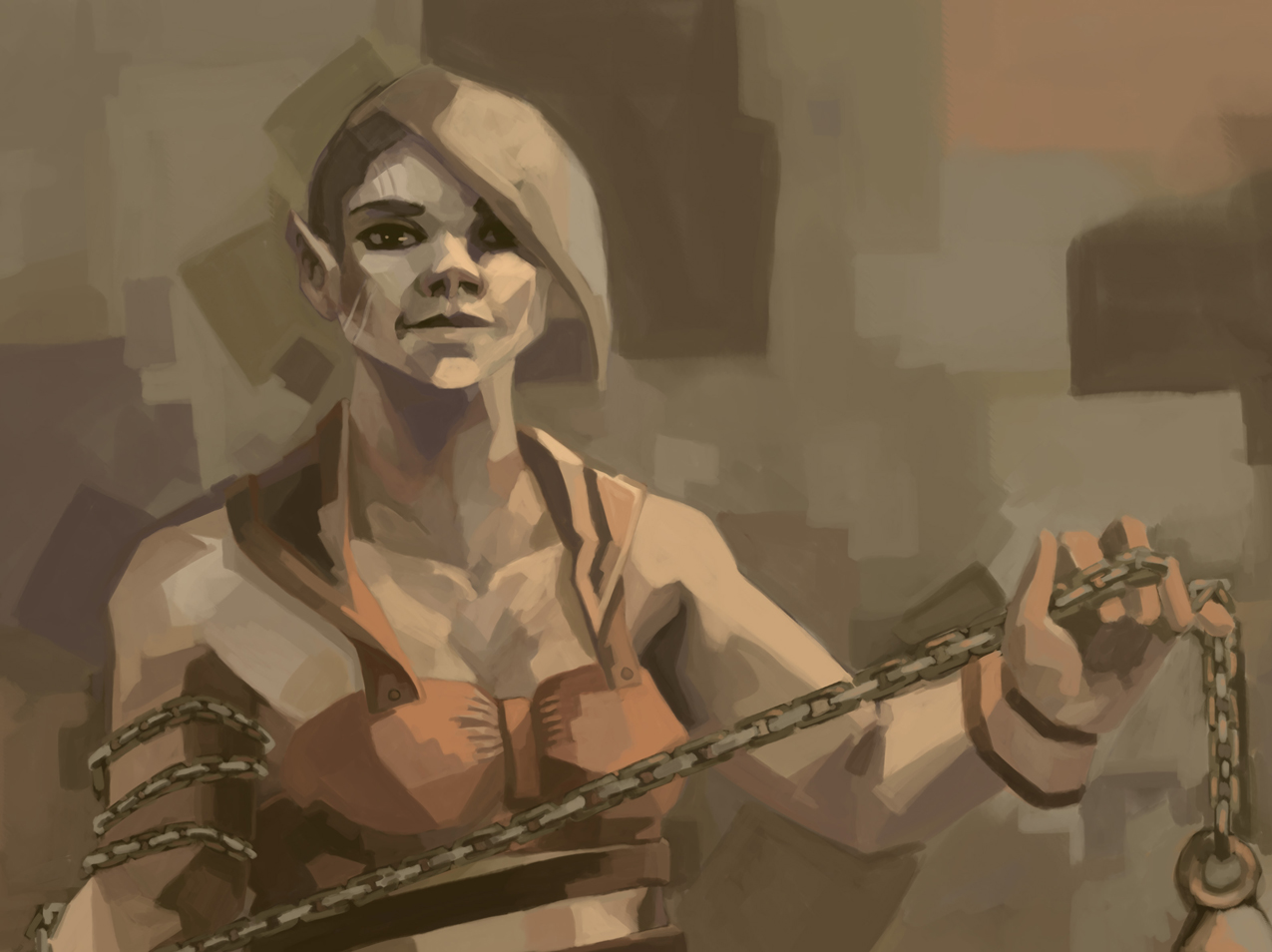 Her work is incredible, and the art style is just breathtaking when you see it full size, so that's something we're really excited about.
And finally, one of our 3D guys, Greg, has been hard at work on the torture chamber model pack and has nearly finished the models! (still no textures, but they'll come afterwards)
Here are some shots of the models so far: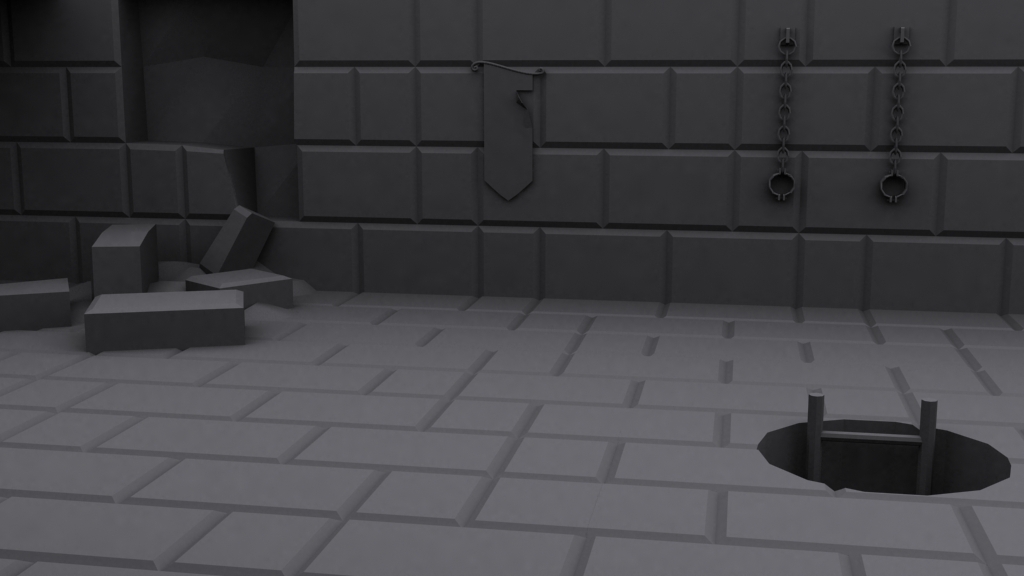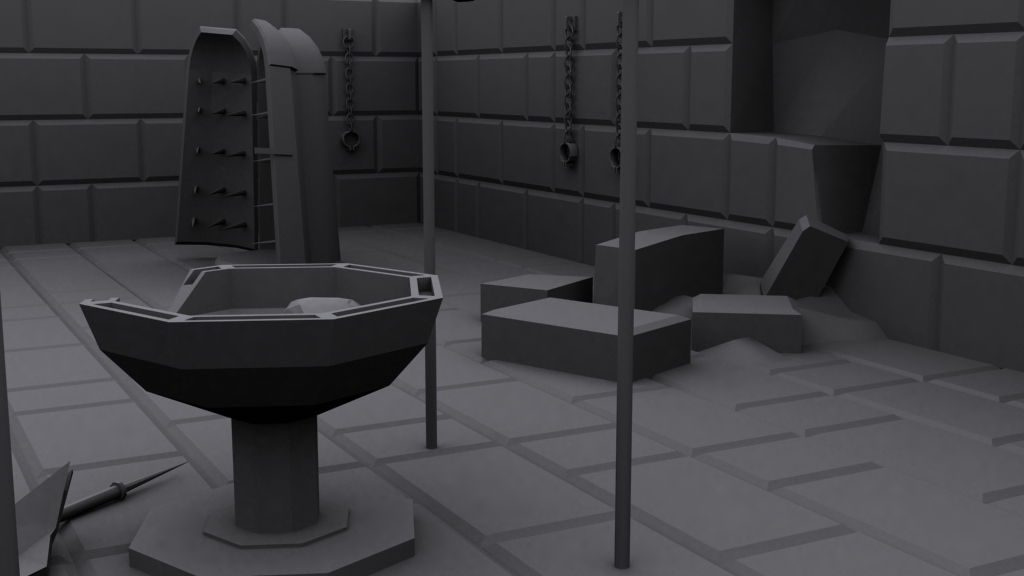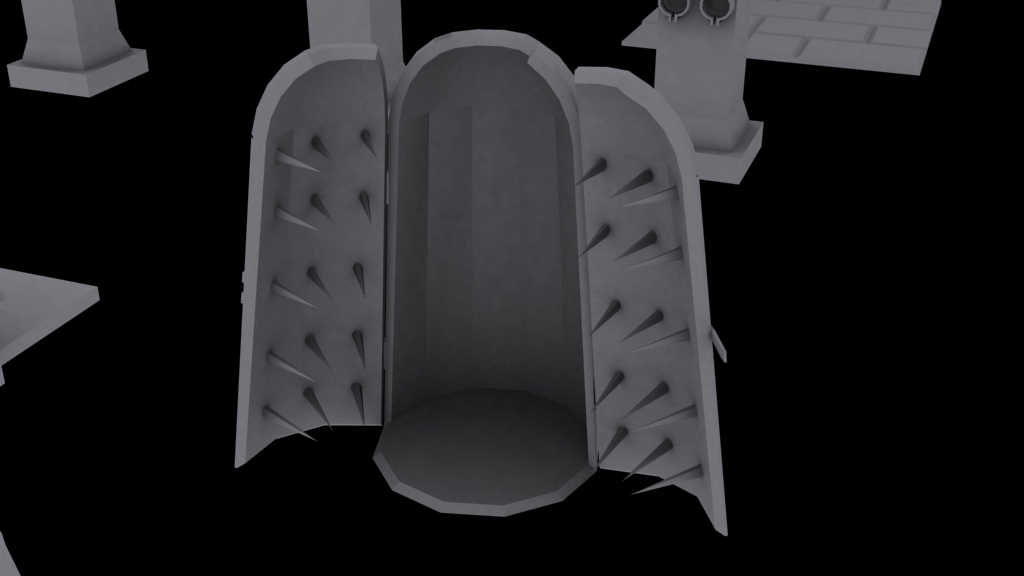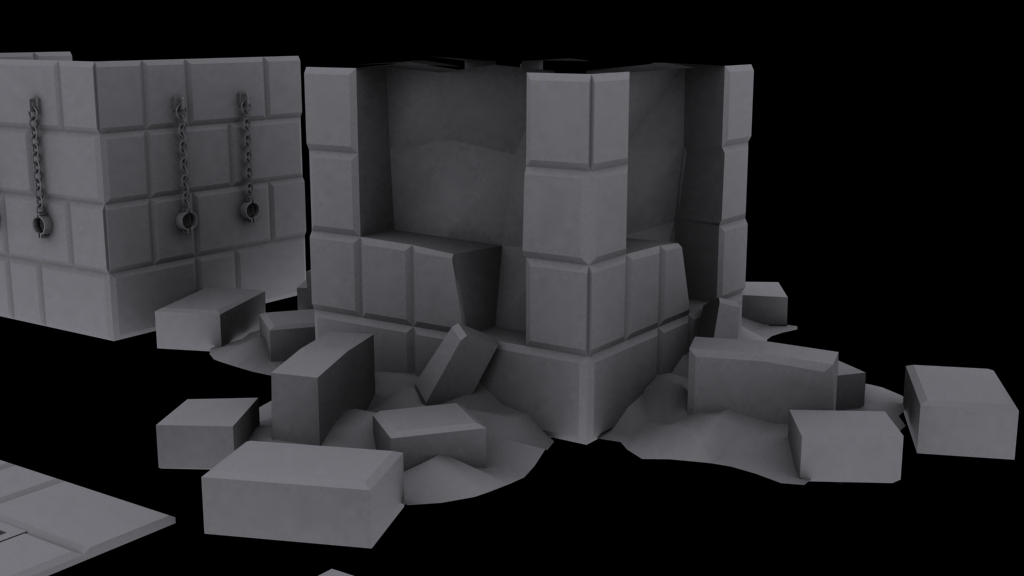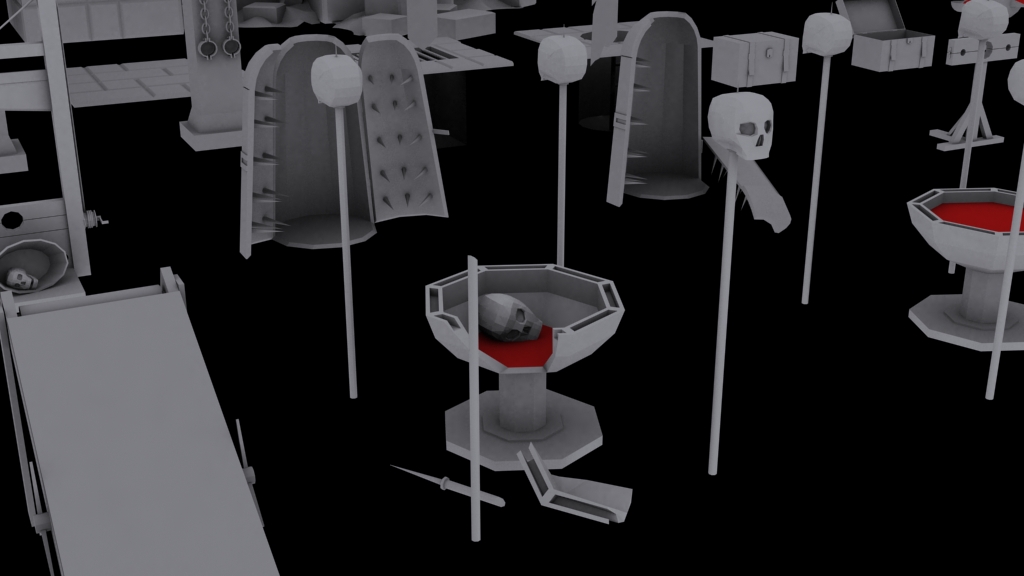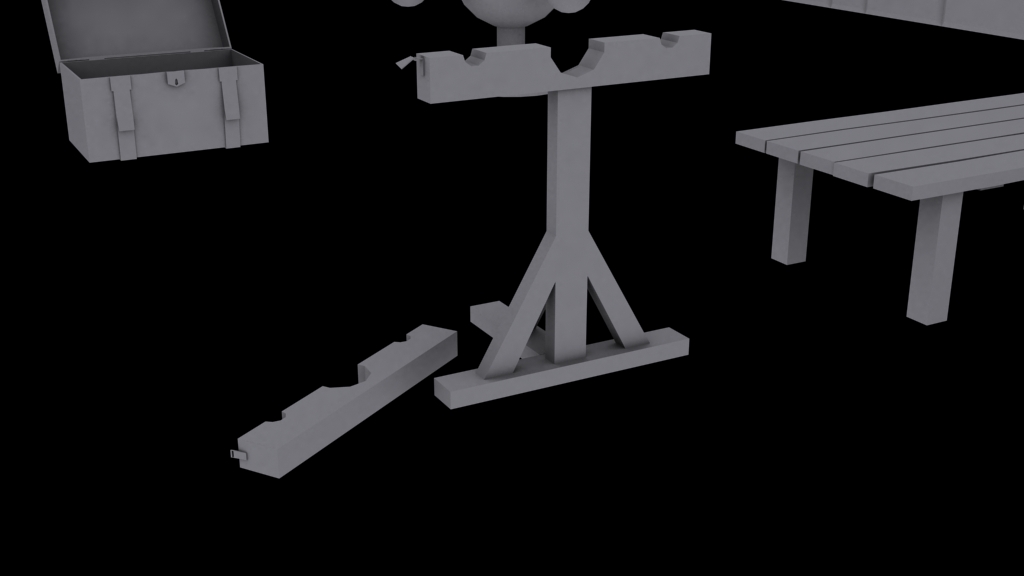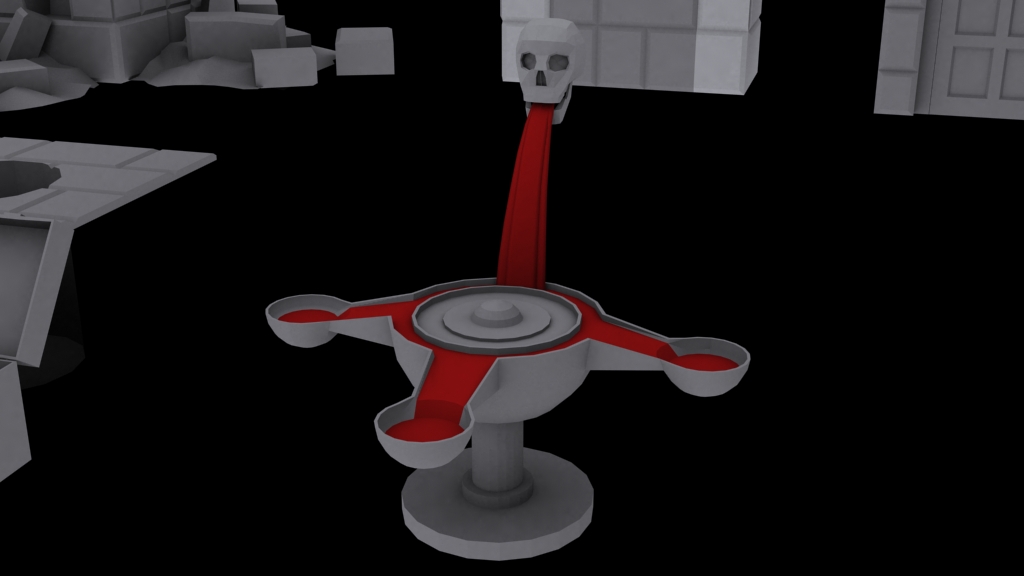 So they're looking sexy as hell!
But anyway, that's all I've got to show you for now, but the next update will be filled with more awesomeness. Stay tuned, and keep on being awesome, guys! The wonderful comments you've been leaving have been really really great :D
And, if you don't already, remember to follow us everywhere you can, and share the links around!