This Friday Something's Brewing is a feast for the eyes. The Refectory is complete, animations on the Cook *and* the Monks using the facility are already under way, and we decided to experiment with some aesthetic changes to the Monastery. Also, catch Yannis ramble about wild yeast again...
On we go!


-- Refectory Complete!
The Refectory room is now fully built and ready to be part of the Monastery! Kick your feet up, and celebrate with the rest of the gang!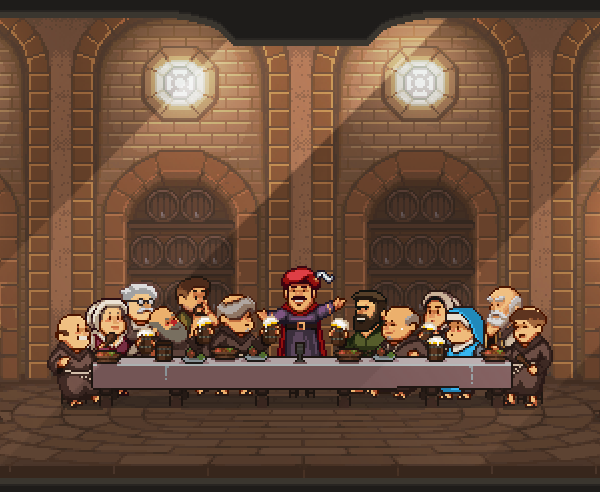 Some minor work will still need to be done in deciding gameplay mechanics (how many Monks can use the facilities, even on a per table basis) to introduce a good amount of managerial choices from the player's perspective and to avoid crowding the scene unnecessarily!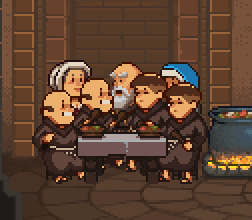 -- Populating the Refectory
Just like with every other room in Ale Abbey, the Refectory has a singular purpose and the characters using it will have certain activities found nowhere else in the Monastery.
Moving forward, we worked on populating the Refectory with the Abbey's residents. First things first, we quickly decided on the props that would need to be present in the room, and then moved on to the animations both for the Cook and the Monks taking a break from their everyday chores.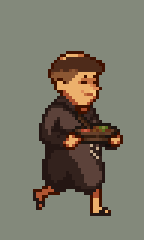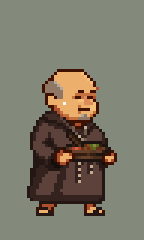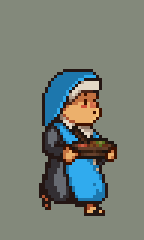 Although we already have some animations with the Monks/Nuns "testing" their ale, this is the first time we introduce food and the first time someone serving the treats.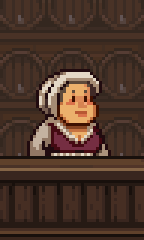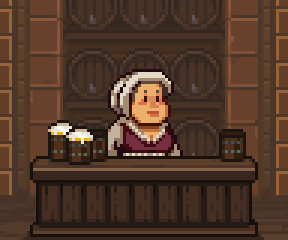 -- Aesthetic changes to the Monastery
With all the technical work around the Monastery and its rooms these past weeks, we noticed that some aesthetic changes were also necessary.
Although some preliminary work on lighting has taken place, we decided to introduce some extra lighting and refractions, coming from rose windows, stained glass, and windows found around the Monastery.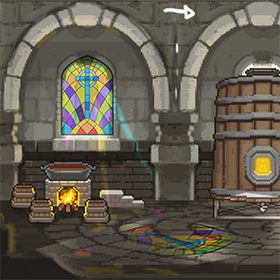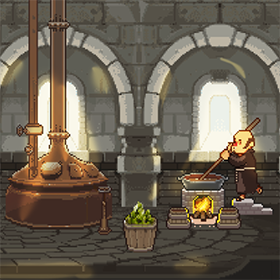 We are also testing a few colors and textures to adorn the dividers that separate rooms and the outer walls of the Monastery to give the entire building a more realistic feel and avoid making it look like a brutalist experiment gone wrong - too tedious and claustrophobic!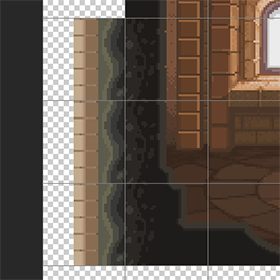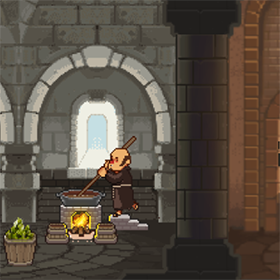 Clearly, both ideas presented above are at a very early stage (almost concepts), but we do feel very excited about where they can take us.


-- Using a sourdough starter as yeast for brewing
This is a question that came to Yannis' mind as he is preparing a sourdough starter for pizza dough. Short answer, "yes". Long answer, "yes, but you need to get your brewing game started with something more controllable."
In a previous post, we did briefly mention what members of the team believed about wild yeast beer (predominantly lambics). With the main component being a yeast strain you have almost no idea about, using a sourdough starter to produce a beer would pretty much put you in the same territory of randomness and experimentation.
Of course, even the "randomness" of a wild yeast beer is countered by years and years of experience from the side of the brewer (and familiarity with the specific strain). It's still wild, but the brewer knows how to "tame" it and use its quirky profile to reach an enjoyable result.
Identifying off-flavors, funky odors, undrinkable outcomes, and where they derive from only comes through experience in brewing. This being the case, it would be best if your first brews came from yeasts that are standardized; produce distinct results and have specific needs (i.e. temperature and time). If your brew doesn't work, you can almost immediately identify what went wrong, correct it in your next batch, and perfect your process.
Once you feel adept enough (and your starter has proven its ability to produce other products, like bread), you could try experimenting with your very own sourdough starter!
Regardless...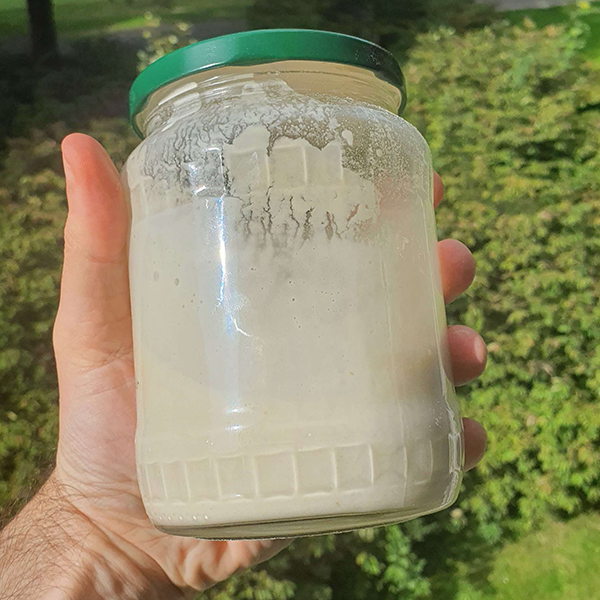 Thank you for your time and enjoy your weekend responsibly!
-- Hammer & Ravens


Do you want to know more about Ale Abbey and chat with the team? Follow us on: