We got some good questions for you this week, questions we could definitely expand on at later posts, so don't be afraid to ask us to elaborate on any of them. Also, we might have some great news coming your way soon, so make sure you keep in touch! As always, there are links of where to find us online at the end of the post.
Without further ado...

-- Monasteries have some religious undertones. How do you deal with this in this day and age?
Surprisingly enough, despite its overall theme, Ale Abbey doesn't hint to being a game around religion of any kind. Sure, the setting is there, but our focus is on the work done in the monasteries, and more specifically beer production. We did not actively avoid portrayal or symbolism, and we still managed to leave anything religious out of it; and this is why we're very thankful that the game feels organically inclusive to all!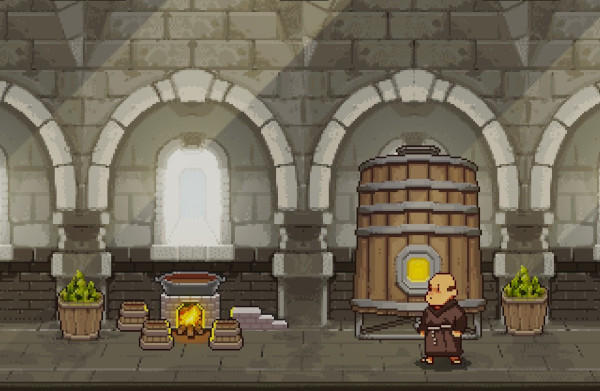 -- How do relationships with other game devs affect your games' development?
Discussion with other devs is - as expected - continuous and daily. It helps a lot to compare experiences (development, publishing, sales, etc) and ideas, but more importantly these relationships offer great platforms for feedback exchange. Remember these are people who work in the same field and their feedback is on point. Still, regardless of how valuable feedback, it's not the only thing that is exchanged. Contacts and networking in general is a vital by-product of being open and helpful towards other developers. In terms of game/design and development, Emiliano feels that the impact of these relationships gets kind of limited, mostly to discussing feedback loops when there's a build that can be tested. Rarely, he can even unearth some great gems of ideas that friendly developers had no time to develop or use, but were still willing to share!


-- How demanding do we plan to make the game for people who are already experienced in the tycoon/management genre?
That's a bit of a hard question to answer because there is a big number of different people enjoying a variety of tycoon games. If we were to rank tycoon games from 1 (hyper-casual) to 10 (hardcore Business Simulation), we could definitely place Ale Abbey to somewhere around 7. Players will definitely find the detail and depth someone would expect in a tycoon game, but it will never feel like looking at an interactive excel sheet or a hyper-realistic sim. Remember we still want to keep it zen!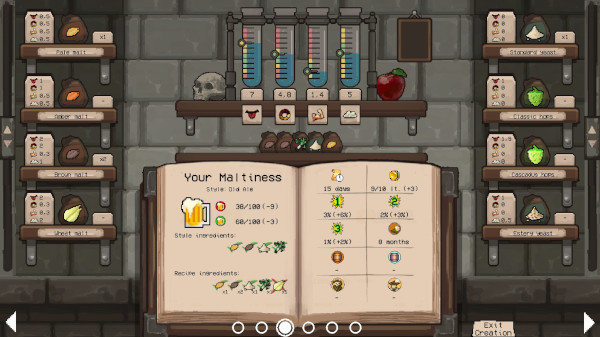 -- What is the one part of brewing you absolutely adore?
For Emiliano that would be recipe creation, and directly related to that, the final tasting when you see if the recipe was solid. Emiliano absolutely loves creating recipes, to the point that he will use guidelines from books (or the web) for a given style, but will elaborate on it for a few days using Beersmith. Being an avid cook, he feels this part of brewing really relates to cooking, or better yet pastry due to the high amount of precision and biochemistry involved in the process!
Yannis is not as adventurous with recipes or materials, but feels very attracted to the process of creating something out of nothing using one's own hands. That moment when the mode switches from making sure everything is gathered (boxes of malt on the floor, yeast and hops in the fridge, equipment and other material at the ready) to full out go-time, feels like beginning a new trip to wortland every time!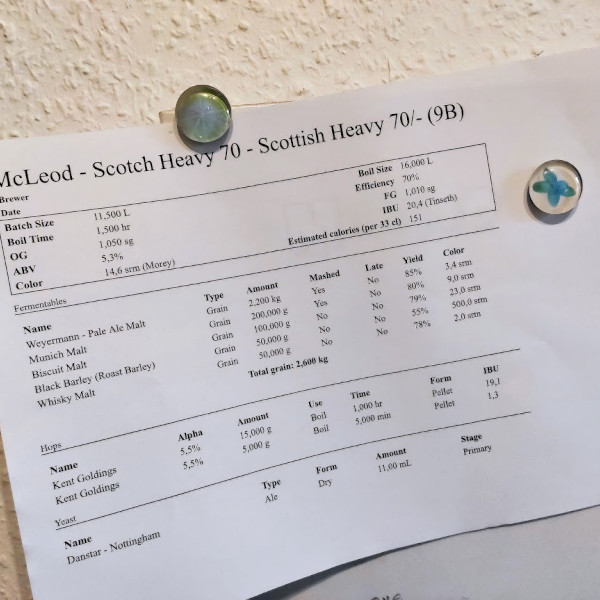 Thanks for your time and see you all next Friday!


-- Hammer & Ravens
You want to know more about Ale Abbey? Don't forget to follow us on: