After the first release in May, work has slowly but steadily continued to add a proper user interface to Infection Control :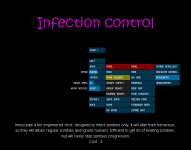 A proper start screen with menus is being built right now, which gives acces to a bunch of options (list of weapons to choose during fight, game speed, initial ammo stock, population density, map size...).
I have also made a clear difference between 2 game modes :
- Action, an ectic realtime fight where you can choose only 2 weapons (left and right click)
- Strategy, a slow turnbased mode, close to previous version with plenty of weapons to choose from
Once that work on menus will be done, I'll move on to add a proper end to each fight, with ending conditions (every survivors or every zombies dead), and targets (minimum number of suvivors, minium number of VIP to survive,...)
Finally, I 'll do some more work on data and information display to make a better use of that ugly graph below the playing area.
Well, I hope that you'll enjoy once it is released. At least, I do. Next release might still wait for 2-3 month however : I have managed to preserve 1 hours per day to work on it, plus some additional extra afternoons, so development is moving slow but steadily.
Once that UI release will be done, I'll do some more work on weapons rebalancing, and cheerfully go back to the real fun things : developping new behaviours and infection characteristics.