Solar Purge Close Alpha #2
That's right bug destroyers! The next playable build is here and available on Steam! Here's some of big game play updates that you will encounter! There is still some time to register for Closed Alpha #2, so if you would like a chance to get a key visit our homepage at solarpurge.com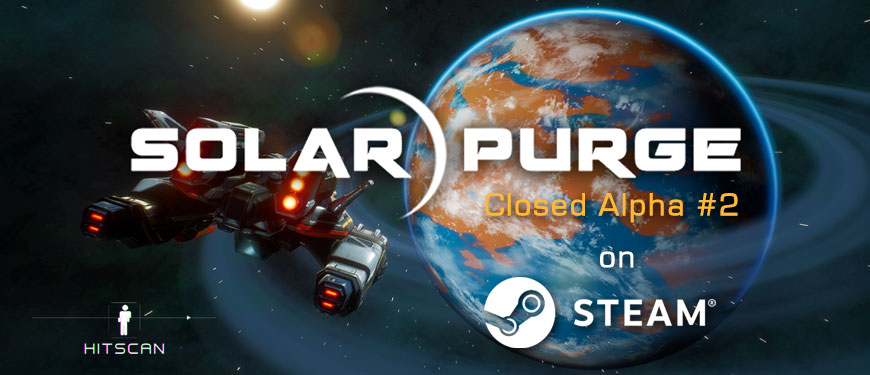 Read the Full article Here
Infinite Holo-Chamber – Oh yeah… you can now play the Holo-Chamber basically forever. But how long will you survive? Grab some friends, controllers, beverages of choice and find out! (Talk to your doctor before taking on Brutal Difficulty)
Spendable Credits – Want something to purchase with all of that money you collected on the last floor of the Holo-Chamber? Find one of the digital kiosks on the map and put those credits to use on some extra ammo, health or new weapon. Hopefully it's a legendary flamethrower… fingers crossed!
New Weapons – Full auto shotguns? Yep. Machine pistols? Check! Laser Rifles? Definitely! Ice-throwers?? Wait… what?
New Skills – How do turrets, remote charges, dashing, slashing and dicing sound?
Inventory, Skills and Stats Menu – Wondering how much damage your weapons do? Or how many skill points and credits you have? Pull up the quick character info menu to look at your everything about your character stats, skill upgrades and equipped weapons!
New and Improved Boss Fights – The big baddies have upgraded too! Once you complete the objectives on each floor of the Holo-Chamber, you and your friends will be sent to fight the boss… on his own battlefield! Keep moving and you just might survive!
Training Room – Want to see all of the enemies currently in the game? Or just want try out some different character builds? The training is designed for you to try out new things and practice your skills!
What's Next? – New enemies, character skills, menu systems, Holo-Chamber and Campaign levels!
Be sure to add the game to your Steam Wishlist and help us spread the word!From all of us here at Hitscan Games… Thanks for your support!Join our Discord Community Server!