So let me start off this update by saying that I am EXCEPTIONALLY tired today, so I'm sorry if the blog isn't as delicately worded as it might normally be... Yesterday I entered a programmer challenge to test my wits. Contestants had just 12 hours to make a working, playable prototype of a game from scratch, with no prior work. No fancy graphics, no proper sounds, just boxes for enemies and whatnot. It's all about the gameplay and the good coding. My entry was a fast-paced, arcade-style, zombie survival FPS.
Well, I didn't win the comp, but the winner's game prototype was BRILLIANT so I don't feel bad about it :-P However, after concentrating for so hard for 12 straight hours, living on nothing but hotdogs and energy drinks, I'm totally wiped today! I feel like such an old man hahaha
Despite this, I have many, many pretties to show you - all of them frikkin amazing!
First of all, Mihaela is back with her third piece for the project. I sent her the following story piece written for the game (written my yours truly):
Bae-aern tore his bloody axe from the chest of his fallen foe and lifted his weary head to look across the Wytchmeadow fields. The battle was over now, and he was glad of it. His side had won yet again, but it had been a hard fight, and at great cost.
He grimaced in pain as he lifted himself to his feet, gripping his thigh where one of the enemy had gouged a chunk out with their blade. He had received worse in his day and he merely let the wound ooze as he limped over to where the rest of his men were gathering to debrief.
"You're hurt," said Kalan, his second in command, "you should call the surgeon."
"We're all hurt," replied Bae-aern, "It's just another scar to make me prettier."
Kalan laughed, a deep, rolling laughter that carried across the field, inspiring various cheers as the men realised that the battle was won.
But Kalan's laughter was cut short as a thunderous horn-call came blasting from the distant tree-line. Bae-aern whipped around, wincing in agony as the movement tore the wound in his leg a little deeper. "TO ME, MEN!" he bellowed.
Turning back to Kalan, he grabbed his arm. "The first wave must have been a diversion. The Sword be damned, Kharthack's getting smarter by the day!"
"We cannot run. They boxed us into this neat little death-trap with the last lot," said Kalan, looking around, "no-where to go but through our enemies."
Bae-aern's eyes lit up and his back straightened with pride and honour as a second wind hit him. "Then let us cut that path, brother! For how could man die better? TO ARMS!"
A rousing battle cry came from the small contingent of soldiers left as they hobbled and limped into formation to face the oncoming foe, hefting notched weapons and battered shields, all standing straight and proud, ready to embrace a glorious death on the battlefield.
Kharthack rode his horse forward to shout across the field at the bedraggled remnants of Bae-aern's warrior knights. "After all these years, Bae-aern, it comes to this. You look so pitiful that it hardly seems worth the effort. Perhaps I should send my men's wives to finish you off. Perhaps their children. Either way it is useless. I will relish your defeat. I will cut off the heads of you and your men and use them to decorate the walls of my
citadel!"
Bae-aern stepped forward, the pain in his leg forgotten and his bearing proud. He moved his notched axe to his left hand and drew his sword, pointing it across the field at Kharthack's throat.
"You want our heads, Kharthack? COME AND GET THEM!"
I told her that I'd like to see a piece showing the aftermath of this battle. What that sad, unfortunate scene would look like. She did not disappoint!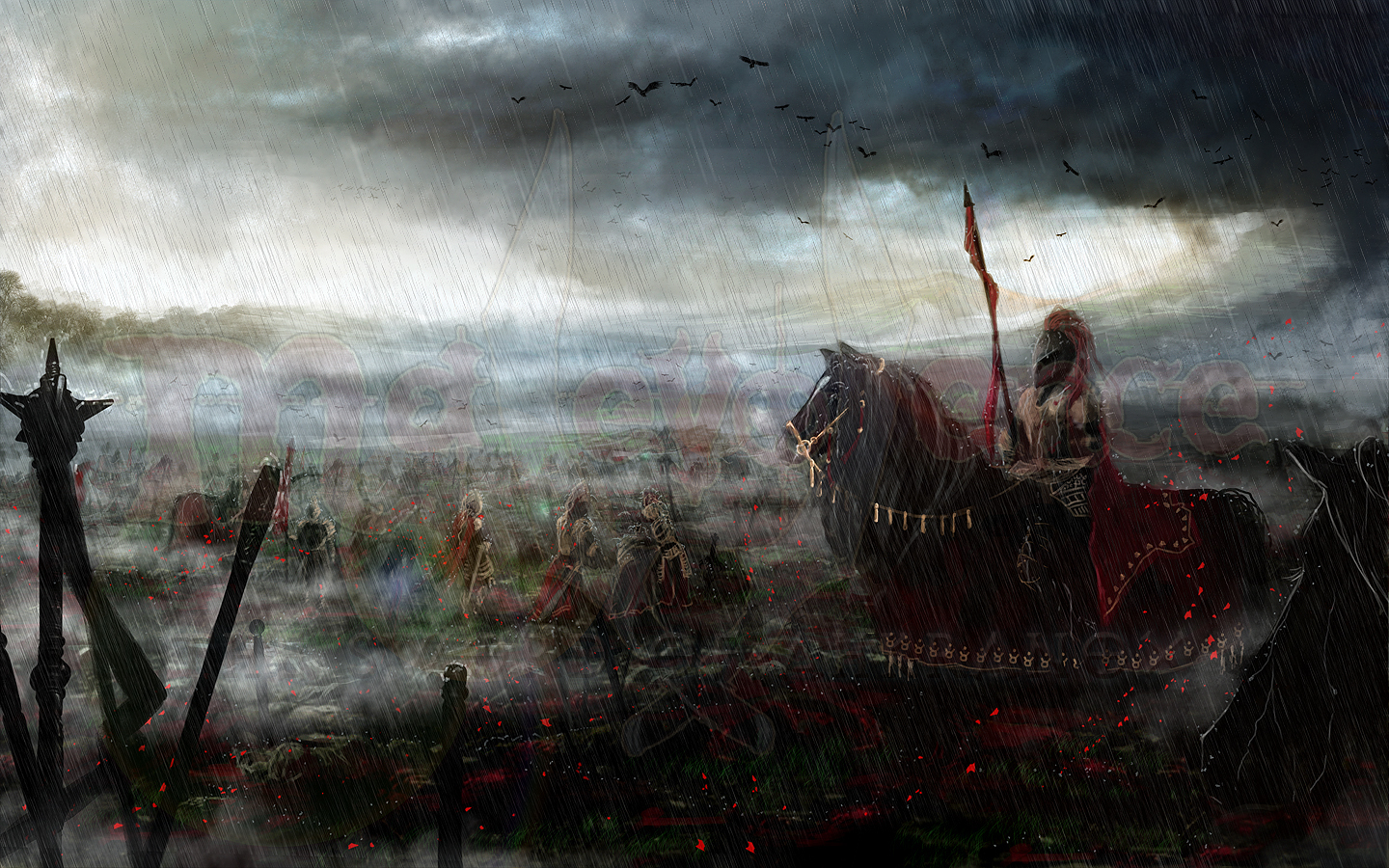 Pretty sexy, hey?
Rachel has also been working on drawing up hundreds of item images (literally, poor girl) to use in the procedural item generator that the game has. However, one other piece that she's been doing up for us is the portrait for when you're talking to a member of the Blade Clergy, who will be the first NPC that you interact with when you leave the starter dungeon. She's already drawn up dozens and dozens of townsfolk portraits, but not any blade clergy yet, which is why she's working on this one. Well, here's how he's looking so far!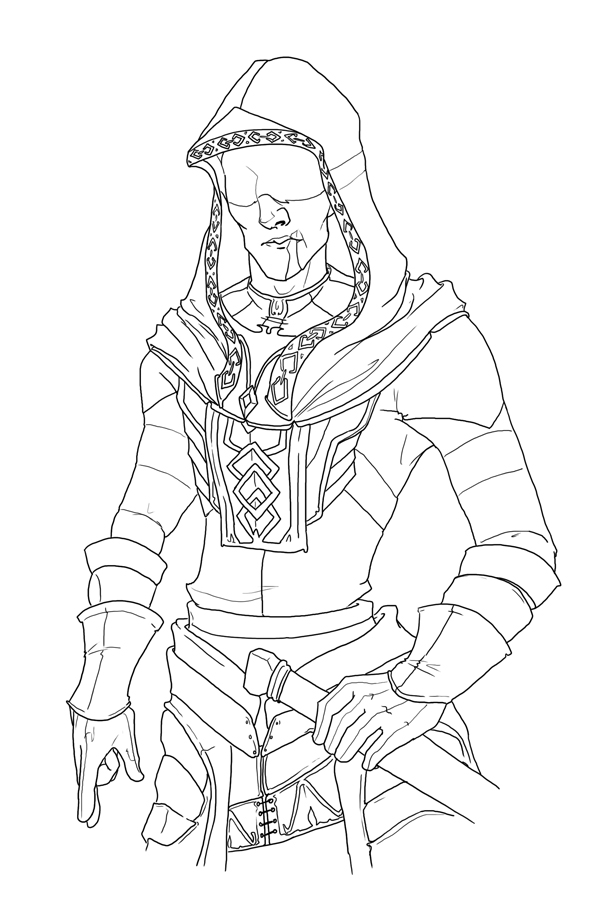 What a snazzy looking fellow! He will be the first NPC that will be put into Ahkranox! What a special role! Say hi to him for us when you meet him!
Next up, Sophie's back with more pics for the intro cinematic for the game! I won't show you all of them, because there are way too many, but here are a couple of my favourites from the latest completed ones!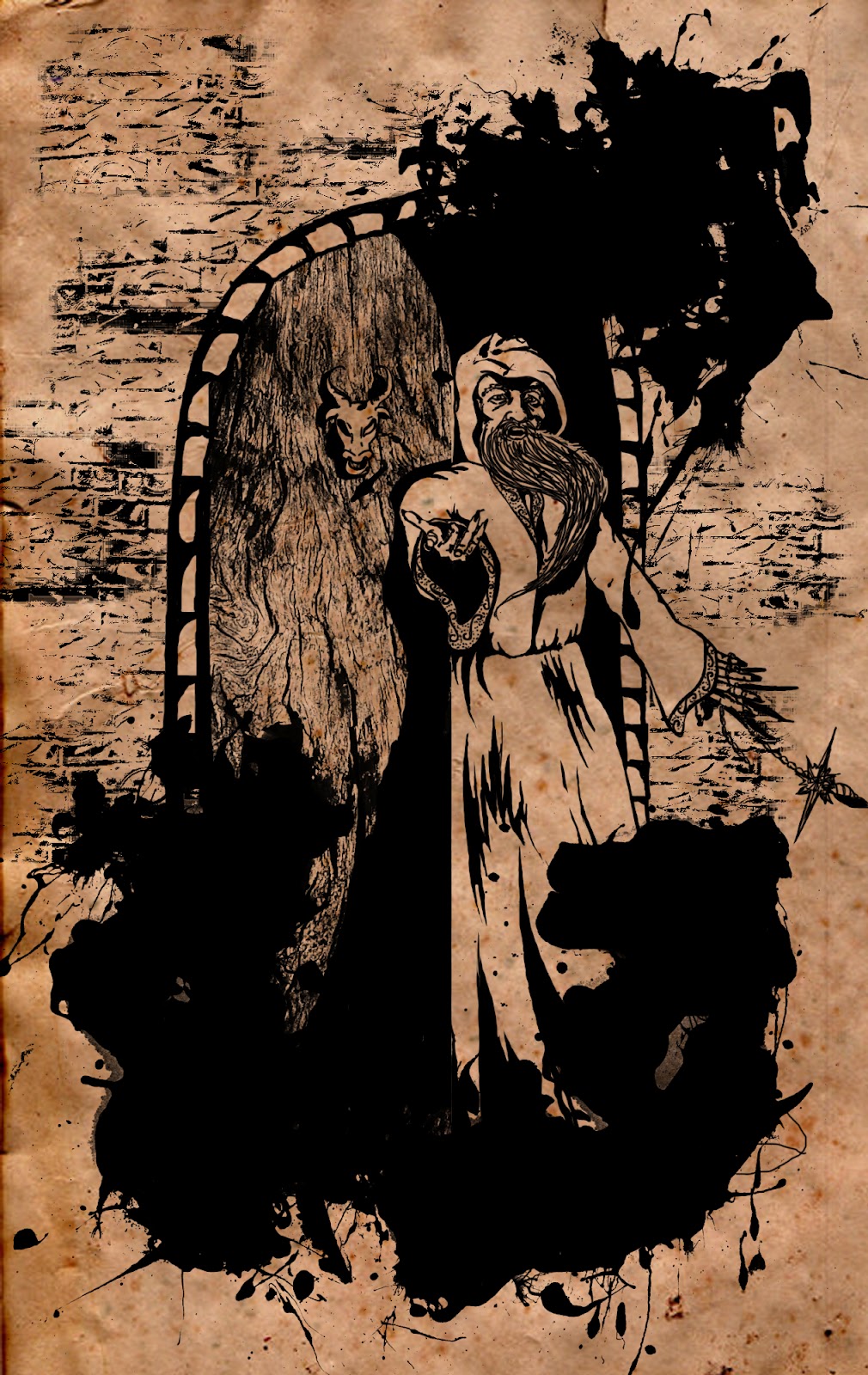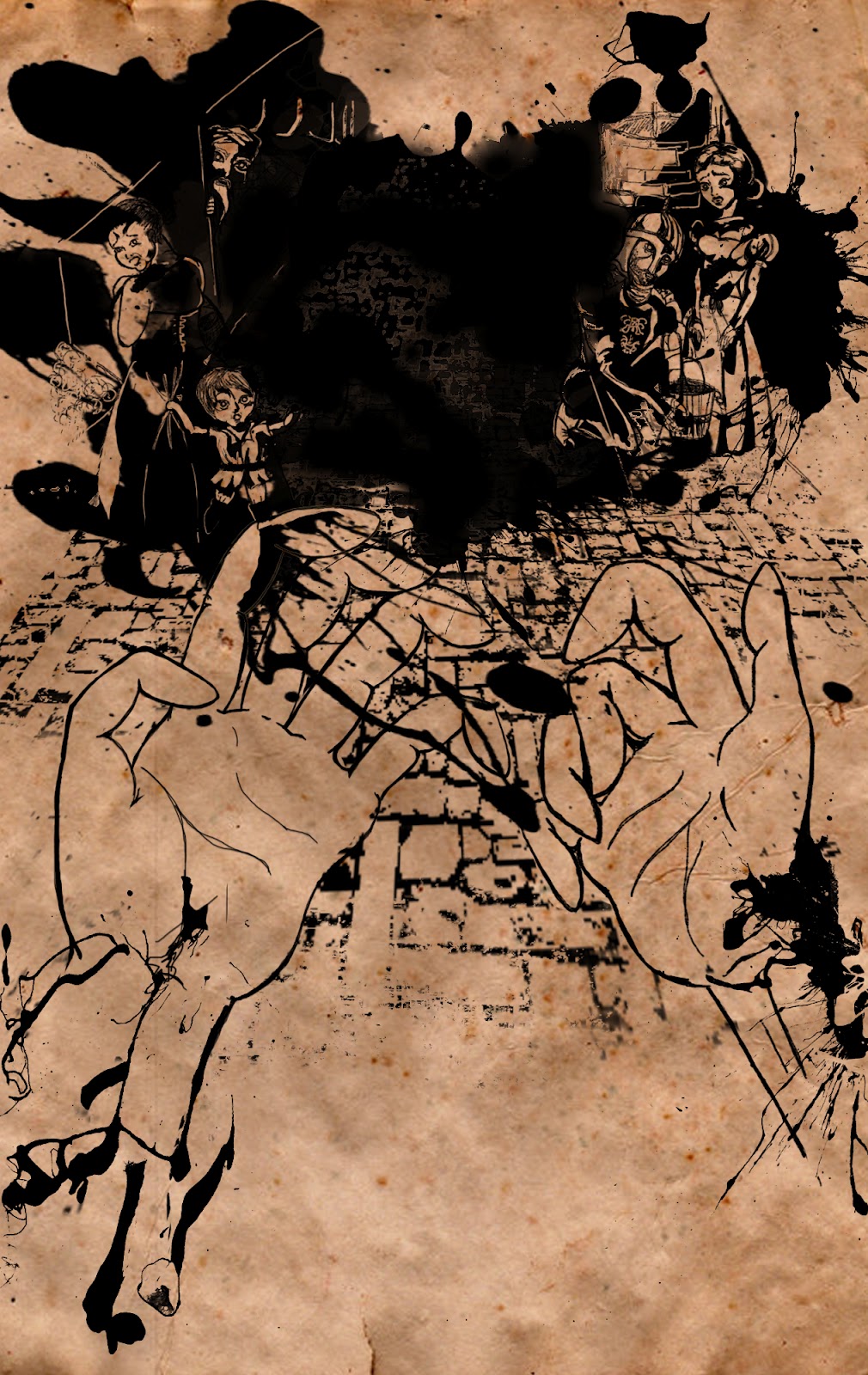 So next up we actually forgot to show you the last work from Ethan before he had to leave the team for his new job! He was working on the mine model pack, and the models look spectacular: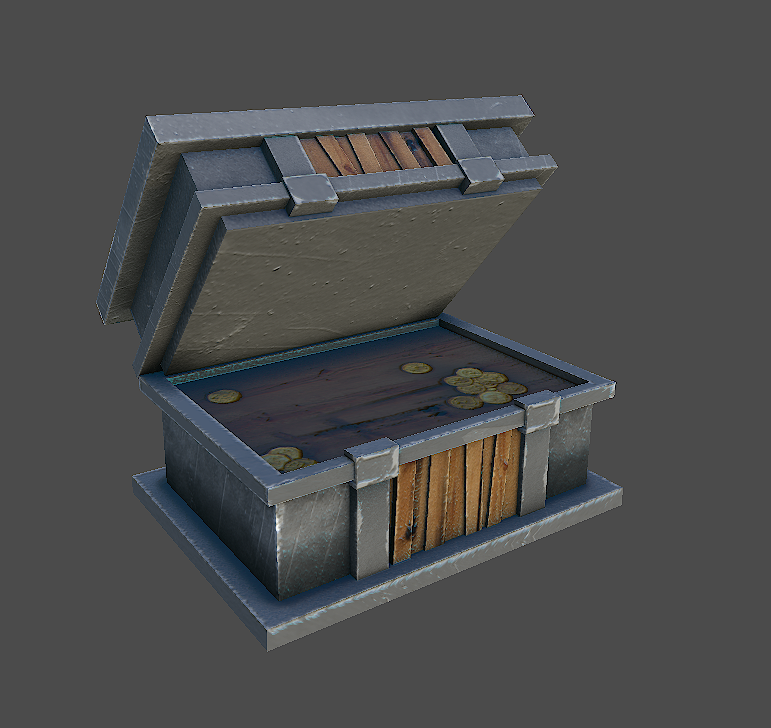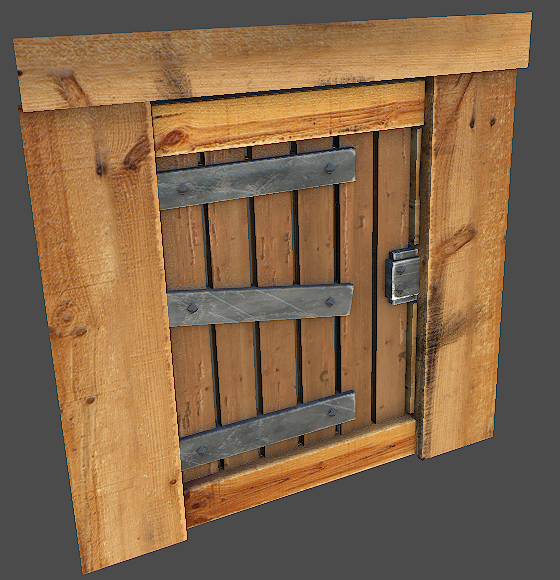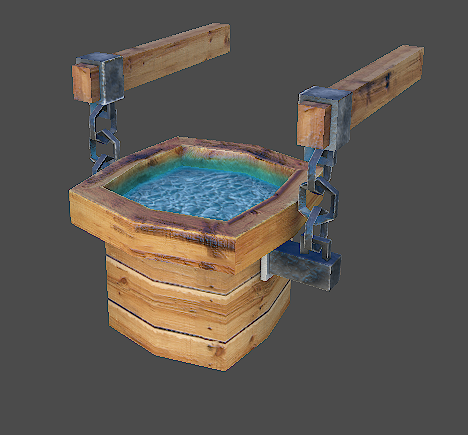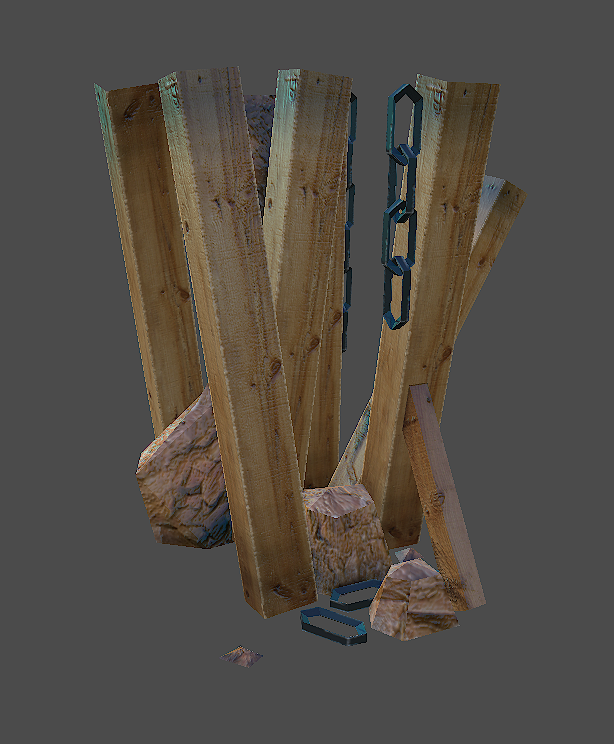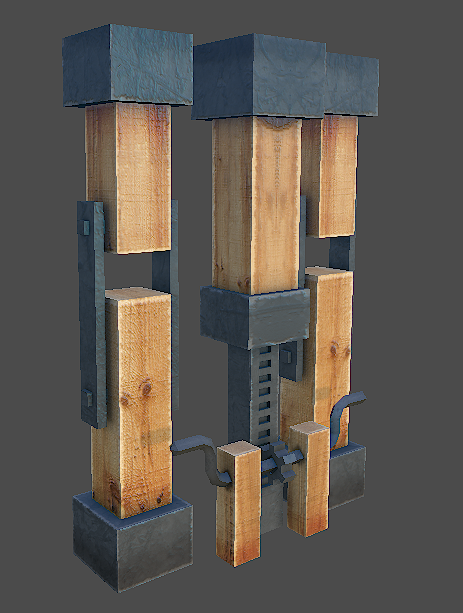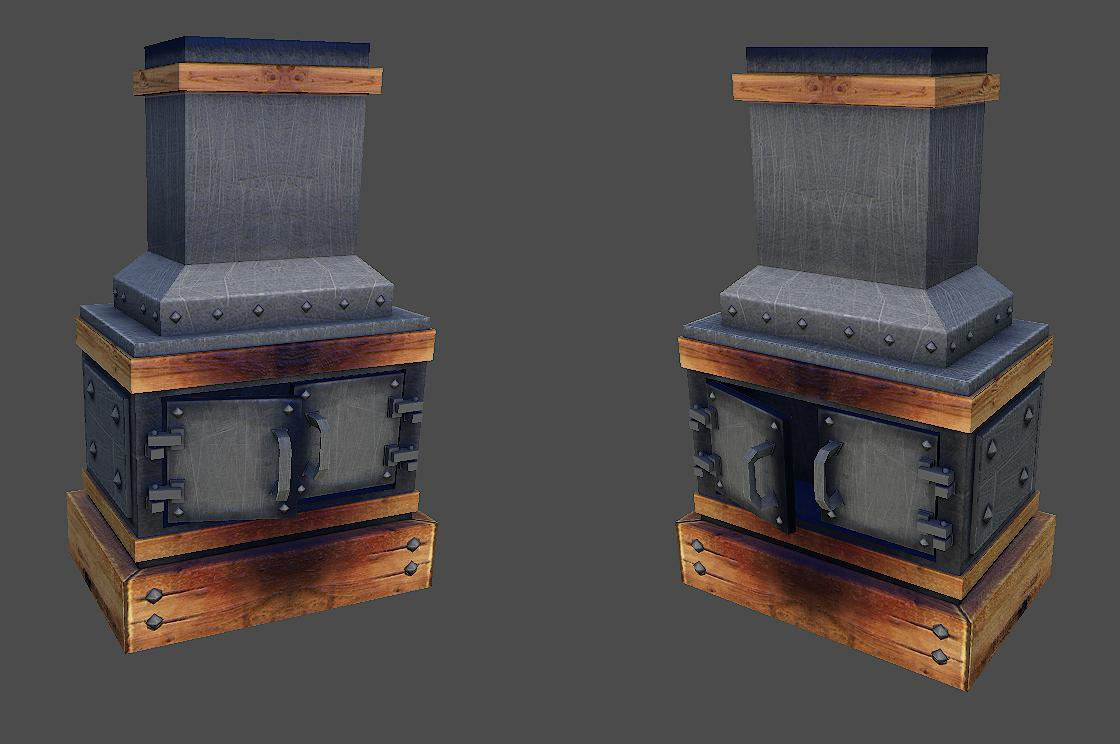 And finally, we have more wonderfulness from Ian. He's been working on a new monster for the game. Now, keep in mind that this game, from day 1, has been planned as an adult game. There is strong language, sexual themes, horror themes and violence. But that still doesn't stop people from getting shocked when they see adult oriented things in the game... However, this latest monster, the succubus, has been in the works for a whiiiile: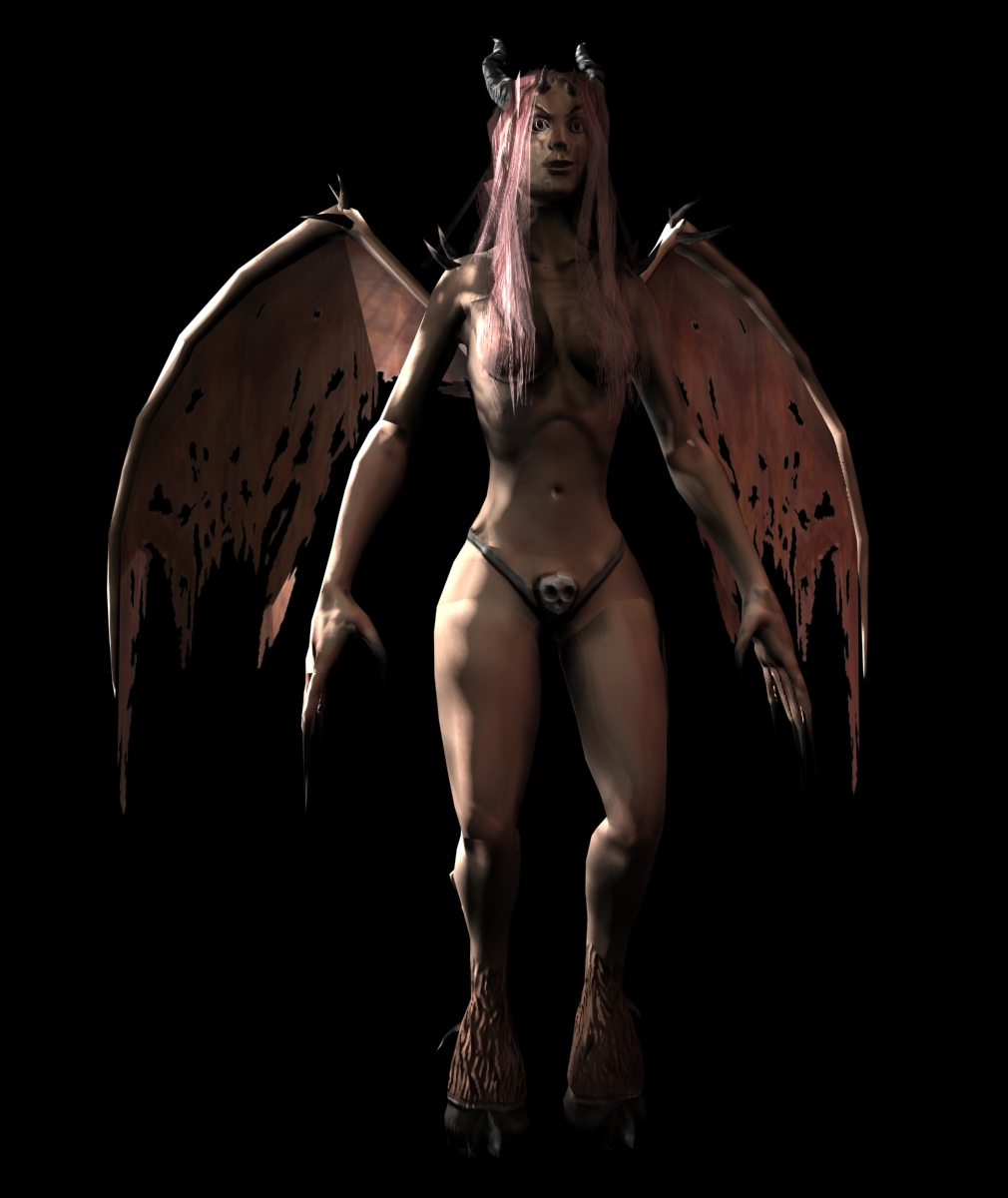 She's one of the tougher baddies in the game, and will also be the first to be able to use magic right back at you. They lure you to them in the darkness by giggling, moaning and crooning to you, but once they've found you... That's when they turn nasty... The claws come out, the moans turn into screams and shrieks and sooner than you'd like, you're dead. Trust me when I say that you will learn to be terrified of hearing sexy giggles in the darkness behind you... An ogre is nothing compared to one of these things... The INCREDIBLE voice tracks provided by one of our voice crew, Amber Lee Connors are just amazing. She goes from sounding like a naughty Marilyn Munroe to a shrieking harpy at the drop of a hat. We have yet to animate her, so we'll hold off showing you the audio for the succubus until she's been put into the game. That way you'll get to see what she sounds like in context, because trust me when I say that if you heard the voice track on it's own, it's hard to keep it in context :-P
So that's all for this update. We'll keep you posted as more stuff gets done! Our next major tasks on the game are the world map, quest system and dialogue system (which includes NPCs) so prepare the see the game evolve in a big way in the near future!
Once again, please don't forget to vote for us on Steam Greenlight, as well as SHARE THE LINK around so that more people can vote for us! We really appreciate your support!