Dear Snugglers and Smugglers,
We're extremely delighted to announce that the long-awaited 1.5 update has arrived!

We've worked on this update with love and toil for over 3 months. We believe that we've added an incredible amount of value to the game on all platforms and we're releasing this update for free to our existing players. For those who are looking to join the Snuggle fanbase, the game is only $1.99 or $2.99 on iPad - A steal for all this content.
Get it while it's hot! (iPad / iPhone)
The biggest punchlines of the 1.5 update are the fabulous Level Portal and the arrival of the updated Level Editor for the iPad, iPhone, and iPod Touch. Do you know what this means? This means that the community now has the power to make thousands of levels and create virtually unlimited content for the game for all to enjoy. Talk about a win-win! We're crazy excited and we can't wait to see all the fun-tastic and innovative levels y'all will come up with.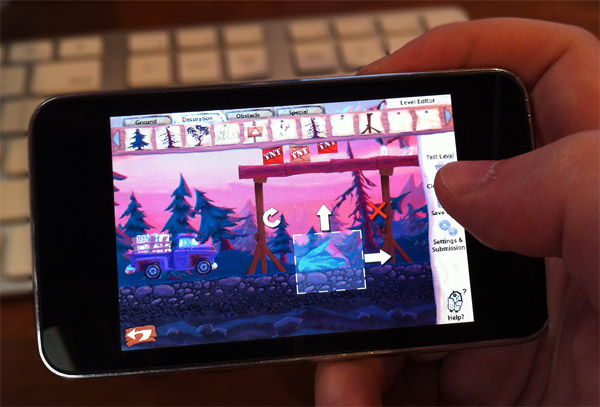 In addition to that awesomecake, here's a list of the most prominent improvements we made with 1.5:
The Level Portal gives everyone access to unlimited new content thanks to community-created levels!
The built-in Level Editor allows you to showcase your creative side. Make crazy-fun levels for others to download, rate, and enjoy!
In-game UI moved from the bottom of the screen to the top to prevent your hand from covering up important info. This also prevents accidental presses of the back button.
On iOS, you can now double-tap the screen to activate rocket – shake to activate is still usable. This is just an alternate way to rocket that many of our users had suggested.
Difficulty of some of the unfairly nasty levels have been adjusted.
Text is more readable in certain places.
5 new Game Center achievements, and faster Game Center authentication.
Wheelie achievement is actually obtainable now!
Fixed many bugs and made a bunch of low-level optimizations to make the game perform even better.
Upgraded some art content to be higher resolution so we can maintain crisp visuals even when zooming in on the retina display.
Are you still reading? Go and get the update for iPad / iPhone! Create forthwith!