Hi everyone,
Snorms, an isometric third person shooter, has been updated to version 1.1.2, featuring :
Consumables
Consumables are temporary power ups you can activate at any time, you can buy them before playing (assuming you have enough experience, money, and don't already have one) and use them at any time during gameplay. There are 10 consumables, some you might already know, some new:
Small life: will give you around 40% of your max life in 30 seconds
Decoy: when used enemy will prefer targeting it instead of you. The decoy has two times your max life, and will be destroyed after 30 seconds
Invisibility: same as pickable one
Temporal shield: same as pickable one
Big life: will give you around 100% of your max life in 30 seconds
Armor: will give you around 60% of your max armor in 30 seconds
Stamina boost: you will regain stamina very quickly (don't forget that stamina enables very quick reloading of weapons using Shift key)
Invincibility: same as pickable one
Reflective shield: same as pickable one
Damage booster: same as pickable one
Default key mapping is F (select next power up) / G (select previous power up) / E (use selected power up)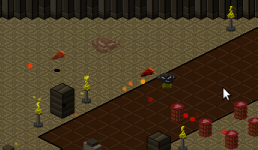 Updated graphics (sprites, lights, maps)
Most of the visual elements of the game have changed:
Sprites: sprites have a shadow a bit darker to see them more easily in isometric view
Lights: lights are now using "smooth lighting" by default, it will use a bit more CPU, but they look nicer. In OpenGL mode floors above and below player will be darker, so that you can differentiate height more easily
Maps : almost all maps have been updated, they have now more details, mostly outside buildings (grass, mountain, water,...)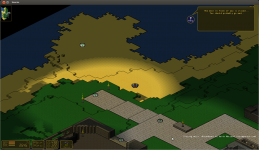 OpenGL acceleration (2D)
I've added a new option (default one) to use OpenGL acceleration instead of pure software rendering. It improves performance nicely on computers with a good graphical card (no changes on integrated cards or old computers).
As performance have been improved I've been able to add an option to switch to 60 fps, it won't change that much from 30fps mode, but you can see the difference with fast bullets (pistol, shotgun,...).
Misc
Balance update : a bit more ammo from monsters, monsters immunity has been decreased (more infighting)
Better error handling, a full stack trace can be directly sent to me for correction, no need to send email or post on forum
New main screen, you can now see an infinite battle between the two sides of the screen
Game screens have changed to improve readability and include new features
Level editor was changed to include a new "minicube" tool
Corrected lightness control, now it will behave correctly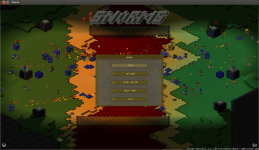 Have fun !