The first beta update is finally here! This new update includes various changes, bug fixes and most importantly, new additions to Small Chronicles! Here is the whole list of changes in more detail.
The New Stuff
Growing your equipment
Small Chronicles is an RPG game at its core. That means that growing your characters and journeying with them through the game world's story is the core of the game's experience. Your characters grow as their skills and stats improve while equipment complement that growth.
While equipped items do serve that purpose, there isn't really a bond between the characters and them. The characters equip them, gain bonuses from doing so and go on to the field with that leverage. Now what if those equipment were actually somewhat alive and could grow along with the characters?
That means that the more a character uses an equipment, the better it would become. In essence, it is similar to a skill that only gets better upon using it more often.
In simpler terms, equipping an item now will allow it to gain experience and levels as your character defeats monsters!
There are other perks of growing your equipment too. A Volunteer's Guard at Lv. 1 sells for 26 gold. A Volunteer's Guard at Lv. 2 sells for 52 gold and at Lv. 3 it sells for 78 gold. Just imagine how much it could sell for when you grow it to Lv. 10 (max)!
If you're low on gold, you could also hold out from getting the next better equipment from the store too. A Strength Ring at Lv. 1 gives you +1 Strength while a Might Ring at Lv. 1 gives you +2 Strength.
While a Might Ring gives you more Strength at Lv. 1, it also costs more gold than a Strength Ring. So instead of spending more, you could also grow the Strength Ring to Lv. 2 for that +2 Strength bonus!
Showing the amount of experience gained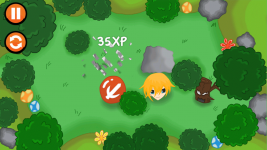 It was one of the top requested features from the beta testers! It is really as simple as that.
Changes to existing stuff
In-game store interface
The in-game store's interface has also been updated! Now items can scroll from the left end of the screen to the right end!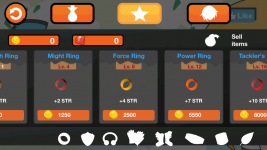 The newly revamped in-game store
This not only looks better on the whole but also allows 1 more item to be visible at any one time.
Stage Start Animation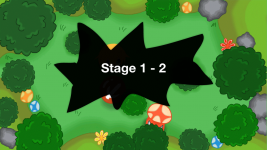 Faster start to the game!
The animation at the start of each stage now fades off faster! No more waiting for that long animation to clear up before you can start playing!
Stage 1-13 Loophole
One of the beta testers has feedback-ed to me that Stage 1-13 has a loophole that could be exploited. The tunnels were placed in a cross position and this caused the 2 monsters on the stage to keep on entering and exiting the tunnel, resulting in a loop.
If you play as Lyea (the mage), you could potentially just sit there and attack from a range. To prevent that from happening, the tunnels have now been repositioned. They are now situated at 2 opposing corners of the field.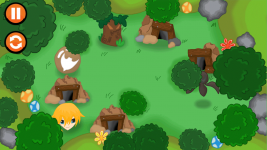 Game Icon Change (Slight)
If you're sharp enough, you will also notice that the game's icon has been changed slightly.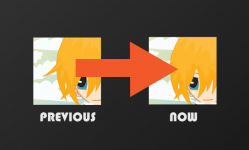 Although it seems obvious that the change only involved moving Kon (the character in the icon) slightly more to the left, the impression it gives off could be vastly different.
While the previous version only highlighted Kon showing an eye, this new version showed everything except Kon's other eye. This change allows for a more mysterious and cool impression, while not being that creepy.
Bug Fixes
While it might not seem like a serious bug, it could potentially affect your gameplay experience at the in-game store. Remember when you visited the store and found out that your character has to be a certain level before he or she could use an equipment?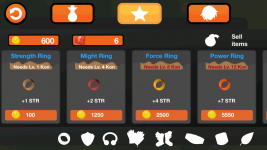 A Lv. 5 Kon would be able to use the Might Ring!
Well now that works. It didn't used to do so until an awesome beta tester highlighted it to me. This is also one of the reasons why I love everyone on the testing team!
And in the end?
There isn't an end! This is only the beginning of changes to come! If you are not a beta tester yet and wishes to join the family, don't hesitate and signup now via here!
For regular updates, don't forget to follow Small Chronicles on Twitter or like Small Chronicles on Facebook! Cheers!