Hello all,

we are super excited to announce that Simpocalypse DEMO is now available to playtest on various gaming sites from December 4th, 2020 onwards.


Feel free to try Simpocalypse Demo on your favorite site:
Itch.io
Armorgames
CrazyGames

If you find out that you like playing the game please consider supporting us by wishlisting and following on Steam (for the EA and full version coming up). Thanks in advance!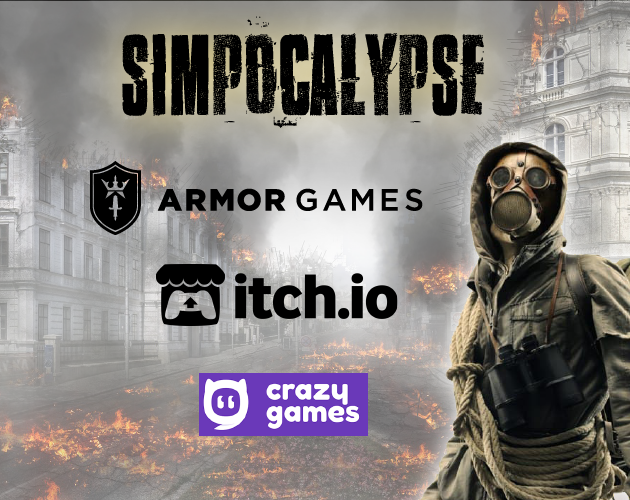 FEEDBACK NEEDED
We'd love to hear more feedback from the very first playtesters, as we are trying to improve the game's performance, features, onboarding process, to be able to further polish the game before going into Early Access with the full game version, which is coming in the middle of December already!

Simpocalypse is now also available to wishlist on, so please head over there and support us by wishlisting and following.



The Demo of Simpocalypse is just a sneak peek of what's coming in the full version, but even though it is still playable at least for a few hours easily!

The demo already consists of:
- Resource management system
- Exploring/scavenging mechanics
- Establishing a self-sufficient settlement
- Research tree with most of the units available to unlock
- Trading Market
- Building factories/ producing tanks
- Battling the enemies
- Conquering first regions/territories



The Demo is limited to 3 regions conquered at max., and 1 save file only, but with the full version the whole colonization process is coming, continent/world-conquering, Prestige & Perk Points, unlimited save files, etc. …

We wish you lots of fun playing Simpocalypse!

Please also follow us on Twitter, Facebook, Itch to stay updated with the game's development!

P.S.: From time to time we also run various playtests via Discord, join us there to get the most recent sneak peeks into the game dev process, hang out with the rest of the community, or to reach out! 😉
We'd love to have you there, as together we can shape a much better game!