Silverbow:
ResourceCollector has finished to model the Silverbow ( with a full set of modules, wings and fins ); while Juan has finished the texture for it. We are very happy with the result, especially with the latest ASEToBin shaders. We are very thankful to have dedicated and skilled contributors in our community.
Rain effect:
Space rain ! Nah, kidding. InfinityAdmin implemented a rain ( or more exactly, droplet ) effect in ASEToBin. The rain effect is an application of a distortion effect he implemented this week.
On the Silverbow, here's a typical result after all the effects are applied: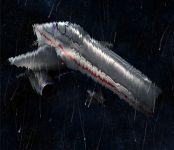 Of course the rain effect is much nicer in motion so we've uploaded a short video showing off the Silverbow in all its glory and of course the rain effect that has been implemented. Get it here!(23.2MB)
Want to know more about this: check out the latest development update on the infinity forums.