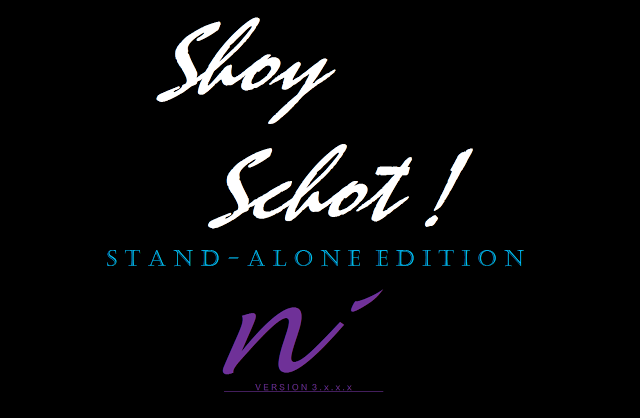 Hi, Everyone!
I am proud to announce that Shoy Schot! nui, Virtual Gaia's much delayed
Electronic Card Game, is done and has entered into Final Testing!! I'm even more proud to announce the Release Date of the game: December 29th, 2013. That's right, Shoy Schot! nui will go live next Sunday for the economical price of FREE!!
The next thing I want to cover is: What exactly Shoy Schot! nui? I think I've alluded
to it in the past, but I've never formally announced it. After a long (very long) development and many additions that weren't included in the original scope of the project, Shoy Schot! nui is no longer third version of Shoy Schot! Stand-Alone Edition (SS! SAE) but its own entity. Think of it more like the evolution of SS! SAE, just like SS! SAE was the evolution of the original minigame version of Shoy Schot!
So, what does that mean? Just that the game grew big enough to warrant a separation. It feels different, it's noticeable bigger and slicker. That said, Save Data from any previous version of Shoy Schot! is 100% compatible with Shoy Schot! nui. Also, it will retain SS! SAE version numbering and still be released as Version 3.0.0.0.
A more formal Press Release will be issued a little later that will include more information and a full features list, but until then here is a short list of new features including in the upcoming Shoy Schot! nui:
All Shoy Schot! Stand-Alone Edition v2
Features
6 New Game Modes

Custom Rule Set
Endless Tower
Score Attack
40 Arcade Challenges
Arcade Battle Campaign

Tutorial Mode

26 New Accomplishments to Earn (48 in All!!)
Improved, Smarter AI
Improved Match Interface
A New Mini-Game Added: Clementine
The Ability to Create 8 Separate Profiles with each keeping track of their Own Stats, Game Settings, and Accomplishments!!
A Slew of Secret to Discover and More!!
Again, Shoy Schot! nui will release next Sunday, December 29th! While Shoy Schot! may not be a graphical powerhouse by any means, it's a load of fun! So... Get excited! Tell a friend! The last game of 2013 is Coming Soon!!
Seeya when we release!!
General Information
Game: Shoy Schot! nui
Genre: Electronic Card Game
Platform: Windows PC
Company: Virtual Gaia Games
Release Date: December 29th 2013
Price: Economical Priced [Read: FREE!]
Download Site: Virtualgaiagames.blogspot.com
Website: Virtualgaiagames.blogspot.com
Game Page: Virtualgaiaprojects.blogspot.com
IndieDB Page: Indiedb.comP.S.:
Check out screenshots of the game after the jump or go to our Flickr page: Here.
(Go to Options in the slideshow and uncheck embiggen)