Quests in the original game were often overlooked. With the changes and improvements we made, we have unlocked their true potential.
More rewards!
A first step to improve the current system was to add more rewards. Successfully completing a quest can now offer healing and mana potions for your hero to use in battle; random or specific items might be obtained; units and characters can join your army; buildings which can be placed on a chosen location on the battlefield; crowns to spend in shops or other deals; and of course a lot more XP for your hero. Some deeds might also change your hero's perks, making him a better person or becoming more selfish. If you helped with a ritual, a spell will be cast affecting the current situation. There's even a quest teaching you how to sacrifice your armies to summon daemons. All in all, the flexibility of the new rewards will encourage players to give more attention towards completing quests. Satisfaction guaranteed!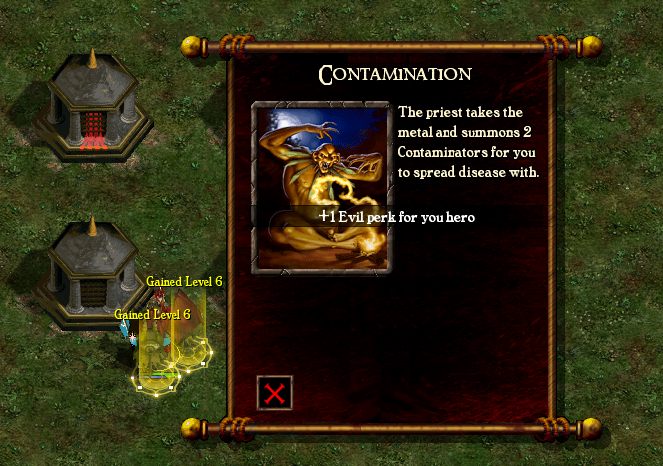 More conditions!
Furthermore, a few extra conditions were added to complement the existing ones. Quests might now require you to kill a number of units of a specific race, or ones that have a specific psyche ability. They might ask your hero to pay upfront with crowns or accomplish deeds with his own hands (and not his army). For example, having your hero personally kill 10 fear inducing units is now something that truly impresses a fighter willing to join your army.
Penalties!
With the increase of the gains for completing a quest, we wanted to increase the risk of failing them as well. Therefore, we've introduced the new penalties system. This will trigger on some quests when they are failed (i.e. your quest has expired). For instance, your hero could make a bet and loose resources, maybe get cursed or diseased, or simply get chased by some mercenaries. Now, with this high risk – high reward mechanism, players will be forced to think twice before accepting a quest.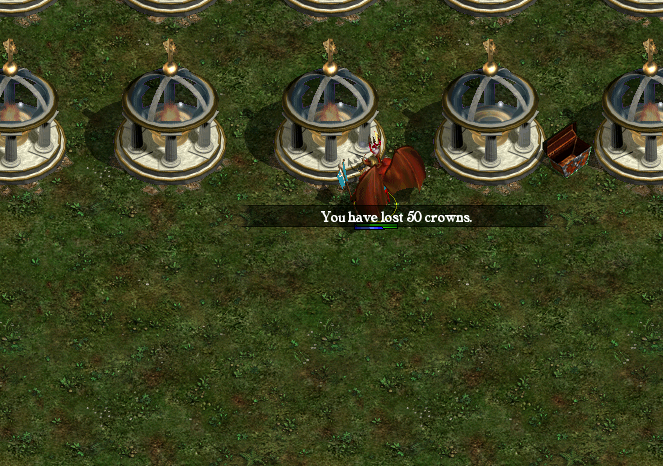 Bribing!
However, we've all been put in the situation where if we had just a few more seconds, we could complete an ongoing quest. Some characters that offer these quests might now accept bribes to do just that: increase the remaining time before the quest expires. For a small sum of crowns, not only will the timer increase, but all other participants to the quest (your adversaries) will be banned from completing the quest ahead of you.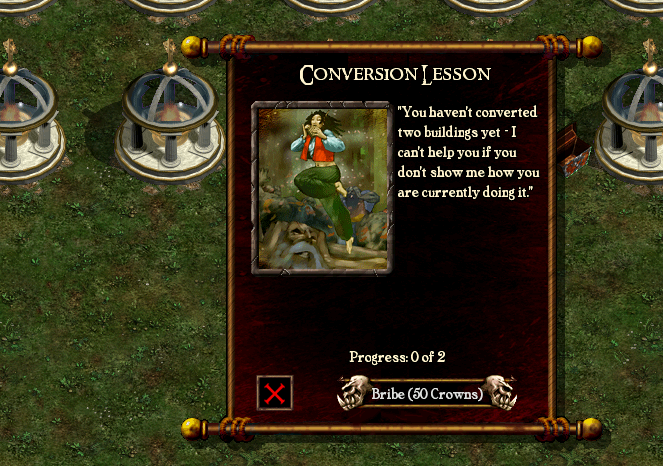 Bashing!
For the greedy or just ones of you who do not wish to use such methods but still want the reward badly, there is always the option to destroy the quest building, gaining its promised goods through force. Beware though, not only will you have to fight the guardians of the shrine (explained later), but also the characters involved in the quest. For instance, if a merchant is willing to sell an item to you, you can just raze the building he's hiding in (i.e. the quest building) to the ground and steal that item, but you might have to deal with the angry merchant and his bodyguards in battle as a result. Provoking some characters might have dire consequences.
Banning!
We realize quest bashing might become abusive though, so all active quest buildings now have their guardians spawned when attacked, similar to how lairs worked in the original game. Shrines are protected by archons and divine beings, while Mausoleums and Pyramids have undead and spiders lurking inside them. In addition to that, players who still manage destroy them will be banned from all other quest buildings for a certain amount of time. Inactive quest buildings however, (i.e. those which do not have an active quest a.k.a. "are in recovery time") will be totally abandoned of any guardians and therefore helpless to any raiders.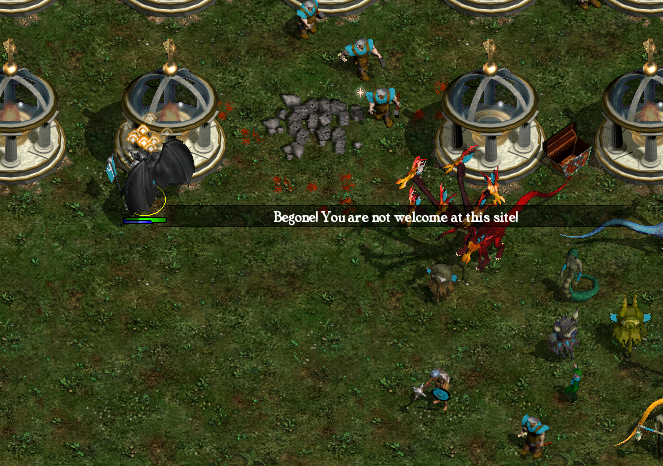 Visual indicators
Such a complex system might be hard to understand at first, so The Protectors will now have visual indicators of all the stages a quest building has as follows: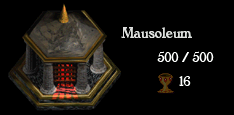 Inactive (a.k.a. "in recovery time")
The quest building is not offering any quests at the moment. It is also vulnerable to any attacks without consequences. The timer on the right displays how long until it becomes active.
Active but not visited
The quest building is willing to give a quest, but nobody ever visited it yet (i.e. the quest was not generated). The building is protected by guardians and you will be banned from questing if you destroy it, but because there is no quest generated, there also is no reward gained from razing it (other than wiping it off the map, which can be turned into an advantage on the battlefield).

Active and visited
There is an active quest there! Someone visited the building and most likely accepted a quest. The timer on the right shows how much time there is before the quest expires. If your hero joins in on this quest, that is the time he will have to accomplish it (and will also have to deal with other heroes who accepted it). Like all active quest buildings, it will have guardians and you will be banned from questing if you destroy it. But since the quest was generated, you might also get a reward in doing so.
My ongoing quest
The tick near the grail represents the quest which you've already accepted and is underway. When you have met the conditions of the quest, this is where your hero needs to return to receive his promised rewards.
That's it!
We hope this article makes things a little bit clearer on how the new system will work in version 0.8.7. Naturally we've modified and added hundreds of quests to benefit from these new changes. More pictures and texts were also added to flavor their backstory. A detailed list of all the changes that were made is constantly being updated. Check it out here: Docs.google.com
Cheers,
The Protectors Team