Kodansha's Weekly Shonen Magazine will commemorate its 50th anniversary over the next five issues with the return of some of its most popular artists. Issue 16 (on sale on March 19) will have a poster featuring Ashita no Joe's title character Joe Yabuki and Hajime no Ippo's Ippo Makunouchi. Ikki Kajiwara and Tetsuya Chiba's Ashita no Joe is considered the pioneer of boxing manga, and George Morikawa's Hajime no Ippo
is the most popular current boxing manga with 82 volumes so far and a hit television anime series. The issue will also have a "Magavia 50" feature on trivia about the magazine, with a review of the top models that appeared in the issues over the years.
Issue 17 will see a remake of Atsushi Kase's Chameleon, a gag manga about junior delinquents, by Hiro Mashima (Rave Master, Fairy Tail). Gag artist Hideo Nishimoto will also start Magajin-chō Satsujin Jiken
(The Case of the Magazine-Town Murder), a two-issue collaboration with every serialized artist in the magazine. Issue 18 will start a long-awaited new chapter in Fumiya Sato's Kindaichi Case Files mystery manga. Kindaichi will also be featured this April in a joint magazine with Gosho Aoyama's Detective Conan (Case Closed) manga from Shogakukan's rival Weekly Shonen Sunday magazine.
Issue 19 will have a one-shot return of Daisuke Terasawa's hit Shōta no Sushi cooking manga. Finally, Yūki Ishigaki will also return to draw MMR Magazine Mystery Chōsahan (Magazine Mystery Reportage) suspense manga again in the combined Issue 21/22 and Issue 23.
---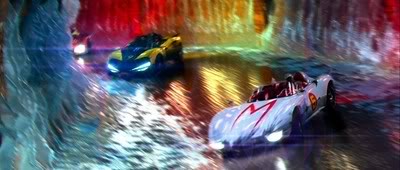 The Yahoo! Movies website has posted the full trailer for the Wachowski Brothers' live-action film adaptation of the Speed Racer (Mach Go Go Go) car-racing anime series. The two-minute, 30-second trailer (and the earlier teaser trailer which was released
in December) is available in standard definition as well as in high definition in 480p, 720p, and 1080p resolutions. The film, which stars Emile Hirsch as the title character, will open in North America on May 9.