BETA IS COMMING!
Ok, a small update this month. I made quite a lot of progress, but there are not a lot of interesting things to say.
Most of the coding work was polish and debug. That's crazy the number of small issues I can still find…
But I spent more time on the documentation. It is now complete, a v0.5, full of spelling mistakes. The next step is to format it, choose the colors and fonts and add a lot of screenshots. It's incredibly time consuming!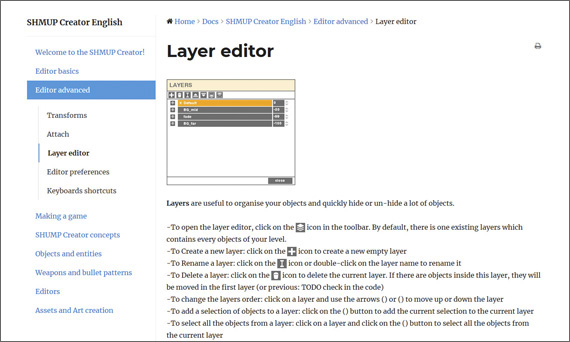 I also sent my sounds and musics list to a sound designer.
The documentation, the sounds, the debug: the goal to all this is to produce a beta version after the summer. I will then start a closed beta for some happy fews which will allow me to further polish and debug the tool and the engine.
NEXT MONTH:
As I said I will continue my work on the documentation.
I will also hopefully resume my work on the "Gradius like" 2D level.
MAILING LIST:
Oh… And did you notice we started a mailing list?
Don't hesitate to sign up: it's on the top of this page. No spam, we will only send emails to announce the release of the SHMUP Creator.
See you!