Shattered Haven Launch Trailer -- 1.0 is March 18th!

An Environmental Puzzle Game About Family, Grit, and Survival
Grays roam the land, largely in the absence of human interference. These aren't your typical Zed -- theirs is a very different sort of apocalypse. Animals spontaneously transform into twisted, violent beings. The earth decays, collapsing into a network of abysses. The wilderness thickens.
It has been nine years since That Day when it all started. Pockets of humanity still exist, but are ignorant of one another. Within these isolated havens people try to live as best they can -- for even in a world so broken and dark, daily life must go on.
Darrell and Mary Williams were able to build such a life inside a five-acre fenced yard out in the country. They were even secure enough in their isolated compound that they had a daughter five years after the zombie-like grays appeared.
Life carried on as normally as it could, until another refugee on the run is killed during a nearby attack. Her son is saved and taken in by the Williamses -- who do not realize that this kind action will destroy their home and threaten their entire family. They find themselves caught in the midst of a struggle between two eldritch horrors, and the path to survival is anything but clear.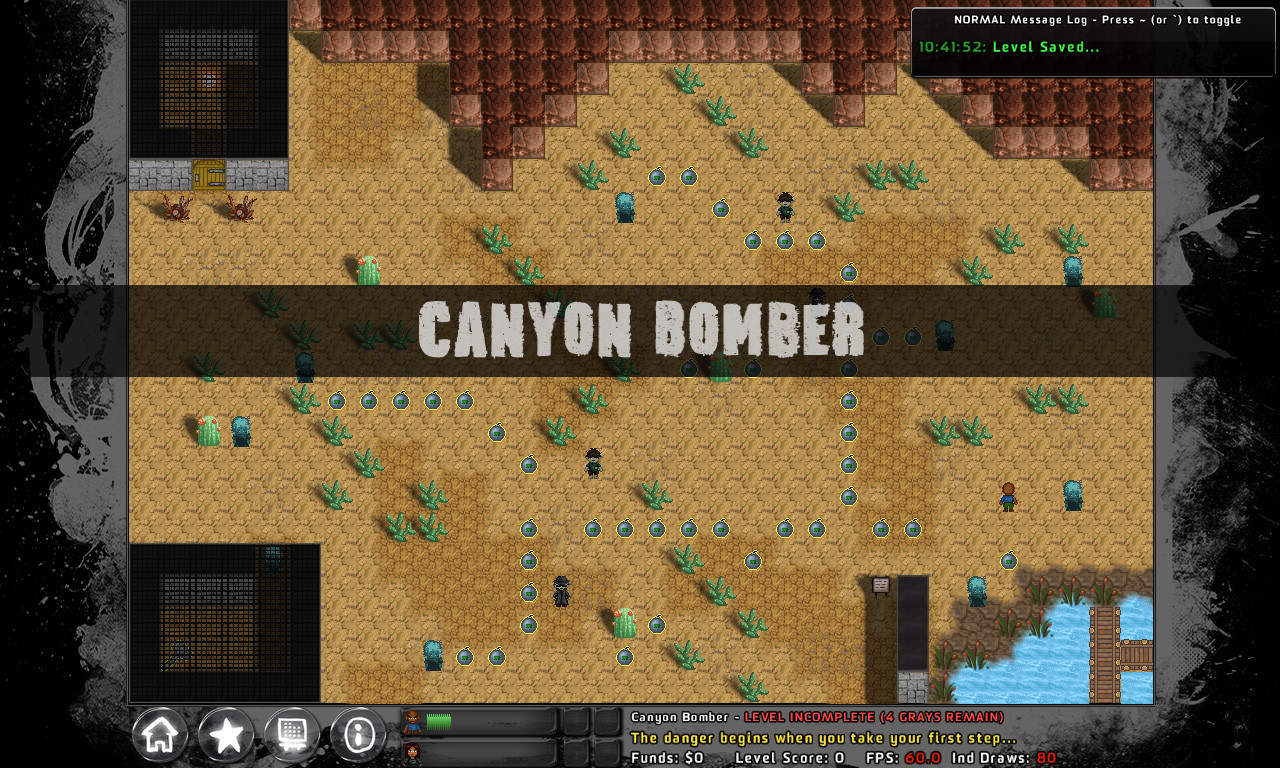 Shattered Haven Beta 0.810 "Grim Wilderness"
This one has a bunch more in-engine cutscenes of varying scope and importance, and several new comic panel cutscenes without voiceover (the voiceovers are used for key emotional scenes, but the comic panels are also used for area transitions to help set the sense of what an area is by giving you a painted view of the area while Darrell and Mary talk).
As part of the above, the reason behind the Marsh being so (seemingly) empty of enemies is now made more clear from the start. A lot of this writing goes way back in terms of what we planned, and it's just that we're finally getting to the point of integrating it into the game itself because we wanted the levels to be pretty well finalized before scripting too heavily in them. Pretty exciting to see it all coming together, at any rate.
There are also some minor graphical updates, some bugfixes and tweaks, and a new Water Balloon weapon.
More to come soon. Enjoy!
This is a standard update that you can download through the in-game updater itself, if you already have any version of the game. When you launch the game, hit the big "Play" button and then you'll see the notice of the update having been found if you're connected to the Internet at the time.
Shattered Haven Beta 0.809 "Shadow Children"
This one has a couple of new in-engine cutscenes (as opposed to comic panel cutscenes). There's a goodly number of both remaining to do, and I had hoped to get more of that done today, but instead there was just a huge wash of minor bugs and polish stuff I wanted to get done so that it wouldn't impact further testing.
So, yeah. Lots of minor tweaks and so forth. The Shadow Children show up in several contexts now (whereas before they were mostly restricted to the final boss fight), starting very early in the game. Probably my favorite two tweaks in this version are:
1. Eliminating the annoying skipping in the ambient sound loops (rainfall, etc).
2. Colorizing the text of who is speaking during in-engine cutscenes.
Shattered Haven Beta 0.808 "Stantonsburg Renovations"
This one is the second release of the day. It has a number of fixes and tweaks that are nice, but nothing too major.
The big thing this time around is our work on implementing/polishing more story and voiceovers and comic panels, etc. We still have more than a little bit to do over the next couple of days on that score, but we're making good progress toward having everything ready and sparkling by Monday
Stantonsburg hasn't really changed all that much, but some loose ends have been tied up and it has been finalized excepting any bugs that are found. That's also true of the Phoenix Forest as of yesterday. Stantonsburg is a lot more complex in terms of scripting than most of the other parts of the game, so it's one of the more time consuming ones to implement compared to the more wilderness-focused overworld sections.
By the way, I can now confirm that we're going to be coming out on Monday on all the major distributors you'd expect from our past games -- plus one major one we've never had a game on before.
Oh, and also -- I'll be very curious to know if anyone ever made it into the Mines. I think everyone has been taking the Deadlands route from what I've seen. I think that's because the blue key was way too hard to find before (not on purpose); that's now much easier to find. But choose carefully between the Mines and Deadlands! The Mines are a far harder road (something about digging too greedily and too deep? I'm not sure.).
Shattered Haven Beta 0.807 "I Can't Feel My Fingers!"
This one is the first of two releases for today. It includes one critical bugfix where you couldn't always pick up items correctly in the last version, which is the main reason this was pushed out. But it also has other bugfixes and tweaks, a new cutscene, and four new music tracks. Also improvements to how well the grays are stunned by being shot with small caliber bullets.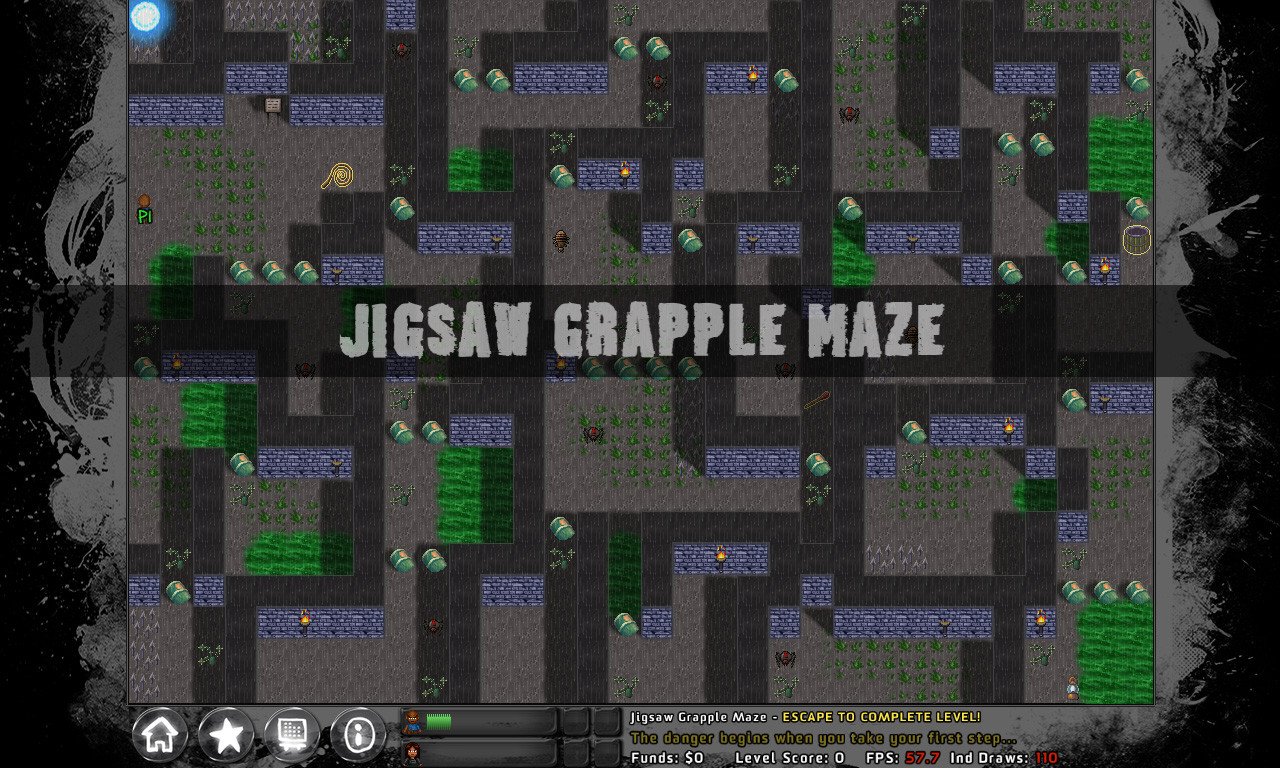 Shattered Haven Beta 0.806 "Now I Know Where I Put Those Keys"
This one includes a ton of inventory improvements, makes the follower NPC invulnerable, and improves several levels as well as making the "sliding around objects" logic work better. More to come soon.
Shattered Haven Beta 0.805 "Corners Like It's On Rails"
This one is actually the fifth update that we've done since beta started three days ago. However, this is the first one that is getting its own post; I was just in too much of a hurry with everything going on to post about the other releases, despite the fact that they had significant improvements and polish.
This new version includes a lot of top-requested features, such as: not losing your inventory when you die on the overworld; some better handling of some specific annoying cases with the follower player-2-standing; some improvements to the visual clarity of the bonus objectives completion status; and having the player characters slide around object corners rather than getting stuck on them.
There are also a bunch of new music tracks in this one, and a bunch of levels that had only had ambient sound effects before now have their music tracks properly set along with that. There are also two new weapons that are largely overworld-specific.