Hello everyone, I'm happy to inform you that "Sentou Gakuen: Revival" has been Greenlit and will be coming to Steam platform, Soon~.




I'm surprised with your interest, here is our final stats. In 13 days on Greenlight, we have gained almost 1337 votes (too bad we missed 2) with composition of: 52% Yes; 45% No; 3% Ask Later; Which is very decent ratio compared with the average.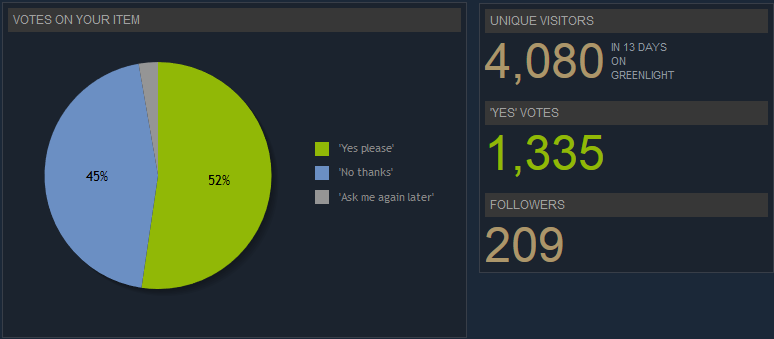 I have prepared ample supply of coffee to work my arse off. All that is left is to finish the paperwork with Steam, and proceeding the development. I'm planning to hold a technical test by the end of October, (hopefully) no guarantee though, but I'll do my best.
What to do now?
Follow the Greenlight page if you haven't.
Join Sentou Gakuen Steam Group. This will be our operating base, any news, progresses, and updates regarding "Sentou Gakuen: Revival" will be posted here. Don't forget to invite your friends, who might have interest in the game, the more the merrier.
Wait and pray!
Thank you for your support, otherwise we wouldn't be able to reach this far.





Sincerely,
Principal Honoo Masato