Recap
At the start of the week I finished playing with particles and melee combat. On hit, you briefly flash as a skeleton. When you die you turn into a skeleton with a poof of smoke.
Right now your health is shown on your character. The more damaged you are, the more red you become. Debating on whether or not I'll keep this.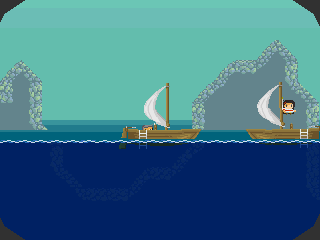 The rest of the week I've spent laying the groundwork for crews. I needed a larger ship to test them on, so I started on one. The smaller boat I've been using is not a 3d model and is actually 3 different sprites that rotate to fake the 3d. For this larger boat though I wanted to see how an actual 3d model would look in the game. Looks pretty snazzy I think. Opens up possibilities for dynamic lighting, the ship rocking back and forth, etc.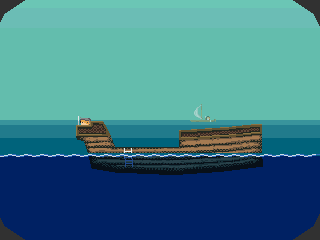 It's still missing masts, but it'll do the job.
I got a few bug reports on the site and fixed one that I hadn't seen before, as well as some that showed up with the larger boat.
Looking Ahead
This week I'm definitely aiming for crewmembers. I want to be able to have at least one working by the end of the week so it can be used with the Captain class. If there's still time after that, I'm not sure. Maybe putting the cannons back in and getting the AI to use those too.
Play Seafarer
Version 0.2.19.111812 of the game is up now with some of the new things, so feel free to try that out on the site. Beneath the game you'll see the date the web build of the game was last updated as well as its version number. If you submit a bug report, please include the version number.
Other than that, play away.
PlaySeafarer.com