Scribble Ships is a 2D top-down arcade shooter that tosses the player into a world of color and chaos. With a range of ships to choose from, the player is tasked with coloring the monochromatic enemies that are trying to take your color away.
Features
The final game features five playable ships, each with their own unique firing abilities, movement, size, and hit points. Various skins for each ship can be unlocked by completing challenges pertaining to that particular ship. Some examples:

Scribble Ships also features a number of (currently 7) unique enemies, each with their own abilities and behaviors. There are enemies who will ram you, stop and shoot at you, circle you, drop dangerous black ink blots, revive other fallen enemy ships, and more.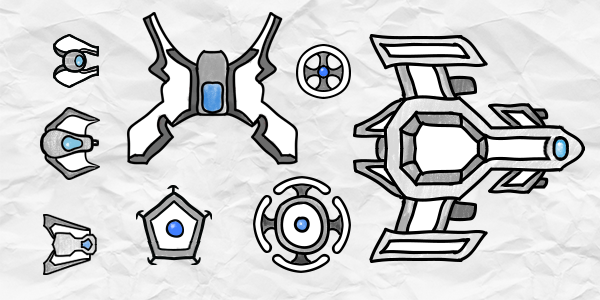 There are also a number of power-ups and abilities available to the player's ship. Your ship's weapons can be upgraded to a superior firing mode, as well as the speed and handling of the ship. On top of that, there are a bunch of temporary power-ups like shields, frenzy mode, all bullets converted to homing rockets, etc.

Next, we have some exciting bosses in development for final release. Our first completed boss, the Leviathan is complete and there are four more on the way. Bosses have intricate mechanics and are more sophisticated than just the average "shoot to kill" enemy. We look forward to revealing these bosses as they are completed in time.
This has been a solo project I have been working on for the past few months. If you have any feedback, I'd love to hear it. Please take the time to check out and vote for the game on Steam Greenlight!