Posted in Marketing & PR | Jul 18, 2013 | by Tiare Feuchtner
For all of you who might have missed it: Last week we were in St. Petersburg for the Worldwide Finals of the Microsoft Imagine Cup!
Here's an account of the events. I've honestly tried to keep it as brief as possible.
After some serious sightseeing on Saturday and Sunday, we moved from our cozy downtown hostel, to the huge Park Inn hotel, which was the venue for the Microsoft Imagine Cup. It was unbelievably exciting to check in alongside all the other teams from all over the world. We felt really special and important at being treated so attentively by the staff. All this is an unknown and strange world for humble students and "nobodies"such as us.
After a quick briefing by Andrew Parsons, we were all herded out in front of the hotel for a massive group photo. The confusion and chaos caused by hundreds of young, overexcited people, who in part have a limited understanding of the English language, and the feeble attempt at organization of a woman using a megaphone that was simply not loud enough, was marvelous.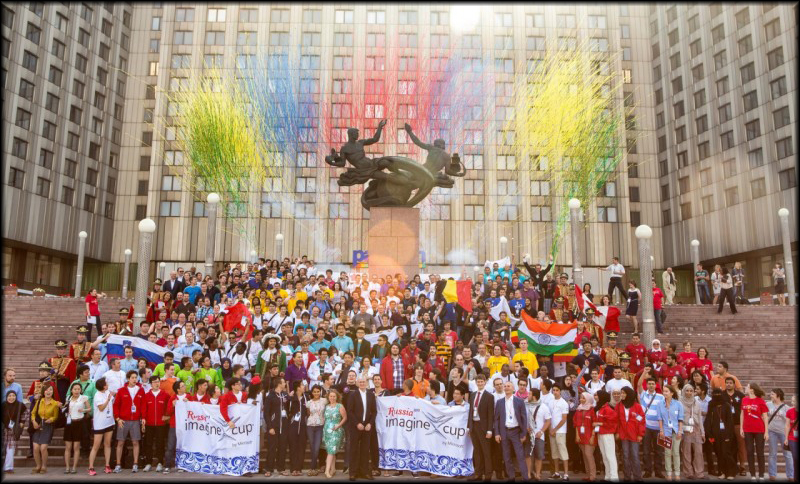 Then we finally our mentor Rainer Stropek who joined us at the special welcome dinner for Western Europe. Together with a handful of teams from the "smaller" European countries (such as Ireland, Italy, Portugal and Belgium), we were all led into the dining hall and due to a lack of speeches or introduction, we began to awkwardly mingle and tentatively nibble at the food. Overall this event consisted of a huge buffet and a lack of alcoholic beverages, which was immediately pointed out by the Irish mentor. However we soon hurried off to our speaker coaching session, leaving the roast pork leg completely untasted. While awaiting our turn, we met Jan and the German team metappolic, who have become good friends during this week. After Michael gave a great presentation and the coach provided us with lots of great feedback, we got a whole lot of valuable ideas by Rainer too. We spent half the night adapting and rehearsing our presentation.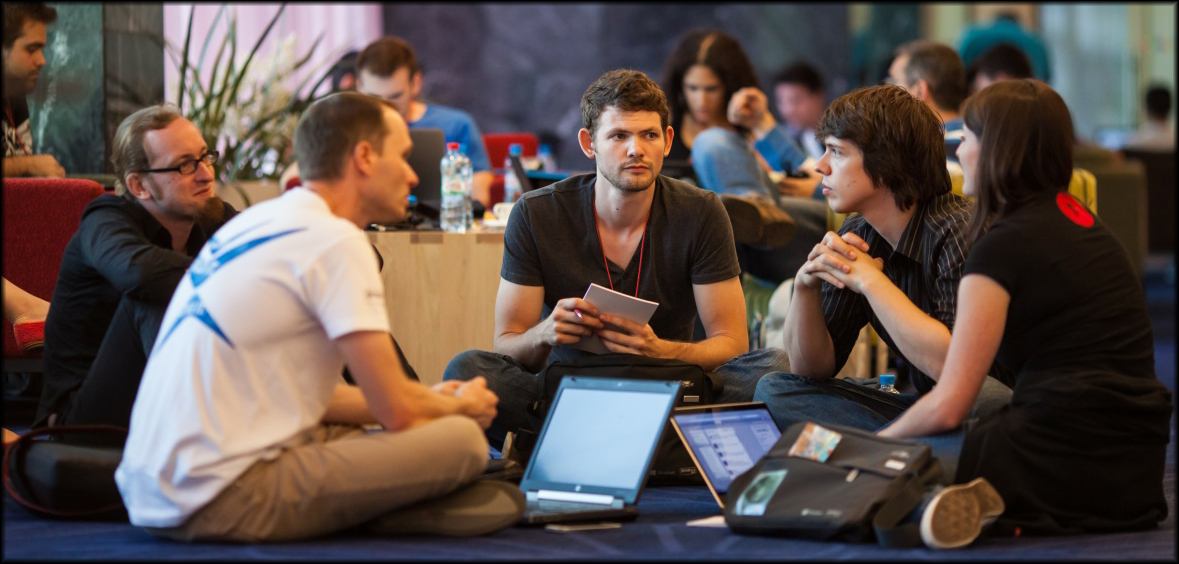 On Tuesday we were the last team to present in the Games category, which luckily gave us some more time to prepare. Nevertheless, we didn't feel ready and the lack of sleep made it even worse. At 2:40 pm it was time to meet our judges: Larry Hryb, Adam Sessler, Laura Parker, Kevin Dent, Alexey Pajitnov (the maker of TETRIS). All of them looked tired, as can be expected after such a long day of judging (and presumably long night at the bar) – except for Alexey, who was smiling and waving at us, which really helped cheer us up! Michael breezed through the presentation and it seemed like the rest of the team was way more nervous than he was. And then came the questions. Brutally honest questions. We had prepared so well and had even anticipated some of them, but nothing went as it had been rehearsed. In retrospective I believe we gave some good answers, but at the time it seemed like we were doomed.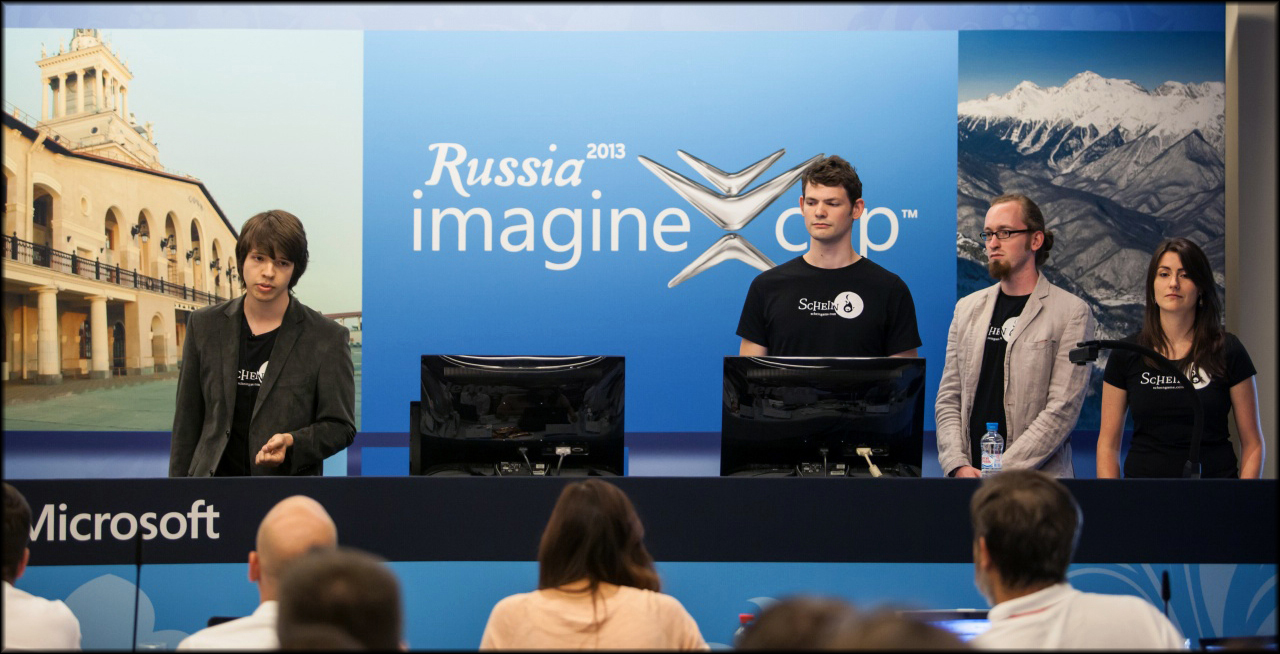 We walked out and got busy setting up our booth for the showcase later on. In the meantime we had a nice chat and interview with Claudia and Rudi, the Austrians who accompanied us.
After a short, well-deserved nap we trudged down to the Women's Innovation Dinner, where we were delighted to find a delicious meal and even wine! Strengthened and refreshed we set off for the press showcase. It was a real pleasure to be at our booth and present our game to all who wished to see it. Most of all we enjoyed the company of our fellow competitors around us and soon became friends with the teams from Puerto Rico, Czech Republic and Turkey. The showcase continued until late into the evening and left us tired but quite cheerful.
Soon however we remembered all those difficult questions and huddled together to prepare for the following day, when the judges would test our game in a 15 minute hands-on session. We worked until late in the night, polishing our game and rehearsing better replies and explanations to the difficult subjects they had breached.
On Wednesday we woke early, feeling beat and battered and hurried to our 8am hands-on judging session. It began with Laura Parker, who greeted us cheerfully and seemed delighted with our game. Second up was Kevin Dent, who surprisingly did not follow up his questions from the previous day. He overwhelmed us with lots of great advice and encouragement, taking a ton of weight off our minds. Then Larry Hryb came to give Schein a try, and he too had positive feedback for us. Adam Sessler had made us somewhat nervous the previous day, but when it was his turn he actually got so engrossed with one of our puzzles, he was cursing and stomping and quite clearly having a great time. And so did we! Finally our booth was visited by the maker of Tetris himself, Alexey Pajitnov, an unbelievably kind man. Our experiences from this day were so contrary to the one before and left us confused but unspeakably relieved.
In the afternoon Microsoft had organized a cultural day for us, and it felt absolutely like a school trip. We spent a couple of sunny hours lazily strolling through a "traditional" Russian village (which was apparently constructed with the sole purpose of entertaining a crowd of students once a year). There were games and strangely dressed Russians and a couple of farm animals in very small cages, which we gawked at like aliens – surely a result of sleep deprivation. We dwelled in childhood memories while we crafted traditional Russian dolls and painted wall decorations. We also engaged in some manly activities like spear throwing, forging and sawing.
Later the buses took us to Peterhof, a huge palace where Peter the Great used to stop for a break on his journey to the St. Peter and Paul Fortress, which guards the city. This is also where Empress Elizabeth resided until she came to power. Enough history lessons… We gathered for one more chaotic group photo, to which we once more failed to bring our flag. Then we ambled through the beautiful park admiring the multitude of fountains and gleaming gold statues and simply had fun. The pressure was finally gone and it felt so good to be able to relax and let our hair down!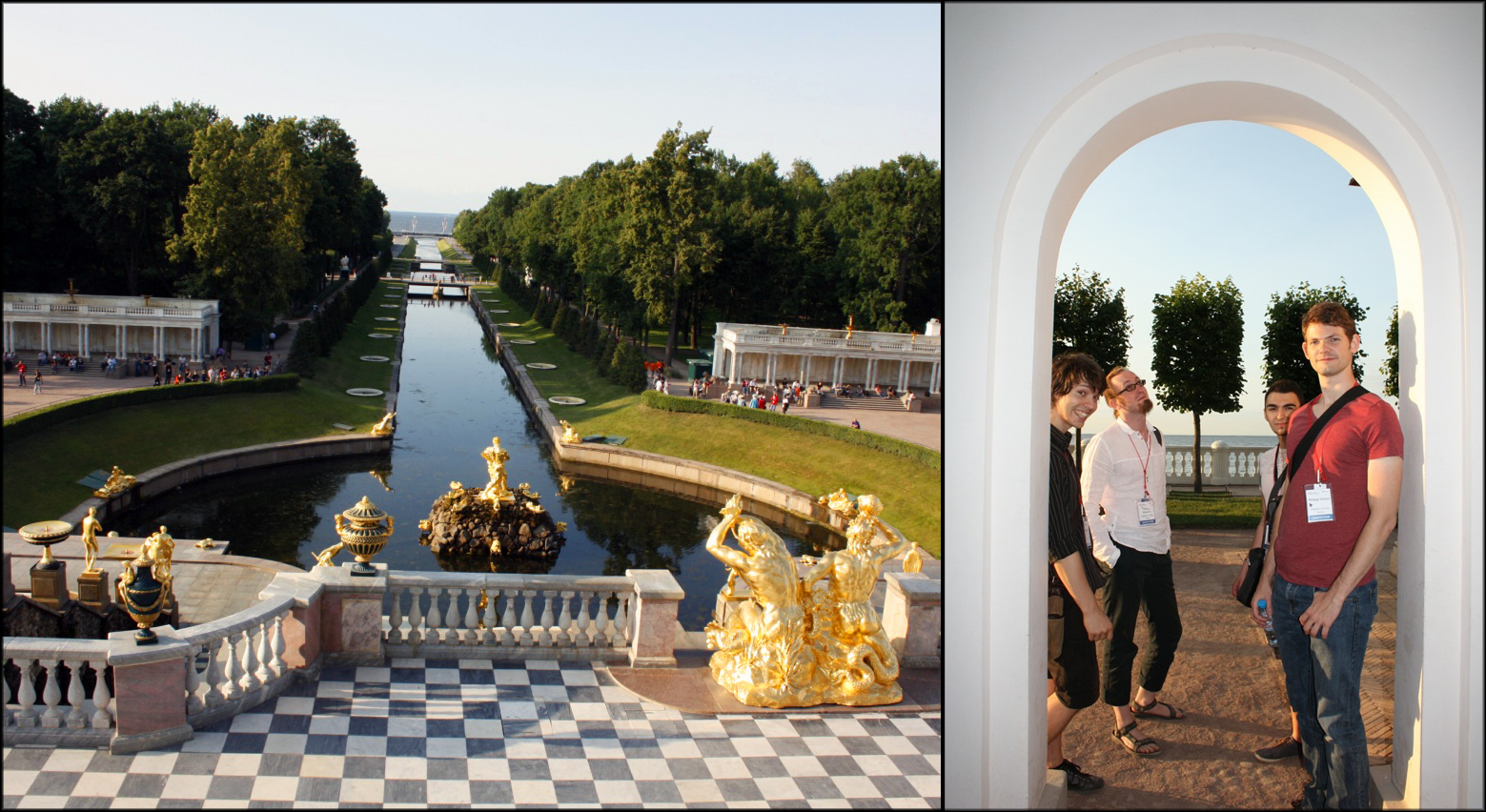 Upon returning to the hotel the sun was setting and it was nearly midnight – that's what they call white nights. We headed out to the minimarket, stocked up on beer, wine and vodka and had a lovely late night picnic of Mannerschnitten and Mozartkugeln together with German, Russian and Belgian friends.
Needless to say we slightly regretted these actions the next morning, and only half our team actually attended the learning sessions. They were very interesting though – or so I've heard. In the early afternoon we returned to our booths for the final showcase, which was open to the public. Our booth was strongly frequented and Schein received lots of attention. Then it was time to pack our stuff and get ready for the award ceremony! We felt terribly tired, nauseous, our heads were throbbing, and the mounting excitement did not make it any better. Surprisingly our smiles reveal quite little of our suffering.
We took our seats in the magnificent Alexandrinsky Theatre and admired the richly adorned interior that was glistening with gold. Matt Smith (you might know him from Doctor Who) took the stage and the ceremony began. Lots of speeches by important people followed, which are now all a blur in my mind. In between we were entertained by skilled Russian dancers in colorful attire. The first sponsor prizes were awarded and the Indian group, which Rainer was mentoring as well, won. It was awesome to see how happy they were! Then time seemed to slow, suspense became unbearable and breathing got quite difficult too. For once we had brought the Austrian flag with us and the thought crossed my mind that I had no idea if the eagle should actually look left or right – how embarrassing it would be to hold the flag the wrong way. Gladly there was Wi-Fi and we quickly looked it up – thank you Google! When Alexey took the stage and it was time for the Games category, reality seemed to fade. The third place went to France with their game Seed. We were really hoping to be among the top 3, so when second place was called, my reflexes almost made me get up. But somehow I became aware that the Hamster game won that prize. That was it then… it was going to be all or nothing. I think we all held our breaths and when Alexey called for Zeppelin Studio it took a long while for our brains to tell us that he meant us. We won! WE WON!!
Standing on stage was incredibly difficult with knees shaking wildly and when we got back down it was a real challenge to hold back the tears. We did it! We watched in a daze as the rest of the ceremony passed. Then we were hurried back onto the stage for a photo of the champions. Backstage we got to meet Matt Smith and shake hands, and then we were told to position ourselves in a separate hall, for the press to take pictures. Our arms were slowly growing tired – those trophies are incredibly heavy! (2.5 kilos… um, that's about 5 pounds?)
We were guided to the First Place Winner's Dinner. The food was incredibly delicious and eating was only made difficult by the fact that we were accompanied by press, who wanted to talk to us meanwhile. Soon we were rushed out again and a bus took us to the party, where we finally meet up with our fellow competitors. It was good to be out of the spotlight and just spend some time chatting and drinking with friends. It was truly heartbreaking to see the disappointed faces of friends who hadn't won, and it made the congratulations we received bittersweet. But there's still another chance next year, and we're looking forward to seeing all of you again in Seattle!