THE UEMEU TEAM HEADS TO GANGLAND MIAMI!
VERSION 0.03.0. CICADA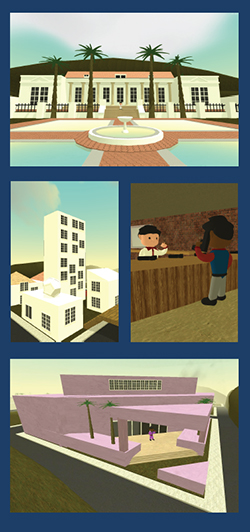 Our third foray into Uemeu multiplayer-building was a
bright and sunny trip to southern Florida. Based on the
idea of the 1980's gangster classic "Scarface" and GTA
Vice City, the team had one hour to compose a scene from gangland Miami.
The session started with a showcase of Cicada's new sky
decals: a dramatic lightening storm over ominous gray
skies, starry nights and swirling dust-storms loomed
overhead. Once the sun came out, each team member
chose a plot from the "Miami" grid and began to build.
This was the team's first real attempt at multiplayer
building. 7 team members worked at their own
computers in our London office, while Rachel joined in from Philadelphia and AK from his room at Uni; all of us talking in a Google hangout while we built.
There were a lot of exclamations of "who stole my
window?!" and more than a few accidental deletions,
but the platform held steady with a range of 4,000 to 6,000 objects in place and the session was, overall, very
successful.
You can see video here: Bit.ly
Version 0.04.0 Dragonfly is scheduled for release on
Thursday, June 27th. We expect to be adding AK's
supercool building avatar, some new abstract terrains
and a very, very exciting gadget demo (which I will keep secret so I don't jinx it...). This week's challenge winner Jon Bailey has come up with a really great theme for next week's play session- if all goes well, there should be a truly fun video, next week.
See you then!