Big news, Mac owners!
We've been working in secrecy for some months on a side project that will surely make a lot of you happy, namely a Mac port of Sanctum! The game is now up and running using Steamworks for Cross Platform Multiplayer with your PC friends!
An open beta is now available on Steam for every Sanctum user. For those who don't own the game yet, here is an open form where you can apply to become a beta tester as well. The Beta will be visible in your Steam game library as "Sanctum Beta" and will be installable both on Mac and PC.
Read more about how to participate in the beta test here!
The project has been going on for a while, because there were frankly a lot of more things to handle than we had first thought (as usual when it comes to game development).. Sanctum is a demanding game when it comes to hardware and as the general Mac computer isn't really a gaming powerhouse, we did know we would have to do a lot of optimization to make the Mac version run well..
The fact that most Mac users are also on some kind of laptop device, meant we had to get our hands super dirty, and we sure did! Our hands are now as dirty as can be, and we've twisted every mesh and material in the game to make it run smoother. We even integrated and utilized Simplygon on the way.. Even though there were obviously some hurdles to cross, the results are pretty good!! I just finished a run on "Sanctum - Facility" on my 2012 MacBook Air, before writing this post.
So how's the performance? Sanctum won't run on older Macs, but it will run on most up-to-date models, such as the MacBook Pro (2008+), MacBook Air (2011+), Mac Mini (2011+), iMac (2011+) and Mac Pro to various degrees.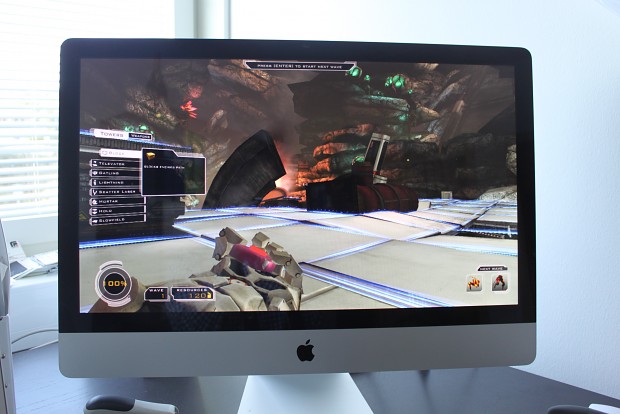 Oh and finally, did we say that the Mac version of Sanctum will be included in every past Sanctum purchase on Steam? If you already own Sanctum that means you will be able to install it on your Mac when the beta goes live! Aren't we the good guys?! Every new purchase of Sanctum will obviously also include both the PC & Mac version.
We hope that this will help Sanctum reach even more people! Make sure to stay tuned for more! This autumn will be exciting.
Best
Coffee Stain Studios