With Samphi growing in popularity I decided now was a good time to redesign my site. My previous site was a really simple setup; home page, media about etc. and having such a simple setup limited the amount of information I could include. My new site is much more comprehensive and will be updated more regularly than my previous one.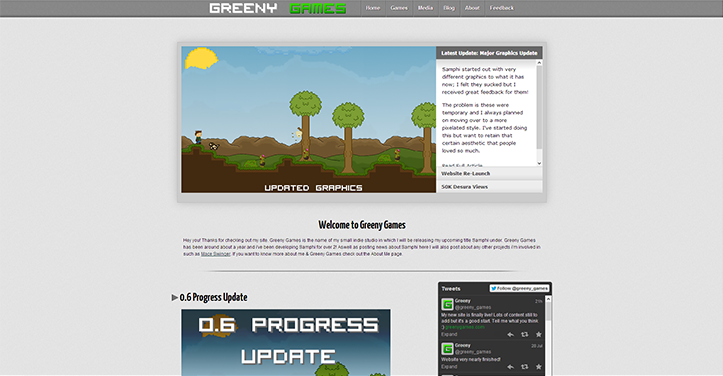 Shot of new greenygames.com homepage
This article is just a quick FYI letting you guys know that the site is back live. I was originally going to create an article outlining the functionality of the site (I actually wrote half of it) but I felt I was just explaining the obvious! You can check it out for yourselves here.
Any feedback would be great! It really helps me know which parts need improving and will enable me to create the best site possible. Samphi will soon have its own website which I am planning on launching when the game hits alpha, but for now GreenyGames.com will be its home.
As always be sure to follow @greeny_games & @SamphiGame on Twitter for running dev news and chat.
That's all from me for now. Ciao.