Hey people, third entry in the development blog of Saint Alice, some progress has been done in these two weeks since the last update, not as much as I would have liked but the month still has plenty of days left, days that I want to take advantage of to end the month with some solid progress. About what has been done during these two weeks I can tell you that the two regions I had been working on are done, well they still need some few details but they are basically ready.
I have also started to work in a new region too, I am specially excited with this new one because it means working in a different biome than the one I have been working for so long, I was needing this change after working in the first biome of Saint Alice for a long time.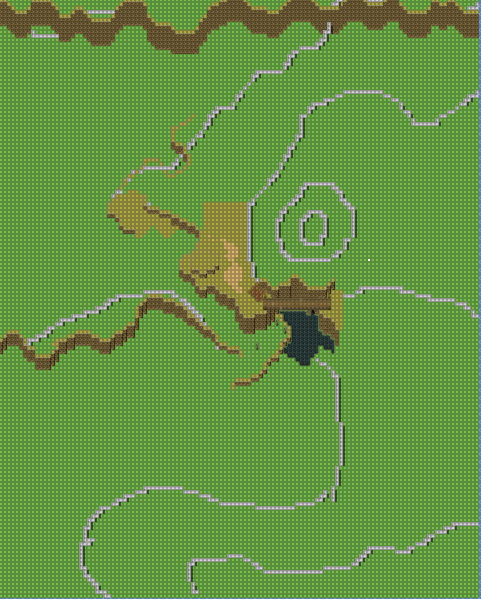 Doesn't look too appealing yet obviously but that's the humble beginnings of this new region and biome of Saint Alice, plenty of work ahead. Right now my focus will be this new region and two very important parts of the game that I haven't focused a lot but I think is time to start taking care of them. The first of them is creating some actually "functional" characters in the game.
Like I mentioned before the development of characters is one of the process that enjoy the most and various characters are already there, their lifes, personality, relationships, talents, interests,dislikes and basically the part they play in this world but they aren't in the actual game, an important objective with the characters like most parts of the games is to make them dynamic and alive, all of them react to different events, certain subjects, interests, other characters etc. And they also have different interactions depending of the characters and some others variables.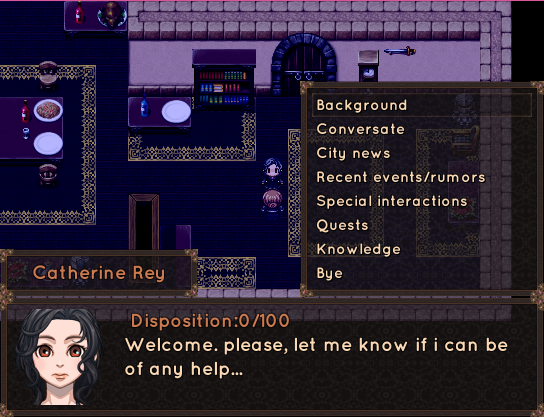 some subjects and interactions are already there from the start while others need to be "unlocked" with the "knowledge system", one of the mechanics of the game that I feel the most excited and that I think will give a different and more unique and dynamic experience for each player as well as further immersing the player in the game, but it is something that I will discuss with more detail when the game gets close to be released.
As you can imagine the amount of dialogue of every character as well as their different mechanics (quests, interactions, events, etc.) is huge and an intimidating task, a task that I have been postponing for a long time but with the amount of characters and the work that goes to each one of them I have to start working on them now, they play a really important part of the experience and each one of them have been developed with great care and thinking of each of them as an important character , I think that their role in Saint Alice is more similar to the role a character can have in a book, a novel than the one that characters have in most RPGs as my goal is to make them to have a life that doesn't revolve around the player neither around the game itself (as simple service providers, quest givers etc.)
And well I think that the article has extended a lot already so about my second focus during this month I will just say that is about skills, more specifically the mechanic of how the player will acquire them but it is something that I will talk in another article later this week.