RymdResa got greenlit this week! We want to thank everyone that have voted for the game. And thanks for the fantastic reviews we've gotten. You helped us to make this possible. We are truly grateful for your wonderful support!
The development of RymdResa is an amazing journey, and we're enjoying every minute of it.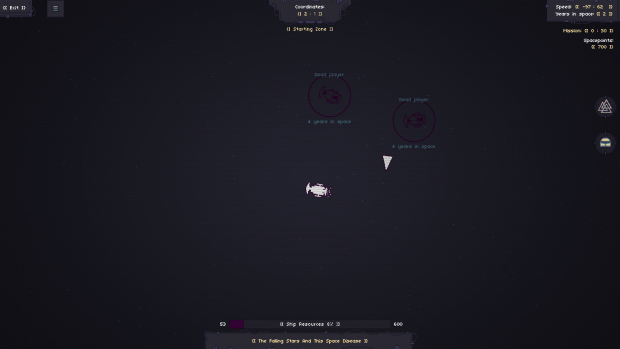 We recently released a new patch, for the iPad Beta. The patch contains some bug-fixes and following
features:
A new Item Type Orb (will later be

locked to chapter 3).

A new Map (will later be

locked to chapter 3).

New Message system with message-pods.

New buttons and options.

New Travel-Status Collection.

A

new smooth camera (desktop only, sorry iPaders).

20 new

messages to death screen.

A new danger: robotic turret.

Some more legendary/crafting unique stats!

10 new Galaxies to

explore.

Exploration of dead players.

Editable touch-

controls in options.

An increased zone size by 25%

Refuel Station charge circle, now follows the ship's' position.

Shorter distance between mission coordinates, in chapter 1.

Graphics and images optimization.

Better chance to find items.

No more button placement restrictions. Happy placement!

Unlocked landscape mode: right,

you can now rotate the iPad when playing.