I am a Windows user, but that doesn't mean I don't want Enola on the Mac, specially since UDK allows me to publish the game in both platforms. The issue is I never released the game on the Mac because I didn't own a Mac to try it out.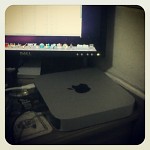 I still don't own a Mac, but I recently borrowed one so I could build the game for the Mac and make sure it worked. It's a 2 year old Mac Mini but it runs Enola fine (considering I still don't have any optimizations set up). This doesn't mean everything was smooth, because when I ran the first build I experienced a lot of graphical glitches in the Island landscape (they were caused by the real time LOD terrain setup that UDK has, which pretty much decides how to subdivide a geometry based on the distance), but I don't know if that was caused by the Mac platform not being able to handle the landscape´s LODing, or this specific Mac's videocard.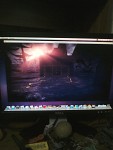 However, when I disabled this real time LOD thing, the game ran just fine, and looked exactly as it does on the PC, which is great. I still need to test things further because I want to make sure the experience is the same on both systems, but I'm hoping there won't be any issues.
Actually, I'm happy the Mini can run the game because I'm aiming to make a game that doesn't require a killer system to run (on a side note, I don't have a low-specs PC to test the game on, so all my optimizations are simply me assuming things will work fine).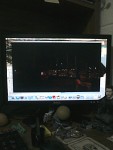 Other changes that will be added to the next version is the new level, the Midnight Heaven, some updated UI elements, a new way to save based on "save spots" (so people remember to save in Enola), and some changes in the levels you've already seen (like changing daytime to night time in the island, but also many other changes). In this version I'm also adding something many people requested: you'll be able to invert the mouse view. This means I will add a (basic) options menu where you can modify the volume, brightness, resolution, and invert the mouse (not sure about remapping keys because I still haven't figured out how to do that).
So you see, this next update is going to be big, and it's very exciting. As I was telling you a few days ago, I plan to run a Kickstarter for Enola, so if you have any ideas about that, please share them here. Also remember to up-vote Enola on Steam Greenlight.
UPDATE: I sent the build to 2 guys and they both reported the game ran slowly, and in one case it even crashed. I'll have to check into that.