What is #RPGuild?
#RPGuild is a minigame for Painters Guild that is played via twitter. You are a Renaissance artist in twitter and you can get apprentices, improve your skill and gain gold from art patrons.
How to join
Followers of @GuildOfPainters can sign up by tweeting "I am now playing #RPGuild" to be added to the scores page in guildofpainters.com/RPGuild/. Not a follower yet? Here's a special code: If you add the #IndieDB hashtag to your signing up tweet, you start out with +1 Gold! Remember - you have to follow @GuildOfPainters to participate.
Here's an image of what the scores page looks like: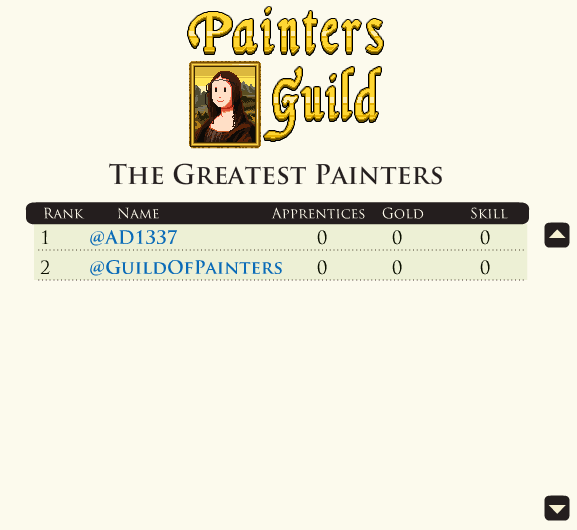 Rules
Once you've signed up, watch for tweets with the #RPGuild hashtag by @GuildOfPainters. These tweets allow you to perform actions in the game, which can be retweeting to gain Gold, stealing gold from someone else, using your Gold to buy Skilll and more.
Each player has 3 stats:
Apprentices: A master artist needs apprentices. These are people you invite to play #RPGuild. You gain apprentices by having someone else follow @GuildOfPainters and having them tweet"I am now an apprentice of @YourNameHere #RPGuild
Gold: Gained by participating in the tweets by @GuildOfPainters. Stay tuned for tweets with the hashtag #RPGuild!
Skill: Skill is gained by spending gold through participation in tweets by @GuildOfPainters with the #RPGuild hashtag and other special events.
Prizes
The top painters of all time will get perks when Painters Guild is released. A prize might even be getting the game for free! The full prize list will be announced soon.
Meanwhile, check out some new images of the game that you can win: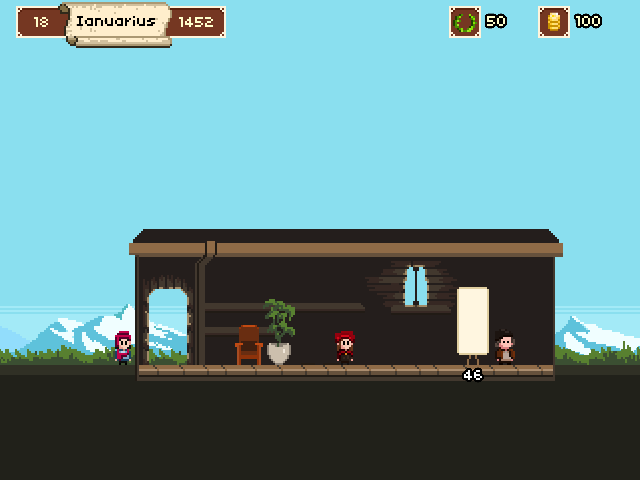 New screenshot of Painters Guild.
We've been working on something really cool that will also be announced soon. Here are the 2 new artists of the game: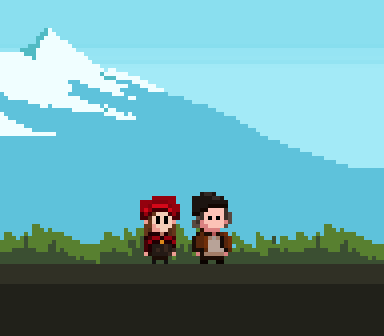 Also new UI elements for the alpha release that should happen in January:

Follow @GuildOfPainters and sign up by tweeting "I am now playing #RPGuild #IndieDB" - use the #IndieDB hashtag too to gain +1 Gold!