Hi everyone,
Just a quick message to announce you, that RPG Fighter League is now on Steam Greenlight program. With your support I'm sure we can make a great RPG that will be loved by gamers all around the world.
RPG Fighter League - Steam Greenlight Campaign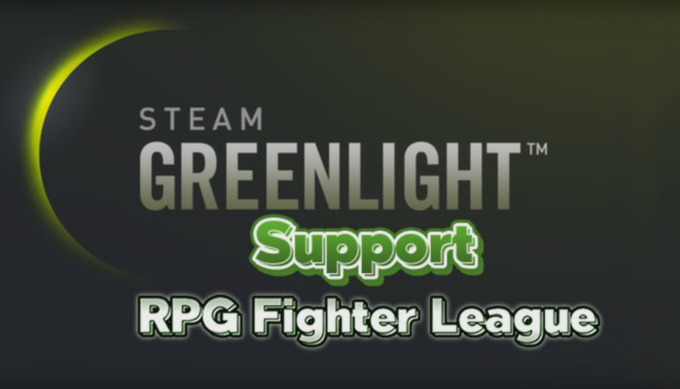 If you want to play the demo of this game, you can download the PC or Mac version over here:
DOWNLOAD RPG Fighter League Demo PC or Mac Version
Here the list of Features of the game
30 Hours + Game Length with new free content each week.
Fight in Leagues with challenges, boss fight, crazy enemies, moving story element, surprises and great RPG gameplay mechanic and full of secrets.
Active Battle Time (ATB) system with enhanced strategic lanes for your fighter. (Offense, Neutral and Defense Rows)
1 to 6 party members in your team for intense and strategic battle.
More than 16 playable characters all with different abilities, magic and great personality.
The choice of your team members will have an impact on the Leagues, games events and how the story unfold.
Develop your Friendship with your comrade in RPG Fighter League to obtains new skills, items and more!
Challenging Boss Fight!
Choose and give Stats Boosters to your characters the way you want them to be.
Learn skills and powerful magic to become the ultimate fighter with more than Gaziillions of possibilities!
Find NPC and repopulate the Hall of Champions and develop your friendship with them to have even more things to learn and buy from them.
Upgrade your weapons, armors and accessories with Shattered Stones (Stats and new powers available for your equipments)
Crafting (Creates items, armor & weapons from scraps and others objects dropped by enemies.)
Quest System (Contracts)
Treasure Islands for each League with custom chests and rewards!
A great story about fighters & family and everything around the creation of the Leagues.
Great Characters in a light hearted world where the fighters are the superstar of the Colosseum.
Fans system where you gain fans with trophies in League to obtain all sort of advantages and buff for your team member.
Great soundtrack with more than 100 differents songs.
More than 151 Secrets and Easter Eggs to discover with some truly special rewards.
Support Gamepad, Keyboard & Mouse and Touchscreen.
You can save anywhere, no Limit!
New content will be available after release date to extend the game length and universe.
Game available in different languages (English, french, spanish etc.)
And much more! (Riddles, rewards, mini-games, pre-emptive strike, achievements, etc.)
A release price tag under 5 USD $
Thank you for all your support!