Dear Ninja,
It's been awhile since the last development log. I thought I'd share some sweet news about the development along with some pretty screenshots to please your eyes for the time being.
We've been taking trips to visit Konoha between our long hours working on the game, and I can only describe the place with this word - "Home". Each time I log in and visit the pier I feel like I could just chill with my friends there for hours and talk about anything! I can't help but feel proud that I built this village myself with this as the objective. I wanted to create a home for all the leaf ninjas to feel like they belonged somewhere. I was largely influenced by Ragnarok Online in my teenage years to know the importance of creating a grand hub where players could enjoy just hanging out with their friends in.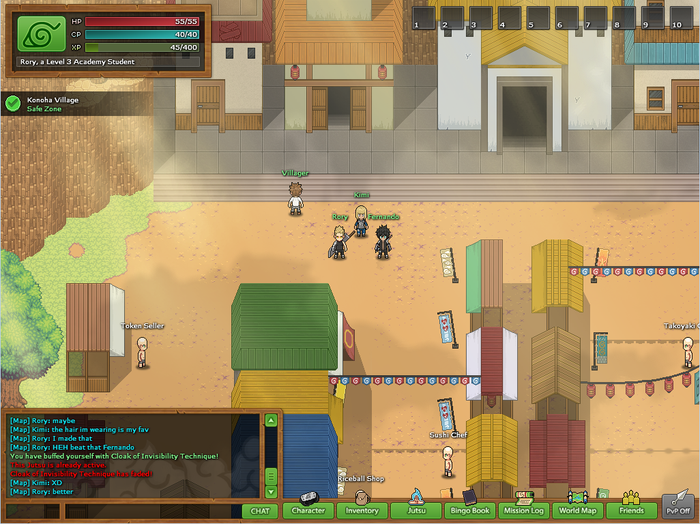 Ignore the naked, bald men selling food in the night market. This is a picture of our visit to the Night Market today. It was rather cloudy as you can see!
Update on Authentication Server
Abhi has gotten the Authentication server done and almost bug free. What this means is that as I type this, I'm playing Nin Online with my forum account! It won't be long before we release a stable client for everyone to play.
Update on other problems
Unfortunately, the 1024x768 resolution is still not optional at this point in time. We're going to work to fix this as soon as possible. It's a problem which mainly affects those who use 1366x768 monitors (mostly laptops), and it's a problem we want to fix. It is quite a bit of work required though.
Update on content
Abhi is likely going to revamp much of the mission system which is in place at the moment. It's isn't adequate if we want to build the game around interesting missions for everyone!
The Academy Student phase of the Leaf Village up until the end of the Genin Test and graduating is complete!
The Konoha outskirts are much much more vast than they were before now.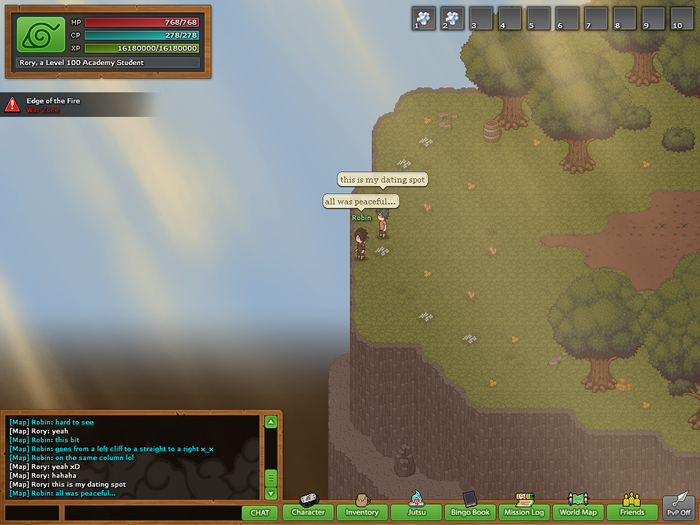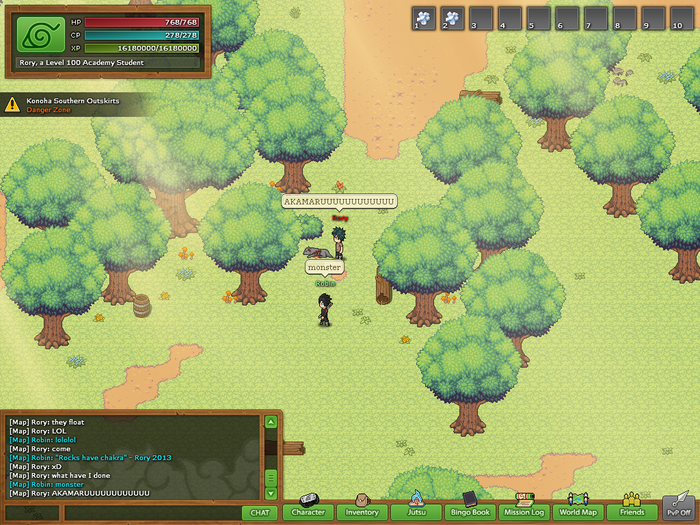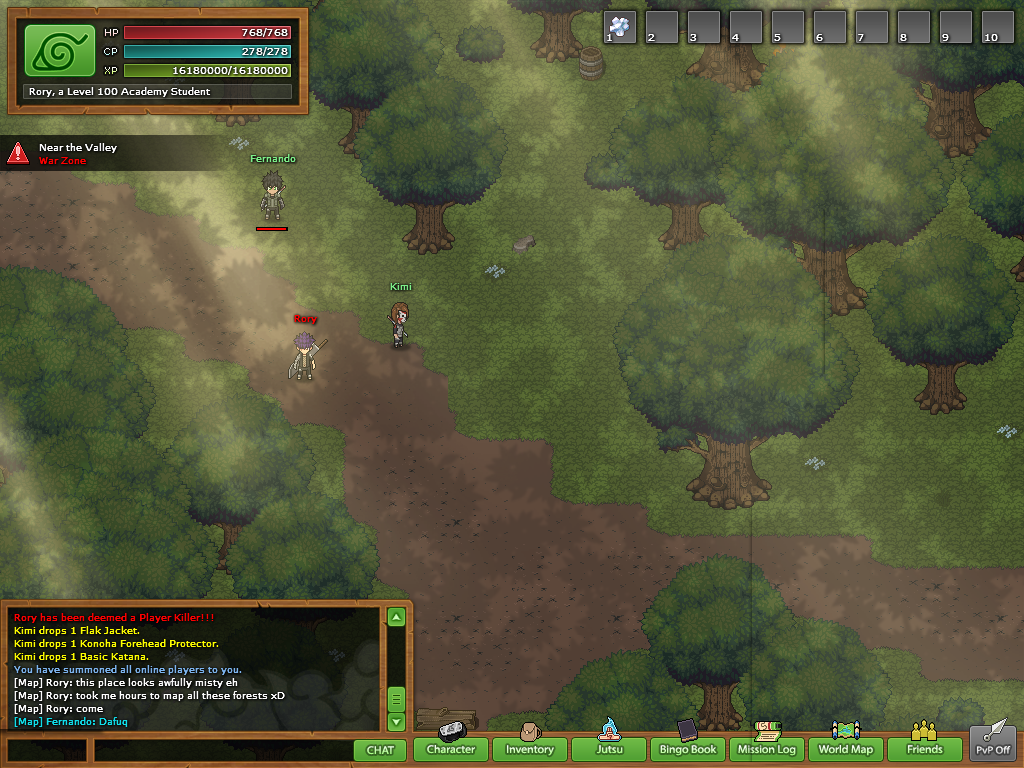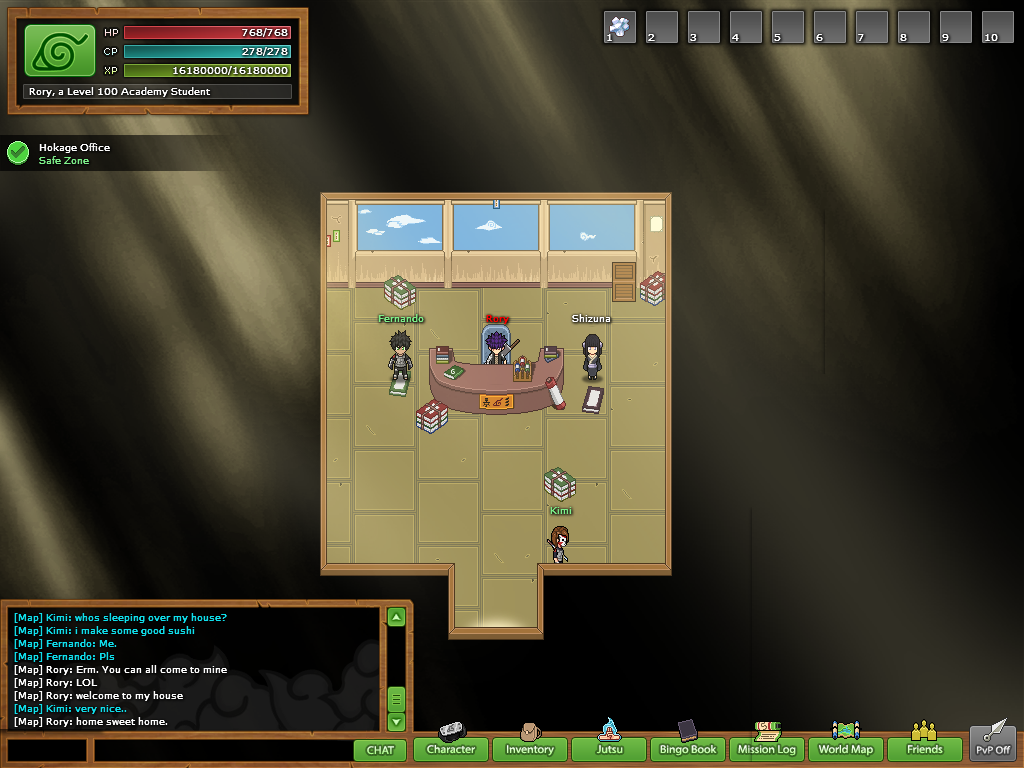 Hope these screenshots can satisfy your thirstiness for Nin Online for the time being while we work hard to push for a release as soon as possible. All I can say is Gold Ninjas should stay tuned for a closed test really soon!
Regards,
Rory