Hey guys, we wanted to let you know that we will soon launch a major update for Robocraft which includes a whole suite of new and improved social features. This release represents just a subset of the full social feature set planned so we're calling it 'ROBOCLANS ALPHA'.
The social features coming involve massive reworks of Chat, Friends, Platoons (being renamed Parties) and the addition of Clans, along with a bunch of changes to the game that accompany these new features to help them fit neatly within the game overall.
I'm writing this article to delve a bit deeper into the social features planned; outlining what elements will be included with this update and framing them in context of how they will be expanded in future.
Since there is a lot to talk about, I'm going to focus this article on Chat and Friends with the Clans deep dive article arriving shortly afer.
The New Chat System
We've given the in-game chat system a complete overhaul; with a whole raft of new features and options that will be available to you when it launches soon. Remember, this is the first in a two-part update to the chat system and more features will be added at a later date.
Here is a mock-up of the new chat system that will arrive with Roboclans ALPHA: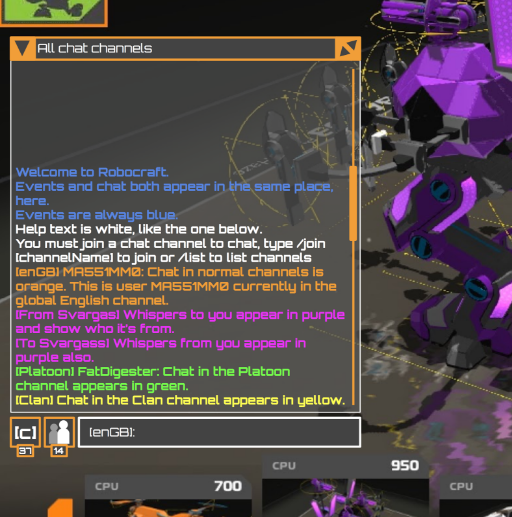 Chat Features:
Create your own Custom Channels; as many as you like
Password protect your custom channels, so only your buddies can join them
Create, join, leave and listen to as many channels as you like
Social events, system events, Platoon (party) chat, Clan chat and Whispers are all shown in the same chat display together, so you can listen to everything at the same time without needing to switch between channels
The channels you are in and the ones you create remain persistent when you log out, so next time you log in, if you created a special channel for you and your buddies, you will be able to use it to chat to them whenever you are online
Scrollbar, showing history of chat
Expand and collapse the chat window with the button at the top-right corner
Filter which channels you are listening to with the drop-down in the top-left corner
Chat is color coded to help you read it, and to help you separate Whispers, from Clan chat, from Party chat, from social events, etc*
*NB: This does mean that color codes will no longer work in chat, otherwise you wouldn't be able to use the colors for separating types of chat, additionally we've removed the 'level' and 'league' prefixes from the usernames as we need to keep the number of characters down so that the chat can be more readable in general.
Below is a list of available commands that you'll be able to use in the new chat system.
Commands:
/list – Lists all the available global channels, custom channels are not listed
/join [channelName] – Joins a channel
/create [channelName] [optionalPasscode] – Creates a channel, name must be unique
/leave [channelName]
/help – Lists the most common commands
/msg [userName] – Whisper to a specific user
/w [userName] – Whisper to a specific user (i.e. alternate to above with same functionality)
/r [message] – Reply to the person who last whispered to you
/clan [message] – A way of sending a message to your clan when you're not currently talking in that channel (i.e. faster than tabbing through channels)
/platoon [message] – Types a message to your platoon
/party [message] – Same as Platoon
/block [userName] – Stop this users comments appearing in your chat ever again
/unblock [userName] – Unblocks a blocked user
/listBlocks – Lists all blocked users on your account
/silence [userName] – MOD, ADM and DEV use, can silence a user in the chat for a fixed global period of time
/warn [userName] – MOD, ADM and DEV use, can warn a user. 3 warns = suspension
/suspend [userName] – ADM and DEV use, instantly suspends a user
/invitetoplatoon [userName] – Invite someone to a party (this is an alternative method), NB: /invitetoparty will also work
It's worth noting that the chat widget has a 'focused' and 'unfocused' version, plus a custom version for in battle as well. This is because we want to make the chat window 'less intrusive' when you need it to be in the background, and more 'front and center' when you want to be social.
Chat System MK2:
So, what can you expect to see in the future? Well, after this initial launch, we will continue to work on the chat system as we plan to include some more advanced features in the future. Here's a mock-up of what we expect it to look like: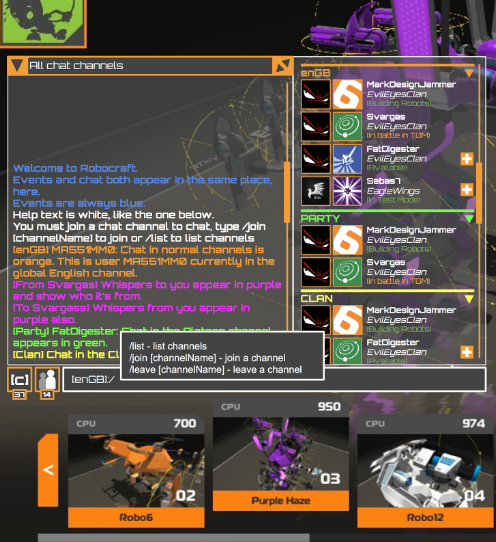 The new features that we are currently planning for Chat MK2 are as follows. Again, please note that these are not final and may change before release.
Collapsible list of players in each channel that you are currently listening to on right-hand extended widget
Right-click menus on each player so you can do common operations like 'Invite to party/clan', block, whisper, etc.
Showing the status of the player, so you can see what they are currently doing in-game
Right-click menu allows you to view a user's profile, see their account battle stats, league ranking, etc.
Quicktype helper widget, so as you type, usernames and commands automatically fill in allowing for speedier interactions with the chat system
---
The New Friends Widget
Along with the much-needed chat overhaul, we're giving the Friends Widget a lick of paint too. Here's a mock-up of the new Friends widget which is also launching with Roboclans ALPHA: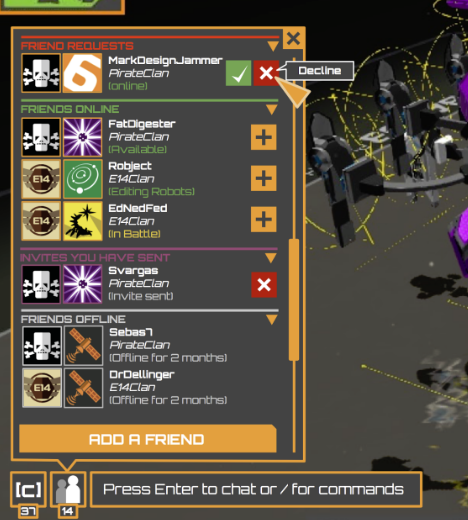 Friends Widget Features:
As you can see from the mock-up above, in the update we'll be moving Friends from the social screen to a more convenient button next to Chat. In addition to its relocation, Friends will include the following new features:
Small number below the friends button shows how many friends are currently online
Clicking the friends button next to the chat brings up the scrollable friends widget
Friends are listed in groups, online, offline, requests, and invites, each group is collapsable
Clan and Player Avatars are shown, as well as Clan name and online status
Quick buttons for accepting invites, inviting to party, cancelling invites, etc. are presented in the widget
Right-click menu allows you to remove friends
Friends MK2 Features:
Again, we'll be listening to your feedback on the new Friends system and we'll be taking things further with additional features including:
The MK2 Friends system will extend the right-click menu to allow you to View Profile, Whisper, etc.
We will also extend the information about the status showing what your friends are currently doing in game
We also plan on adding a friend referral system in the future. For example, we'd like to reward players for inviting friends who install Robocraft and reach level 5
---
Clans!
Notice the [C] button next to the Friends widget button on the diagrams above? That is the window into all Clan functionality. And we'll explain more about Clans MK1 and the future of Clans in the next 'Deep Dive' which will go live tomorrow.