Playing with the new update
Hi all, the new update is out, and a group of approximately 50 new players are invited. Although the new update (described [here], [here], [here] and [here]) was huge from my perspective (I've added both territory and towns as entities, and everything which comes with that), it does not really contain that much new gameplay. I mean, you can now found a town, and then what? Surprisingly, I can see people are actually trying to play with the new stuff; when I go underground I encounter lots of empty chests (which means somebody found that chest before, and took what was inside), and when I logged in this morning I encountered user Marcjac, busy building a townhall. I'm now a citizen of his town :). Another nice thing is that the new [highscore] really seems to do what it is supposed to: giving people a real goal. I'm tracking some players I know are active and I can see them going up in the list. I wonder if there's anyone who will ever beat Cheesetale.
Roads
In the mean time, I've of course already started working on the next update, which will be the first part of the answer to the question 'you can now found a town, and then what?'. The most important thing in that respect are roads, so that's where I started. And not only do roads give a use to creating towns, they will also finally make towns look like real towns, and it give players the first opportunity to show some creativity. I will use this blog to show you the most beautifully designed towns I encounter.
I started working on roads by simply adding the possibility to lay down squares of stone: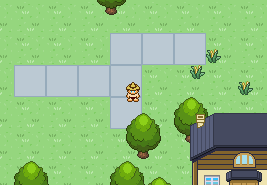 But of course, roads should change their appearance based on whether there are roads around them. If there is a road to the left and a road to the right, then it should be horizontal, if there is a road above and a road below, then it should be vertical, etc. I already implemented a similar system for the rocks, so I could borrow much of the code, but it still takes quite some thinking before I get it right. Me in the process of fixing this: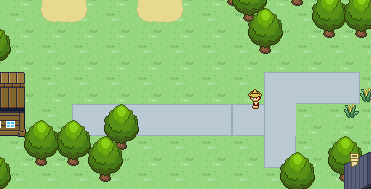 I also want to try adding some visible pavers for decorative purposes, like you see in [this image], but I'm not sure yet how I'm going to achieve that without looking too repetitive.
A little tune for starting a town
Last week, [I introduced you to the town theme] I'm going to use for Olvand. This is the first variation, heard when you start a new town:
I'm using a glockenspiel, which I feel has some kind of 'young', 'just born' feeling to it, and only the beginning of the theme... which is because this is the beginning of the town. Hmmm, symbolism :).
If you want more development, see [twitter] or [facebook]. If you want to be a tester, you can subscribe on [olvand.com].