Hello!
First of all, I've updated the roadmap and added some additional items to it:
Some things have been implemented since the last roadmap, multi building destruction, rebindable keys etc.
Some of the items are given a more extensive description below.
August:
Goods tickets.
Additional tutorial work.
September:
Expanded set of small buildings, second density with alternates.
Mini zones (10 residential, 10 commercial, 6 industrial).
4 additional challenges.
Demand cooldowns.
Accepting bribe consequences.
Inflation. Interest rates, additional bonds options and currency depreciation.
Expanded policy.
Additional tutorial work.
October:
Cursed earth retromode scenario.
5 additional challenges.
Early iteration of laissez faire capitalism.
Changed trade system.
November:
Floating islands retromode scenario.
5 additional challenges.
Water blocks.
Early iteration of communism.
6th density for residential and commercial zones.
December:
Additional citizen board demands.
Additional conglomerate demands.
Citizen representatives.
Updated localizations for Spanish, French, Russian and German.Goods tickets are an expansion on the current system where conglomerates sometimes ask to buy or sell goods to you. Like in the current system, tickets will be timed. Each ticket will contain a handful of resource types. To complete a ticket, you need to have all resources available.
Following the addition of the national bank building in the next update, the next step is to add inflation into the game. This will require a lot of work, as there will need to be separate sets of purchase and sales prices for each resource and an interest rate. A currency rate will be added as well, which will affect pricing and wages.
Mini zones are single family residential buildings, small business type lots like convenience stores and small industry. (Smallest square is the mini zone...)
Atmocity currently incorporates a fairly complex simulation of what is commonly refered to as a mixed economy.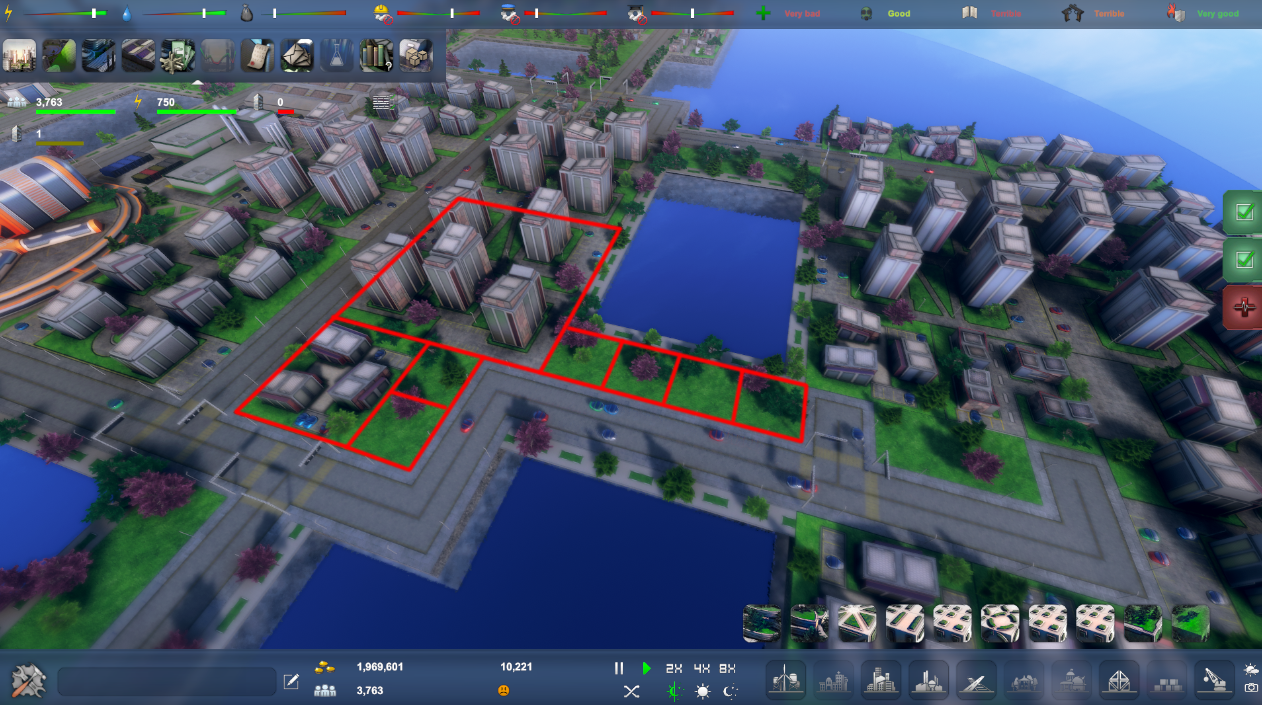 Mixed economies feature private enterprise, but also has public systems to cover up in areas where private enterprise might not be viable, or in areas where there is opposition to private business.
In Europe, for instance, we see private business in telecommuncations, manufacturing etc. Oftentimes, healthcare and education is completely or predominantely run by the state.
In Atmocity, the policy window along with taxes and welfare options can be used to adjust how mixed the economy is. But this adjustment is only marginal. In order to implement economic systems such as communism and laisse fair capitalism, more comprehensive changes need to be done to the core of the economic simulation.
The first step, which is a somewhat simpler affair, is to implement an early iteration of laissez faire capitalism. The plan is to have a very early and basic implementation of this in October, and have ongoing expansions on this and the policy system in general from then on. Communism is trickier to implement, but should see an early iteration implemented in November.Mayors will be able to place water blocks to add more customization to their cities. This is planned for a November release.By December I hope to catch up on translations for the game. The reason this is taking a backseat at the moment is because the above mentioned changes require a lot of new text. It's very time consuming to have only a handful of items translated at a time, rather than a big batch. So moving on new text will be in English, and then given a translation around a mid December release.
Obviously, if there are QoL requests, these will be added in for the upcoming release. There might also be some misses in the schedule, but hopefully, this should all have been implemented by the end of the year.
As for this week, there's been progress made on the 0.13 version, which among other things will add a few new buildings that play a role in the upcoming changes. Among them the customs house, which will unlock the long term trading contracts (unlike now when they are unlocked at all times). This marks the first step in expanding the functionality of trade in the game.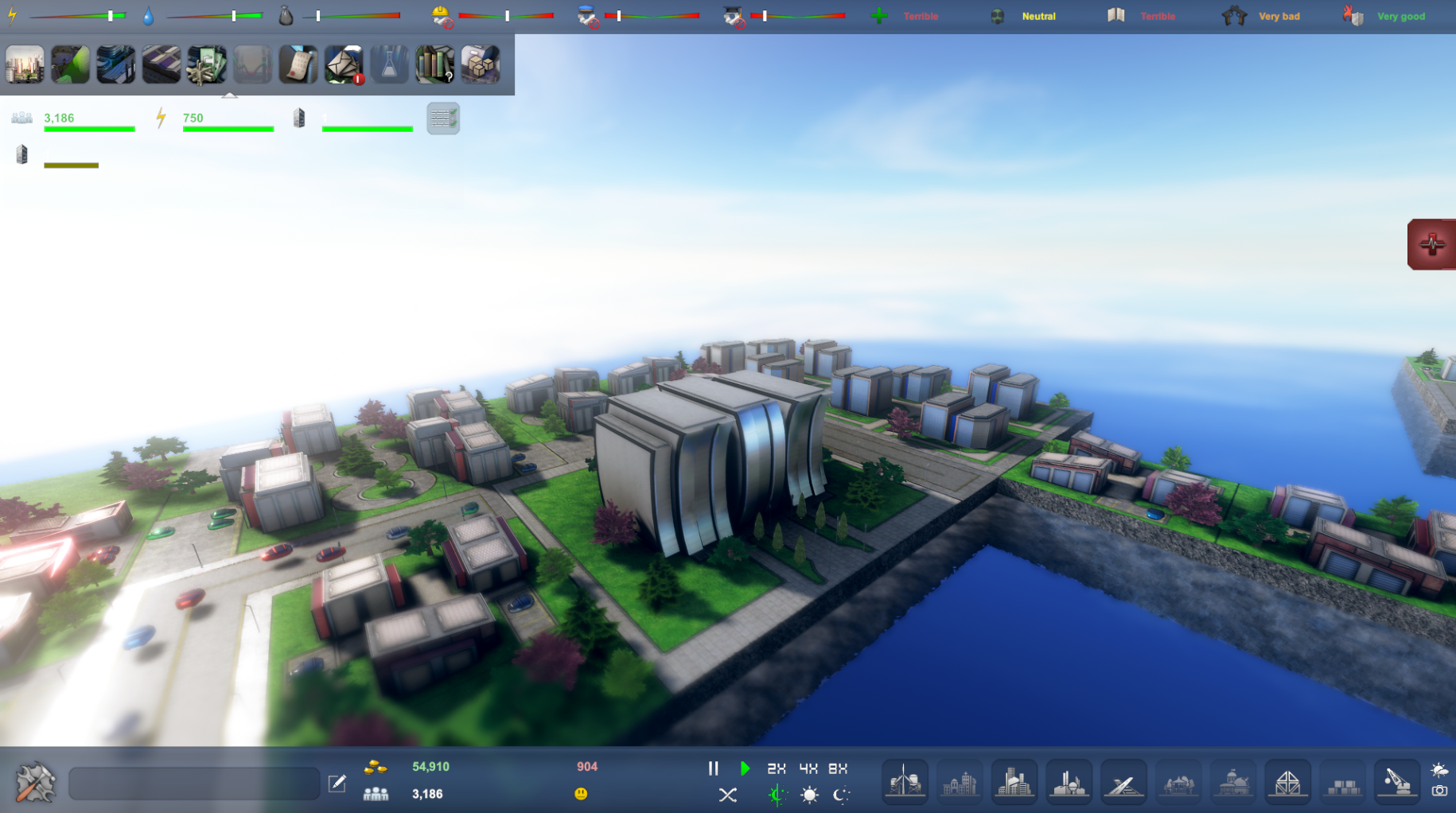 Modifiers have been added into the game! Modifiers are currently found in loot boxes (free ones, not the icky kind) that spawn around the city randomly. Later on, this will also be awarded when finishing goods tickets. Modifiers are unique to the player, so they can be used in any city in free roam mode, campaign or retro mode. Below is how it currently looks. Like all UI it will get more work later on.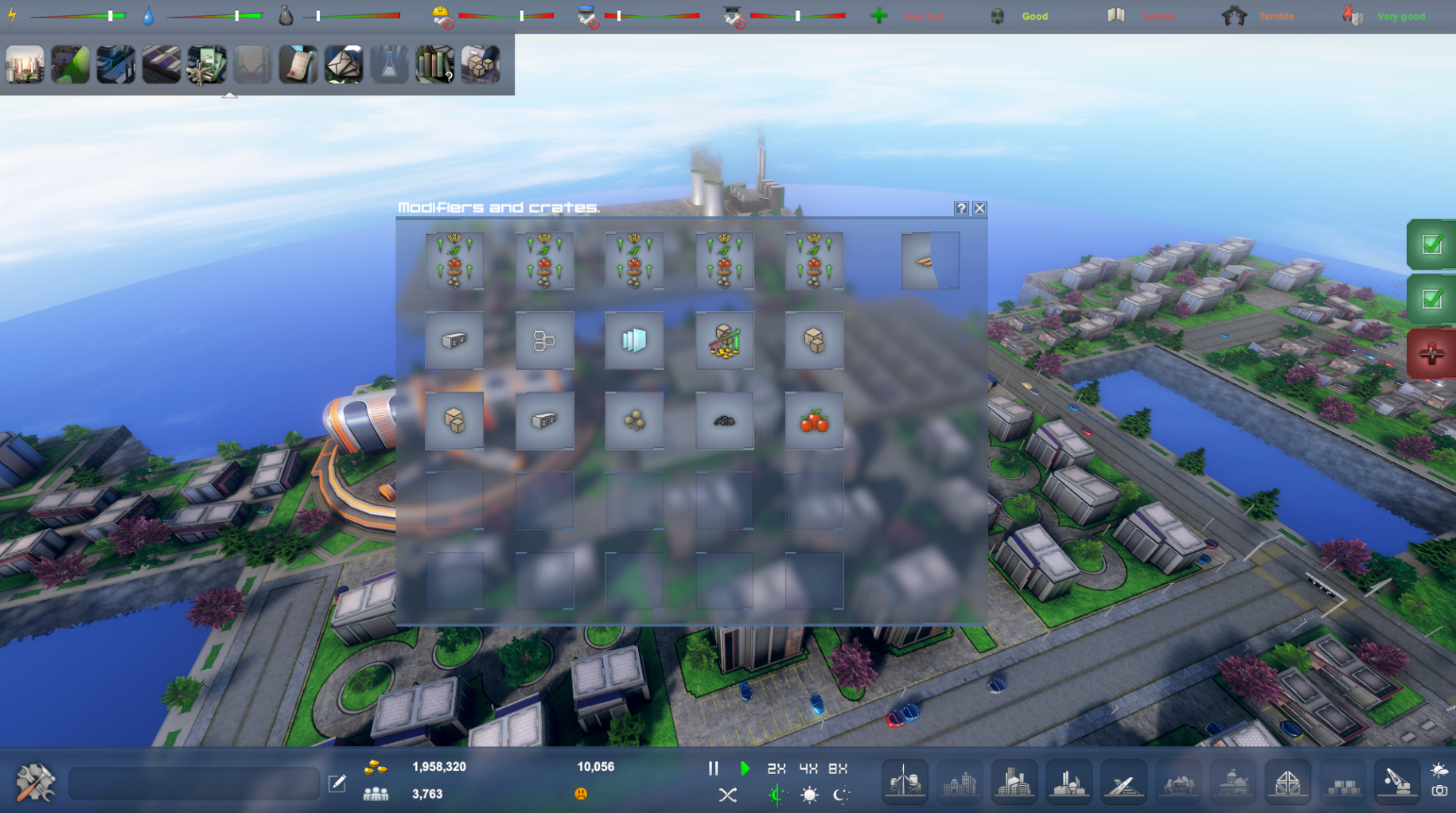 I've continued adding more decorations into the game. This week I've added a type of wharf type decoration to spruce up those dull and grey foundation blocks: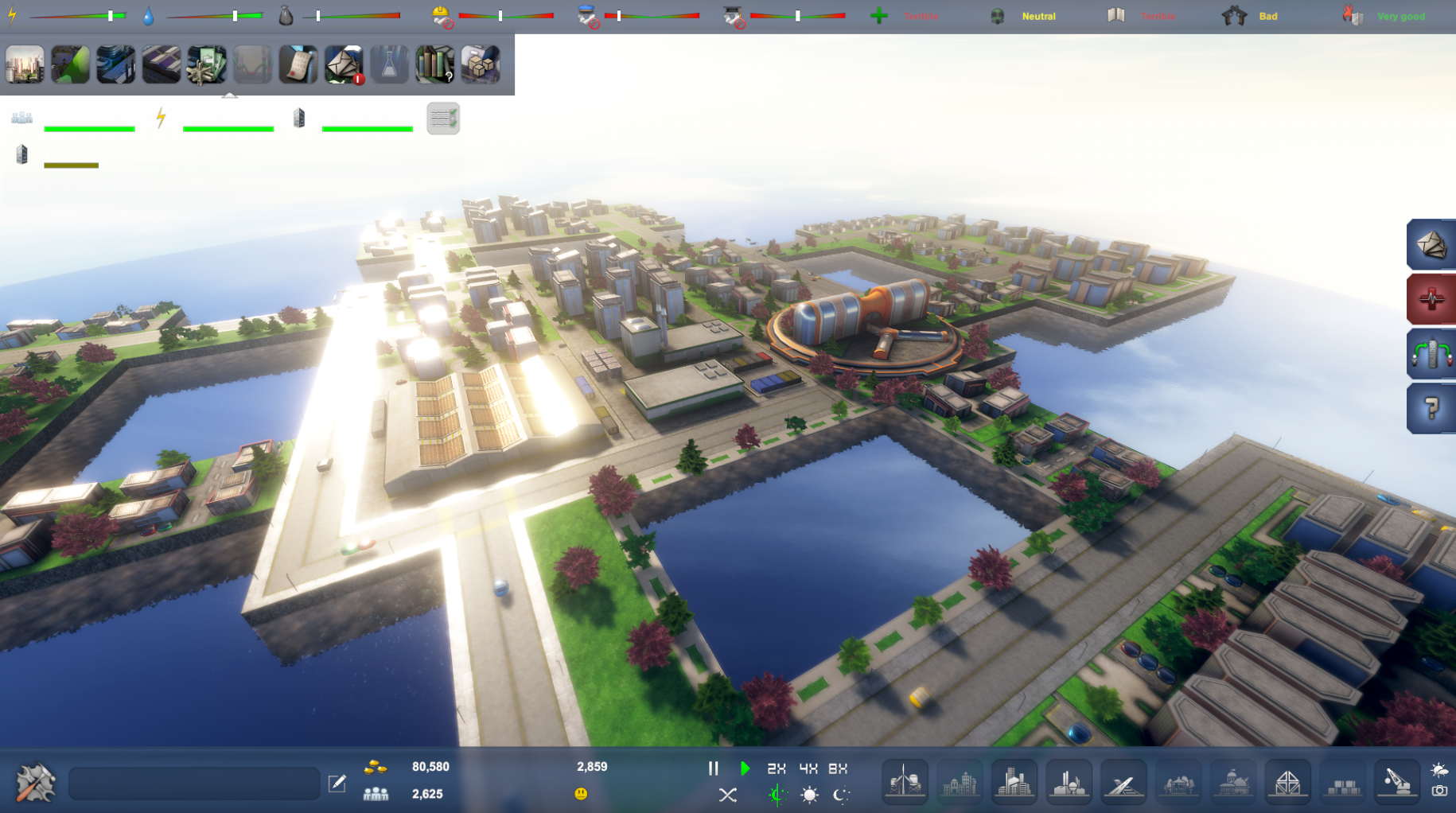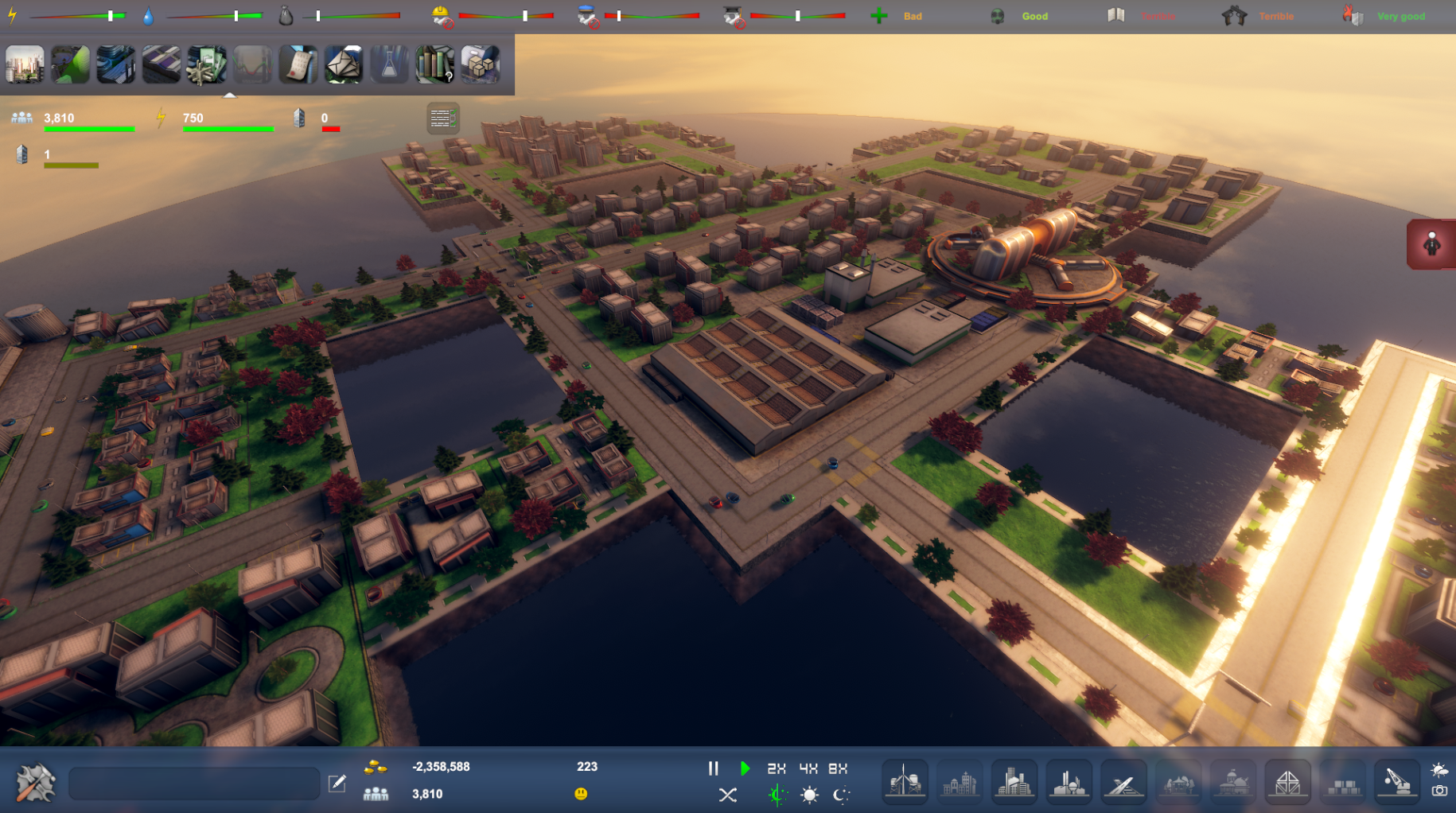 A national bank building is also in the works, this will mark the start of the implementation of proper inflation into the game. I'll also be adding a new water production building. This one will be a later stage water production building that isn't sensitive to polluting buildings, produces more water, but is more expensive and requires more resources.