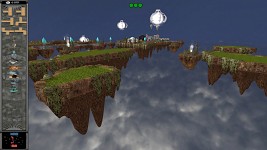 It's been a while since our last update. We have had in the last month two or three new builds released as testing intensifies. Duhprey and jharger have been working tirelessly. Duhprey has implemented lag bridging to make it fair for those who are not hosting. We are still in the development phase of testing and improving the system but its looking pretty good at the moment.
Also, JakeG, has been kind enough to help out with animations and has fixed our zombie golem - which had its head hanging from the stump of its neck like a piece of loose cloth - so now the golem is looking good and walking well :)
CaptainNeeda has just finished the Login Menus u will likely see when you play RisingStorm Multiplayer in the future. I imagine they wont be implemented for some time as there are more bugs needing fixing first. However we are closing in our the old-fashioned style serenisphere menus :) CaptainNeeda will be working on a Serenisphere battle map menu and temporary islands to use in the serenisphere so that in time everyone can be flying around the skies of Nimbus as is done in Netstorm. Currently, the background image for the main login menu is temporary too, a far more epic image will replace it in time, but for now enjoy a couple of the images below.
Oh, and finally, Feng is working on the Wind and THunder temple - I think! Hopefully we might have something soon in the future to show :).