RimWorld has been Greenlit! Thank you to all 21,240 people who voted Yes. Here's the main RimWorld page on IndieDB.
In other news, the RimWorld community continues to mature.
We've got an official RimWorld wiki up at rimworldwiki.com managed by awesome community members British and enystrom8734. Read, enjoy, contribute.
We've got an IRC channel! Come chat atirc.quakenet.org, room #rimworld.
As always, the forums are full of interesting stuff. There are new play stories at thestories forum, and we welcome your suggestions on the suggestions forum. Moderator Semmy has also created a Q&A thread which compiles my answers to questions asked across the Web.
The game itself is also making good progress.
I spent a few days doing a deep rework on all the AI Storytellers to make them better at observing what's happening in the game and adapting their story events appropriately. A tester before had a situation where he barely survived a raid with one colonist alive in a smashed base, surrounded by corpses. This could have been an awesome story, but old Cassandra just killed him by sending an even bigger raid. Now, the story events will change to make it possible to recover from these dramatically desperate situations. I'll be watching carefully to see whether this level of adaptiveness comes off as pandering or is too exploitable, and am ready to solve these problems should they arise.
There is also now a cousin of Cassanda Classic called Kassandra. She runs the same algorithm, but at a higher challenge level, for more experienced players.
We've also expanded the deck of events the Storytellers can generate, to includeshort-circuit explosions and mass animal insanity from all creatures.
The latest build has been given to a number of YouTubers and journalists, so you should start seeing videos of it in the next few days. I'm working closely with an artist to develop a new character look. It's coming along really well, but there's nothing to show publicly so far.Testers and YouTubers are really starting to push the game. This is great - with all this feedback, we'll be able to make really good design decisions. Here's a base from miah, who managed to get his colony up to 22 people.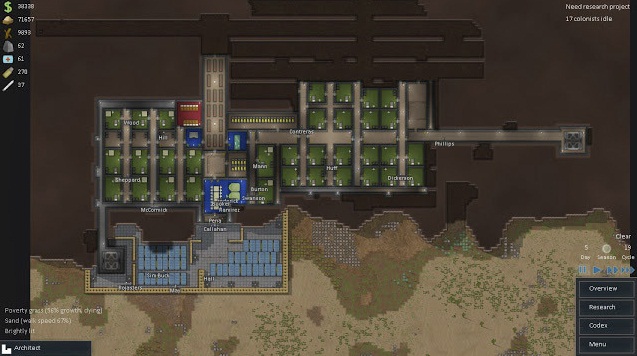 But it's not all happy times on the rimworlds. Here's the final end to a challenging colony that weathered massive pirate raids only to be overwhelmed by a herd explosive, crazed animals called boomrats. When it all ended, there was one colonist standing. But poor Santana had no food source without a nutrient dispenser, and starved to the point of incapacitation before he could build one. Here he is gasping his dying breaths in the shattered, lightless base as rain pounds outside. If another colonist were there, they could rescue him. But they aren't. (In future versions, the AI Storyteller may be able to detect this kind of situation and do something about it.)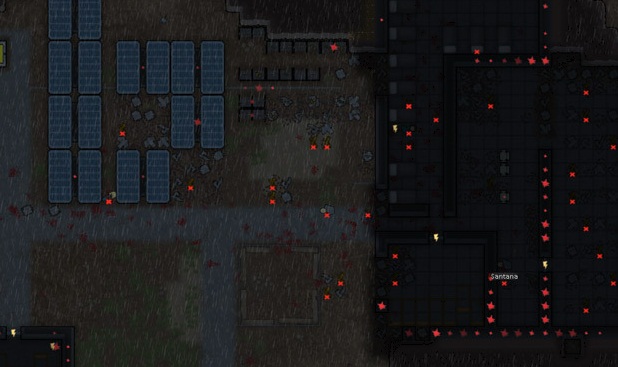 Cheers all,
Ty