JayIsGames' JohnB has recently posted a very kind little review of Rexzilla, which you should all go and read because it's great! And also my first third-party professional review! Hooray!
Read it via the following link: Jayisgames.com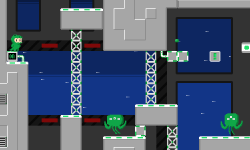 Also, the game has picked up a few favourable user reviews on Desura and Indievania, which are awesome! If you picked it up via one of those vendors and enjoyed it, please consider leaving a quick paragraph or two of your thoughts.
Finally, I noticed that someone added Rexzilla to GameFAQs! I feel like I've accomplished one of my life goals! …Except that there's no content there besides a box shot. I'll probably look into adding some screens and stuff, but if you're the type of gamer who has found every secret there is to find, or knows all the tricks to beating level 5-7, or what have you, then please considering sharing your secrets with the world! (It's probably a little unfair for me to do it…)