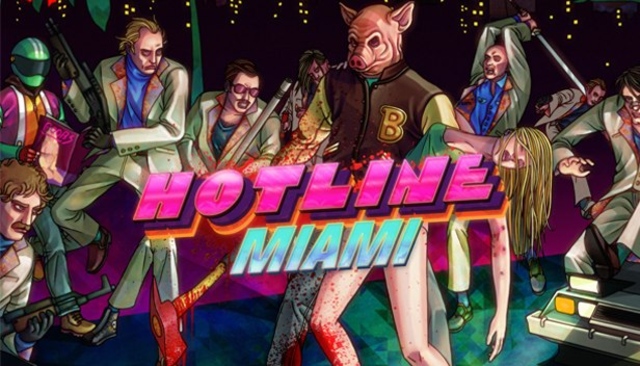 You probably never heard about Hotline Miami, actually you might have said "what the heck is that game?". Well, I can tell you that it is a game, an awesome one. You know GTA 2, with it's upper camera while you were killing people? Well, mix that in a game where you the only objective is to kill people but with tons of blood and gore, in some games the blood is a secondary thing, but not in this game, the blood is crucial.
I will try to explain you the best way I can the story of Hotline Miami: you control a hitman, and you are contracted to kill people by the phone, the "clients" leave you a message saying it's fake name and the address of the persons they want you to kill, like "Hello it's John, you forgot your wallet here, the address is bla bla bla, don't you forget it again". When you get there you have to choose between different masks that represents different personalities, like the panther that makes you run faster or the crocodile that makes the kills even more gory.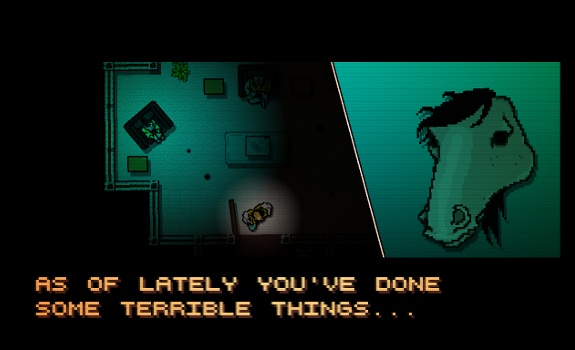 And as you kill the persons along the game, you notice some strange things, in the end of some levels you go to some shops or a bar where the owner appears to be the same guy, and people are dead all over the place, they start to talk to you then, *blimp*, all of a sudden they dissapear. There is a level where you go back to "Phone Hom" and you see people dead everywhere, and you find a guy hacking a computer in the main room, you have a fight but you don't let him tell who he were.
In the middle of the game you are killed, but not really killed, you wake up in a hospital and realizes that those things did not really happened, you were just in a coma all this time. And then you go after the persons that have tried to kill you, you fight with the bosses in a 5 minute fight and then the game ends, but it hasn't ended yet.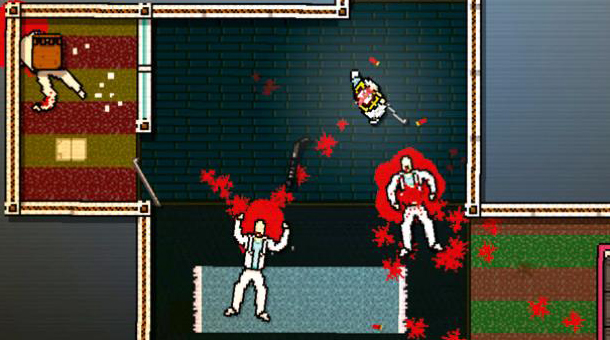 You play now as the guy you killed back in "Phone Hom", you are going after the people that made you and him in all this stuff, and that's where the story makes sense, and you discover that were 2 janitors, they were planning eveything, they were threatening people in the whole US to kill Russian mobsters. You kill the assholes and you finish (for real) the game.
Hotline Miami is that kind of game that brings you back to the 8-bit age but with a different taste, the graphics were especially designed for this game, also the level designs are really good and it fits perfectly to the gameplay, little rooms and many doors and hallways, that's incredible. The enemies make you cry for being such a hard targets, if you don't click the attack button fast enought you die and good news!
There's no checkpoint, you have to begin the entire level again(except for when you go to other floors, if you die you restart in that floor). The controls are simple and very easy to learn, and the best part is that you can't change the mouse sensitivity. Yes, because in Hotline Miami you have to move the mouse exactly where you need to or else your little brains will do the painters job. The soundtrack is awesome and it's incredible how Hotline Miami know how to mix different styles of games in a completely different one, from the menu you know what's coming for you, good sound effects and awesome songs.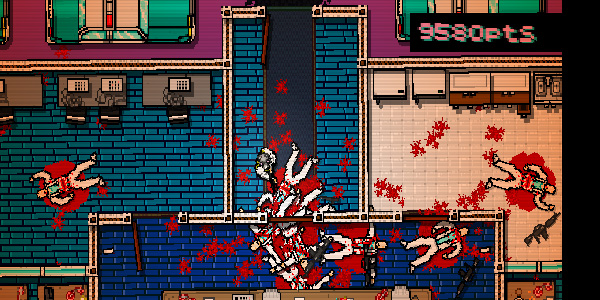 Of course we won't forget the best part, guts and blood everywhere, there are many ways to kill the enemies, it could be just a hit with the baseball bat or a katana or even executions that makes you remember Manhunt, yeah, if I said this game was created by Rockstar you would believe me, but it is not. Indie games are pretty reasonable, but this one does the job.
Hotline Miami makes you don't get of the front of the monitor, ensuring an awesome gameplay and level designs, different weapons to execute the enemies and of course a great story and retro graphics, it's a whole new genre! Go get your copy on Steam, it's less than 20 dollars!