Voting
Below are the results of the vote, and we'd like to thank everyone for their vote during W60! Your feedback helps us a lot, especially for finding development items that can be suspended so we can focus on the things important to you.
We've been doing 'priority votes' up until now, which works fairly well for a small static list, but it gets messier when you start adding in new things to the list and have to come up with an appropriate starting value to the item.
That said, with the next vote we'll be trying something different! Instead we'll have you order your top 6 items, assigning them 10pts, 7pts, 5pts, 3pts, 2pts, and 1pts respectively. This should hopefully be easier for you, and get us more accurate results!
---
The Results
Top 10
[BLOCKS] glass ( plates of glass available in all of the different angles )
[WEAPONS] aimable turrets (so capital ships stand a chance!
[GAMEPLAY] add docking bays to land ships into
[PERFORMANCE] dramatically improve framerate with larger ships
[GAMEPLAY] ships can break apart into pieces
[BLOCKS] make plating & interiors appear around prefabs
[CONVENIENCE] patch updater that doesn't require wyUpdate
[GAMEPLAY] realistic thrusters returned
[VISUALS] improve mipmaps (no more grainy/screwy ships from far away)
[GAMEPLAY] oxygen and life support


Top 25

[GAMEPLAY] power generators
[EDITOR] prefabs much less irritating to place
[BLOCKS] more frame angles (1x1x1)
[EDITOR] rotate/flip/spin prefabs with arrow or WSAD keys
[GAMEPLAY] utility/power lines
[BLOCKS] more frame angles (22
[WEAPONS] new forms of weapon projectiles
[EDITOR] more indepth schematic information for a ship (dimensions, weight, speed, etc)
[VISUALS] ability to place lights inside the ships
[GAMEPLAY] ramming damage
[BLOCKS] half-width frame blocks
[EDITOR] add more tools to editor
[EDITOR] editor tool belt (assign blocks / tools to 1-9 keys)
[VISUALS] thruster special effects
[EDITOR] ability to flip/rotate entities in the editor


Top 50

[EDITOR] fix symmetry glitches
[EDITOR] make symmetry fields remember their last locations when loading ships
[GAMEPLAY] large explosions that can occur to finish off an enemy ship
[GAMEPLAY] hp levels to armor, objects
[GAMEPLAY] ability to build/mine in multiplayer
[EDITOR] fix plating glitches
[MULTIPLAYER] editor useable within multiplayer
[EDITOR] paint bucket tool to fill entire sections with plating/painting
[VISUALS] add shadowmap to the deferred renderer (casts shadows across the outside of the ship)
[VISUALS] debri special effects
[GAMEPLAY] generated asteroids to fly around
[BUGS] editor's material bar icons sometimes disappear or are glitched
[INTERIORS] simpler to use interior editor (point and click easy)
[EDITOR] make adding/deleting blocks more instantaneous on larger ships
[EDITOR] ability to swap skyboxes in editor
[VISUALS] streaks in Space (to help show movement)
[CONVENIENCE] ability to take in-game screenshots
[GAMEPLAY] radar and sensors required to detect/find players
[BUGS] fix Alt+Tab causing crashes
[SOUND] improved sound effects
[CONVENIENCE] editor streamlined and easier to use
[OPTIONS] mouse sensitivity options
[MODDING] externalize text ( game's in-game text made editable from
[MODDING] more modding documentation
[INTERIORS] interior tiles working on angles better


Top 100

[PERFORMANCE] compress brd's that are stored on hard drive
[PERFORMANCE] remove 60 frames-per-second limit (may fix slowdown with newer videocards, allows 120hz monitors, etc)
[CONVENIENCE] controls customizable in-game
[BUGS] ship previews in the load screen centered properly
[GAMEPLAY] chase / 3rd person view when camera attachments are available
[GAMEPLAY] party system to setup alliance status / prevent users from taking your ship
[INTERIORS] control over interior "high, middle, low" tile placement
[EDITOR] more editor hotkeys (i.e. tools like symmetry etc)
Deciphering The Results
We tried several formulas to test the results, and every time Glass always seemed to hit at or very near the top. Our thoughts are to focus on the character now and move our way up towards the starships, but we'll certainly be taking this into consideration (glass is important for keeping oxygen in, no?) =)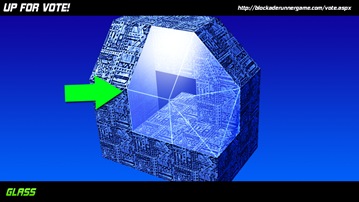 Otherwise it does appear gameplay elements are still a major priority by everyone. Which is good! The question with the next vote will likely be "how much more important are character specific gameplay mechanics" to you?
Thanks again for voting!
- Aaron