The latest subscription version of 001 features plenty of exciting changes to resources. Like many things, something I've wanted to do for the longest time, but it was never the right time.
Picking
Now instead of a list box that pops up with an unorganized and unsorted listing of resources, this window will show up instead: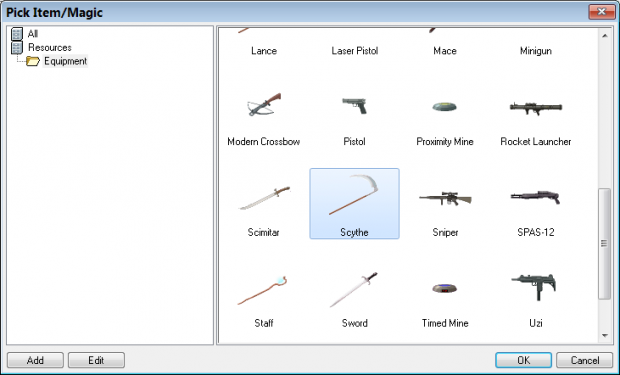 Organization
As you can in the previous screenshots, you're able to organize resources!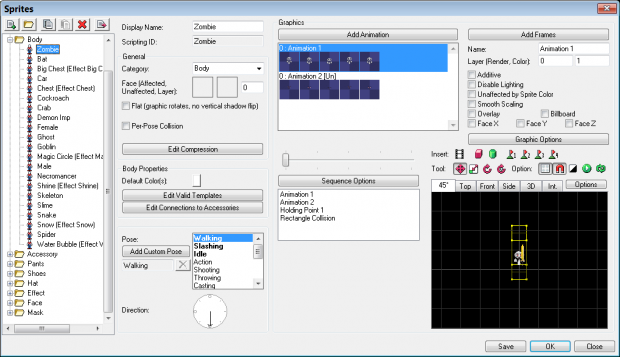 You're able to drag and drop resources into folders. You can also finally cut/copy/paste resources at will. And yes, nested folders are possible. The organization will be reflected appropriately in the picking windows explained previously.
Color Layers
You may also notice another option in the sprite editor screenshot above. You are now able to have multiple layers on a single sprite that can be independently coloured. This will allow you to easily create monsters and ohter characters that don't benefit from having multiple clothing sprites associated.
New Interface
In addition to a revamp of all the user interface icons, all the options that once were on the project tree, are accessible through the top toolbar. This means you no longer have to close the map/interface you're working on to change resources.
Tile-set picking has been greatly improved as well: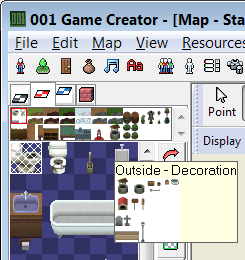 And because of that, the project tree is now purely maps and interface, in a nice tab format: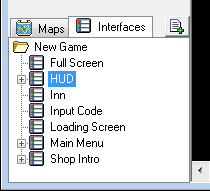 New Events
As a short aside, there are now some events for spawning and deleting zones and lights.
So if you're interested in trying out this new interface and managing your resources far better, get subscription and support the development of our project!