Holidays are upon us, and a lot of people are on vacation, shopping, etc... Whatever your preference, happy holidays.
This month I bring you some great news of future betas and new media!
Reborn is really nearing completion of the infantry beta these days, I have been informed that we have only a few minor tweaks and missing textures to work out before we can get it out to the public.
Below is also a bit of a teaser image of the new Mammoth, this is a render + photoshop, so don't get all super excited about the quality of the image, Reborn won't look this good, its a 5 year old engine, remember?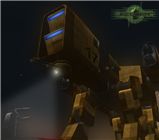 Anyway, here you can already see it in W3D Viewer: