Ultima Ratio Regum now has generated religious icons. Religious icons are generated in three parts - a "base", a "symbol", and a "surround". The base is the largest shape present - it might be two crescents at the top and bottom, various kinds of squares, triangles, octagons, linked squares, arrows, and the like. Once that's been chosen, the game then selects a set of symbols appropriate to that base - symbols are the sections that go in the middle. Here's a few dozen:
Full size @ Ultimaratioregum.co.uk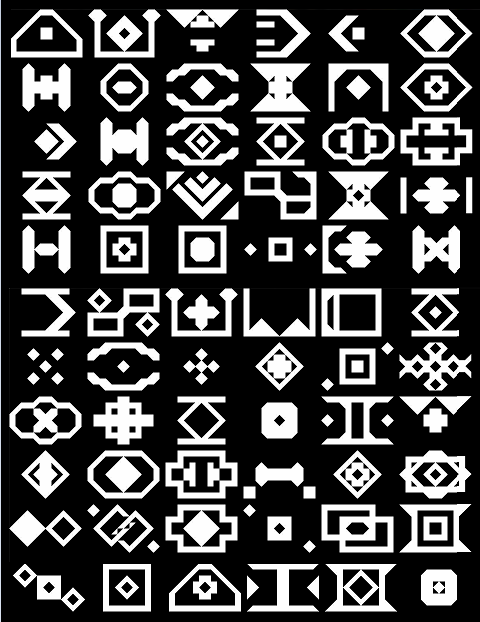 Lastly, if *no* symbol has been chosen - some bases have no valid symbols, whilst even bases with valid symbols will sometimes choose against a symbol - then a surround is chosen, which is things that are outside the main design. Some of these are specific to specific designs, whilst others are more general. As with flags, names and everything else, the same religious icon cannot be generated twice in one game. And, like flags, some combinations are denied, either because they don't look very interesting, or they actively create a clash between the components. Some symbols and surrounds are also changed to match with certain bases in certain ways - the upshot is, there are about 30 bases, 30 symbols and 30 surrounds, with variation within each, and that gives a heck of a lot of religious symbols. Note, though, these are not cult symbols - those are coming in the future.
On the topic of the future, I'll be updating IndieDB hopefully weekly, but certainly fortnightly, as development towards 0.3.0 continues. A lot of development at the moment is going into history generation, and I hope to be able to post some of that in the near future. Additionally, I've also been working on the in-game icons for various policies, and I'm going to be posting these over the next few months as well. So, to start us off, here are the icons for "Pacifism" and "Constitutionalism":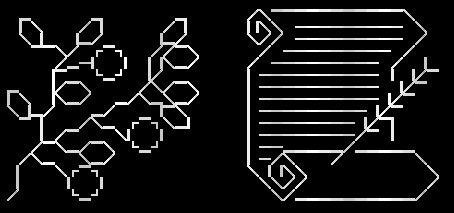 You can keep up to date on my devblog, Facebook page, or Twitter feed. The devblog is updated weekly (or rarely fortnightly) on Mondays, Facebook a few times a week, and the Twitter roughly daily. Any thoughts, please leave them in the comments! Version 0.3.0 is now in the works, and will generate languages, myths, histories, coats of arms, flags, and entire civilizations. It'll be a big one, but I'm hoping to keep the updates coming regularly, and maybe put out a 0.2.2 in the mean time. Stay tuned...