We dreamt of releasing the new version still this year, but after serious considerations about what's still left to do it turns out to be impossible. It's only a month before holiday season and we're hardly at alpha stage. Renewals and improvements we've been dealing with are just plain massive and a month won't suffice to finalize and test it all. So, we'll be releasing the next version as early in 2016 as possible. It's a schedule that allows all the upcoming awesomeness to be perfected even better - as follows:
Hammering The Graphics, Redrawing Npcs
Long, dirty, oily, sweaty days with hammering the graphics engine into a brand new shape. I don't bore you with details but it's quite a feat to do this big data structure changes and still maintain savegame compatibility. As you can imagine with the current fixed tile-sheet size and fixed tile proportions we've been using lots of code customized solely for the current format. That why the engine gets seriously hammered and the whole logic of map drawing is being renewed to quite extent.

At its' current the stage the version in development probably uses around 60% of new graphics engine and renewed tiles, but the more I keep abandoning the old code the more code replacements there need to be. Nevertheless, the outlook is settling in nicely day by day. Lately NPC redrawing was initiated. Even though the next version is not yet the major graphics update, we're already increasing NPC tile size and giving them proper perspective and two facing directions:

Redrawn NPCs, redrawn cottages: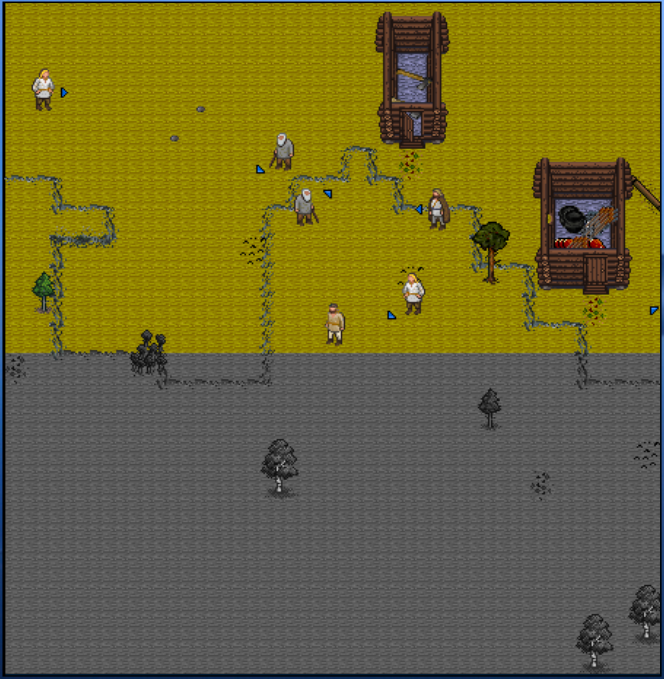 Housewife, sage and kids: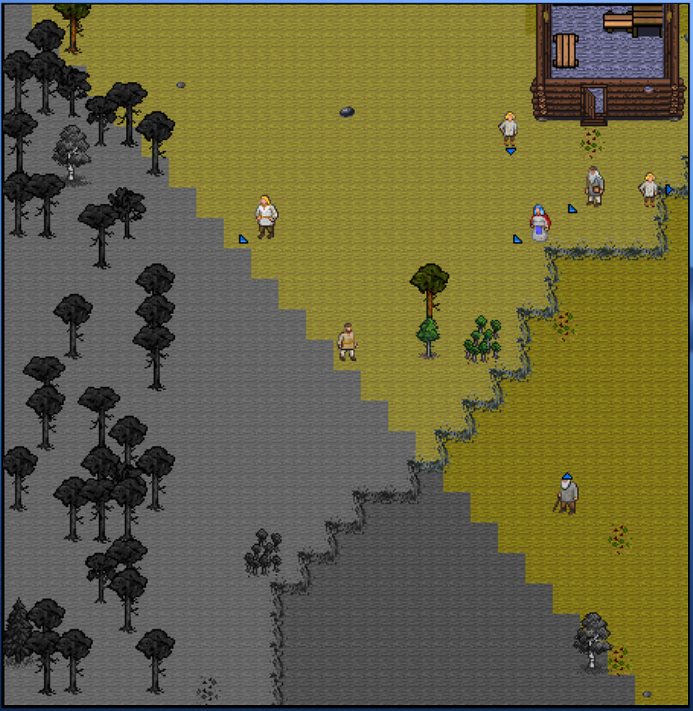 Notice pigs in the pen. Also the animals have got two facing directions now.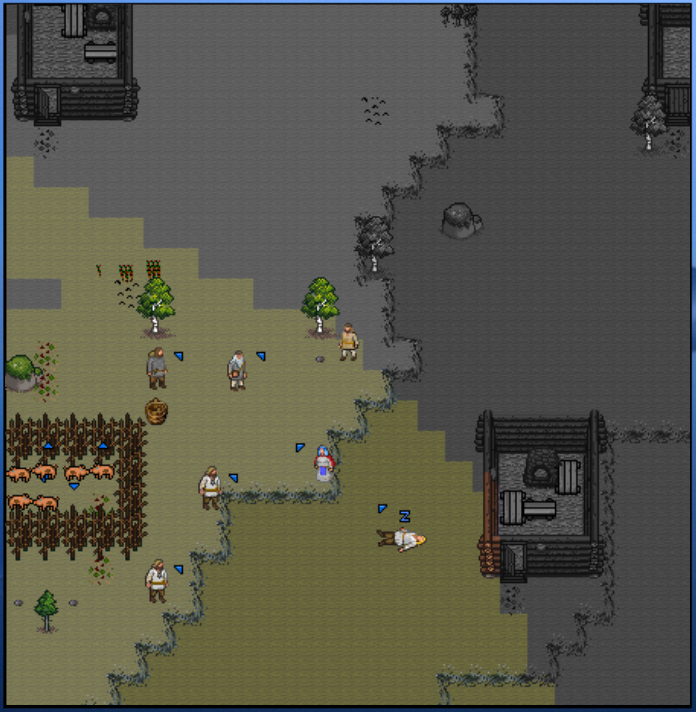 Circle Of Light -- An Eye Candy In The Darkness
It's been months since the day and night lighting cycle was featured, and back then it was left at "to-do" phase how the light sources (ie. burning fires) would interact with darkened palettes during low visibility times like winter nights. That question and how to handle it has been bugging me every now and then but now it's all sorted out and we've got a bit of eye candy in the darkness.

"It'd be pretty cool if fires and torches gave the surrounding tiles a fire-coloured tint."
That's what Stove said on the forums back then, and many agreed. Me too, as you can see in the screenshots below.

The first one is in the winter forest, and the second one in the autumn forest. It's pitch-dark night in both cases. By the way, that circle of light isn't fixed but keeps flickering too. (Now you can imagine how much more cosy it looks and feels like to sit by the fireside in your warm cottage during the darkest seasons.)

Campfire circle of light in a pitch-dark winter forest: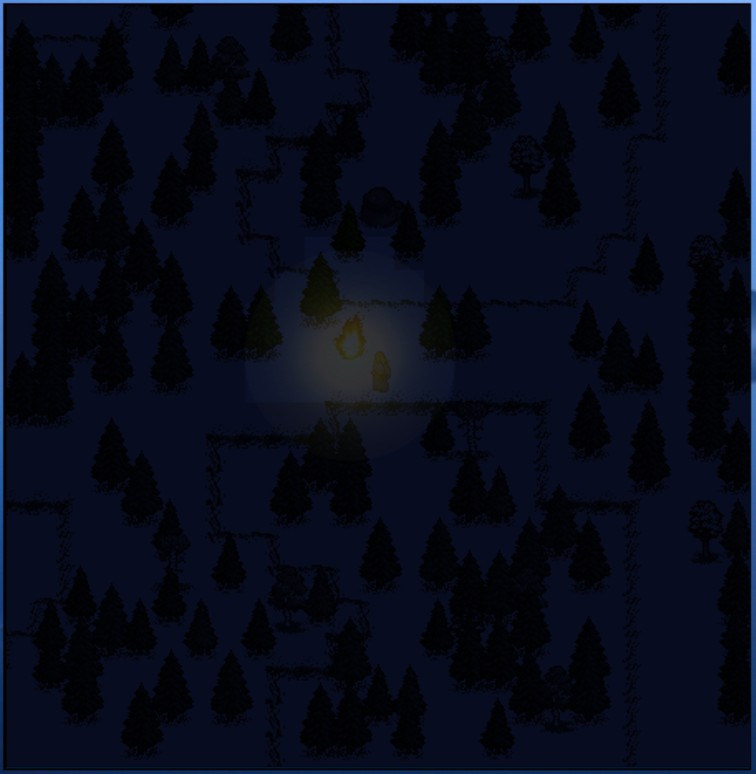 Two campfires and their circles of light in a pitch-dark autumn forest: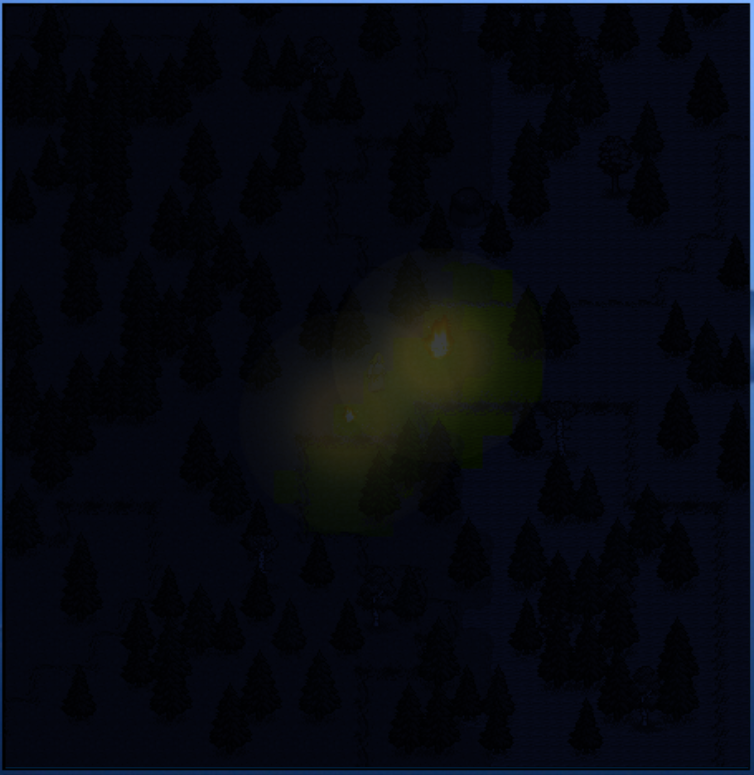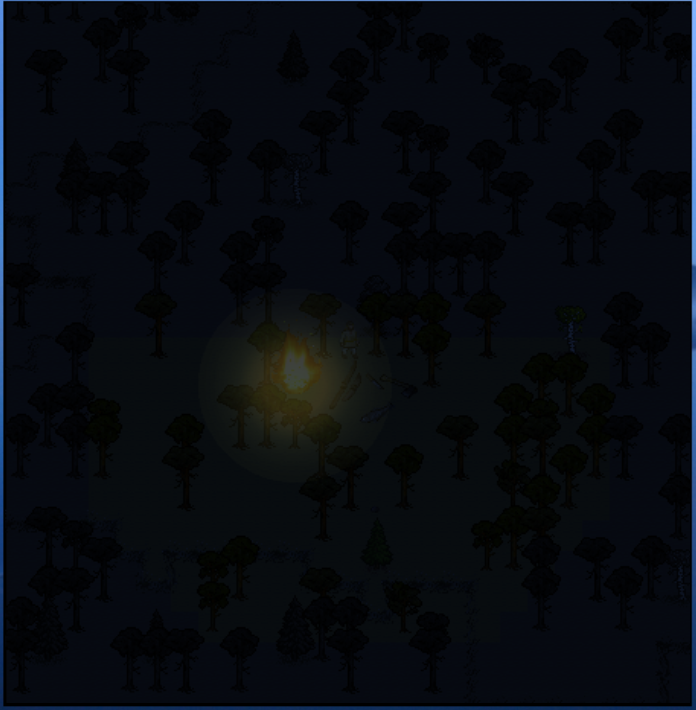 The first snow - in real world
The first snow has come turning the long dark autumn into bright white early winter.
Busy development times continue in a different color-scheme.
I want YOU to remain patient.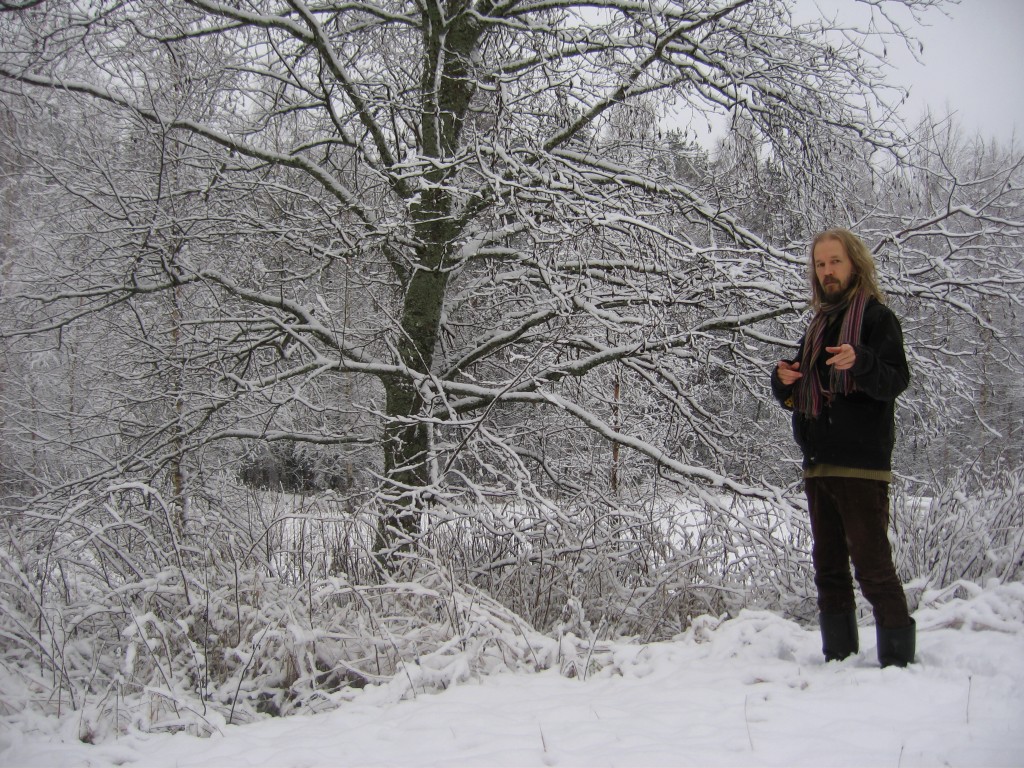 ---
UrW is being developed with your support.
This could be a good day to utilize your squirrel hides
and Donate to support UnRel World development

Thank you!
As a reward and to thank you in return, our characteristic video greetings can be downloaded after placing a donation of any sum.
Here's our latest video greeting, 'A classic':


...and our current video greeting 'Onwards', a short-movie in Kaurismäki-style,
awaits for those who are able and willing to pitch in them squirrel hides.
If you are a curious, go take a look at our previous Thank You videos at Enormous Elk YouTube Channel.
---
Stay tuned for more -- and feel welcome to join at Official Unreal World forums
for good talks and frequent tidbits about ongoing development.