Hey guys Brandon here, I'm happy to announce that Ato is going to be officially released next month!
Be sure to wish list the game on Steam and/or follow the game at itch.io
What can be expected in this release version?
Bug fixes and crash fixes
Higher Difficulties actually change some puzzles and enhance some boss attacks.
60+ Music Soundtrack will be published separately on bandcamp and sold on steam as well.
etc.
Indiegogo backers can be expected to be emailed their steamkeys and other rewards based on their pledges.
---
But enough of that, to celebrate the announcement date, if you own a windows computer, you can take part in creating your own color palettes for the main character in the game (which are unlocked upon beating the game).
Check out the video below to learn more on how you can take part: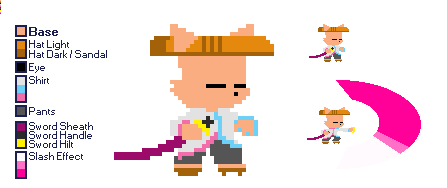 Right Click this image and click save as to download the .png image.
download Palette Generator (Pixelatedpope.itch.io)
download base image
(if you can't view the video)
1. open palette generator
2. click Add More Sprites
3. Locate Base Image
4. Hit OK
5. Hit Yes
6. Hit New (next to 'BASE') to make a new palette strip
7. Select a color, adjust it to your liking and hit apply
8. When you are done, hit EXPORT PALETTE SPRITE and send the strip image
DONE
(Can send max of 3 to me cheers!)
tinywarriordev (at) gmail (dot) com
or the discord Discordapp.com
---
Thanks for reading!
-Brandon