And that date is...
I know companies are prone to going over release dates but we're looking to be dead on for the 6th of September 2013 for final release. The game will also be on public display at an event that has yet to be announced.

The first full version will be released on the 16th of August with a demo and closed Alpha/Beta due before then too!

We also intend to support and expand the game in 2014.

A reminder of what the game is!

We're trying to recapture the fun I we had playing mad multiplayer mini-games on game consoles and bring it to Steam!
We have tried to make it simple and competitive. As it stands the game has 15 mini-games, some are unique to it while others are re-imagined or expanded versions of existing mini-games. All of the games are adversarial and range from tactical to button mashing finger breakers.

You will be able to play online, over a LAN or on a Shared Screen for up to four players, either human or bots.

Inspired by games like Mario Party, Bomberman, Micro Machines, Pokemon Stadium, Fusion Frenzy, Super Monkey Ball, Time Splitters 2 and Alien Hominid.

The games are split into three distinct areas; Destruction, Collection and Race. Each of these has several mini-games within it. In total there will be six arenas, each with its own unique look.

So what have we done this week?

Sadly not much for pictures, but behind the scenes the game is coming together. Chris, our programmer is in love with Unreal Script and pushing on with it looking set for our internal end of May deadline.

Shane has begun the remaining four arenas so by next week there should be a few early WIP screens to show you.

Until then, here's a robot sitting down.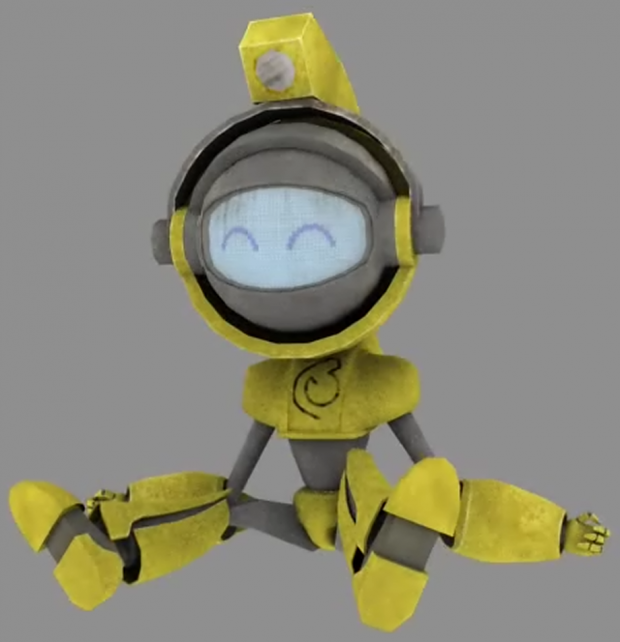 On a more social note, Johnny will be at Bit of Alright and the Wild Rumpus in London tomorrow and Saturday.
Aside from the pictures, we're still pretty early in development and I would really appreciate your feedback and support. Please track us for updates!
We have a Facebook for the company which we update regularly and a dedicated website in the works.
And of course, the people that gave us the grant to get this thing underway!