Hi guys and girls, we'd like to show you all some new stuff and give you a general update on things.
First on our agenda are the development blogs, posted weekly (sometimes more often) contain a lot of general news on the modification. The latest one features the Allied Spy in action in our latest test build. That pesky unit from Red alert could infiltrate the Soviet Ore Silos/Ore Refinery, bypassing soviet defences such as the fearsome Tesla Coil, and steal credits for the Allied war effort, it now works in-game.
Recently Two Allied units have gotten an overhaul. Alternate cameo schemes for the Allied Apache Longbow and Allied Ranger have been created, allowing players to select the scheme of their choice to suit the mission at hand.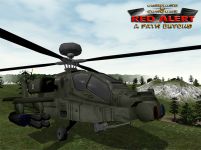 Models By Sir_Phoenixx, Textures by Aprime, Normal maps by Redfox899, Rigging by Spice, Coding/Ingame by Saberhawk
Next up we have our newest Community Contest, it's open to anyone who stumbles upon it. The winnings will be a Limited Edition APB Prizepack* (and maybe more) which will be mailed to the winner(s) once the competition closes. So check out the guidelines and rules and start submitting!
*Terms and Conditions Apply
Our beloved mod leader supreme overlord attended EA's Command & Conquer™ 3 Community Summit last week which was hosted at EA Los Angles, which you can read all about it here. He had an interesting time there and met the worlds best evil guy, the man only known as Kane (Joe Kucan) This is the third time that staff from Red Alert: A Path Beyond and it's sister-mod CnC Reborn have been invited to the community summit, and that's not including being invited to other events such as the 2003 & 2006 Leipzig Games Conventions. This means EA fully supports our modifications and they will continue to help us out where needed in the future.
That's about all, I hope to see you on the battlefield.