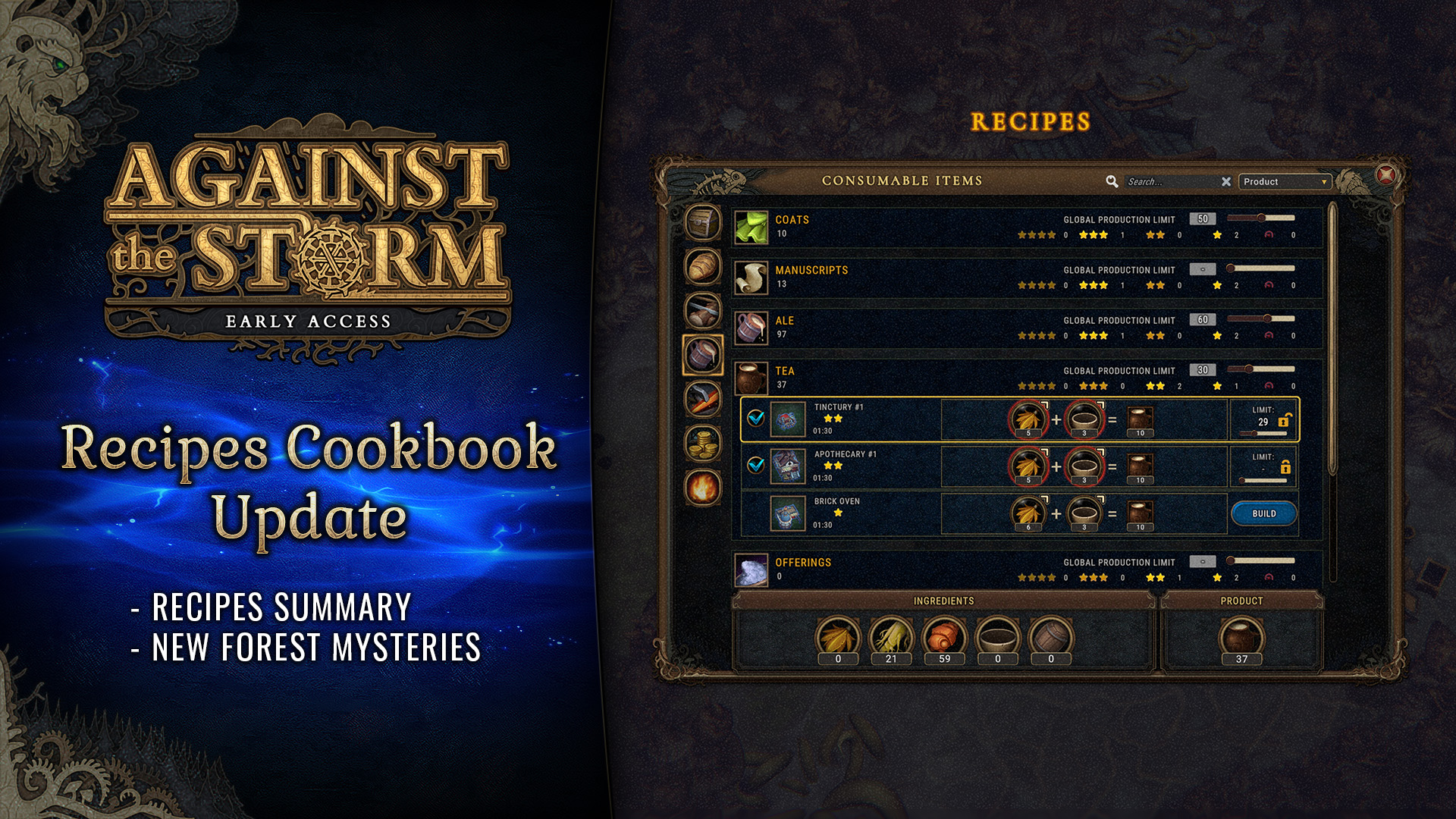 Dear Viceroys!
The 7th bi-weekly Update is now live. This time, we're introducing:
Recipes Summary window

New Forest Mysteries

And more!
DEVELOPER NOTES
With this new update, we wanted to improve how players manage production chains, as well as introduce some new content to sweeten the wait time for the big Harpy update coming in February. That being said, the two highlights of this update are a global recipe summary window and new Forest Mysteries (aka Seasonal Effects).
Let's start with one of the most requested features – the Recipe Summary Window. It's been on the table from the very start of Early Access, and it's high time we implemented it. In this panel, you will be able to see all accessible recipes, search and browse through goods and ingredients, set global production limits, and manage where something is produced (and with what ingredients). When designing this feature, we approached it more like a "control panel", and not so much a glossary with all recipes in the game (don't worry, this will come in the future when we expand and update the in-game wiki), so it only displays unlocked and available recipes. The Recipe Summary is a difficult topic, as recipes in Against the Storm can be pretty complex at times, so this version is by no means final and will still require further iteration. Please feel free to share your impressions and feedback on our Discord channel and through the new suggestion board, so we can improve this feature.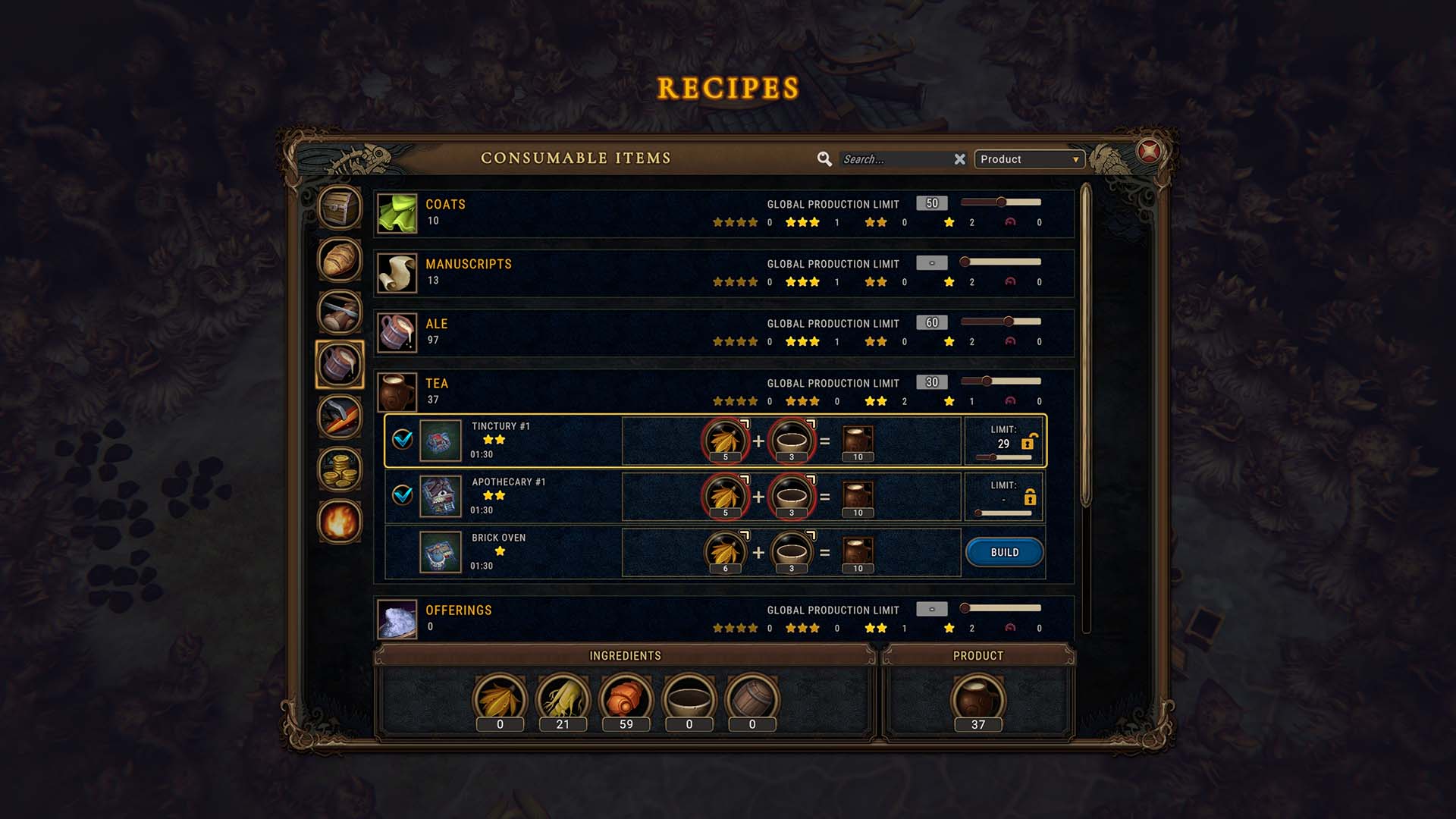 Recipes Summary
Last but not least – the new Forest Mysteries. We added 25 unique new effects to the already existing pool of 35, making it a nice round number of 60 in total. Our approach this time was to create new challenges that would not rely on the species' need system, but instead make use of some more interesting mechanics and logics that were introduced with daily modifiers or in the latest updates to perks. We feel that the old Seasonal Effects based on needs still have their place in the game, but they are not as game-defining as we hoped when we first introduced them. Some examples of the new Forest Mysteries would be: lightning destroying buildings in the Storm, paying Sparkdew to avoid a penalty, getting a unique farm recipe only in Drizzle, or turning dead villagers into Blightrot during the Storm.
We wish you a great time with the new update. Let us know what you think about the new changes on Discord and Reddit.
HARPIES SNEAK PEEK
In the meantime, our team puts their all into the work on the Harpies Update. Now, we've got yet another sneak peek for you (visit Quality of Life Update 2 notes if you've missed the buildings' concept art). Here's one of the Harpies buildings in-game: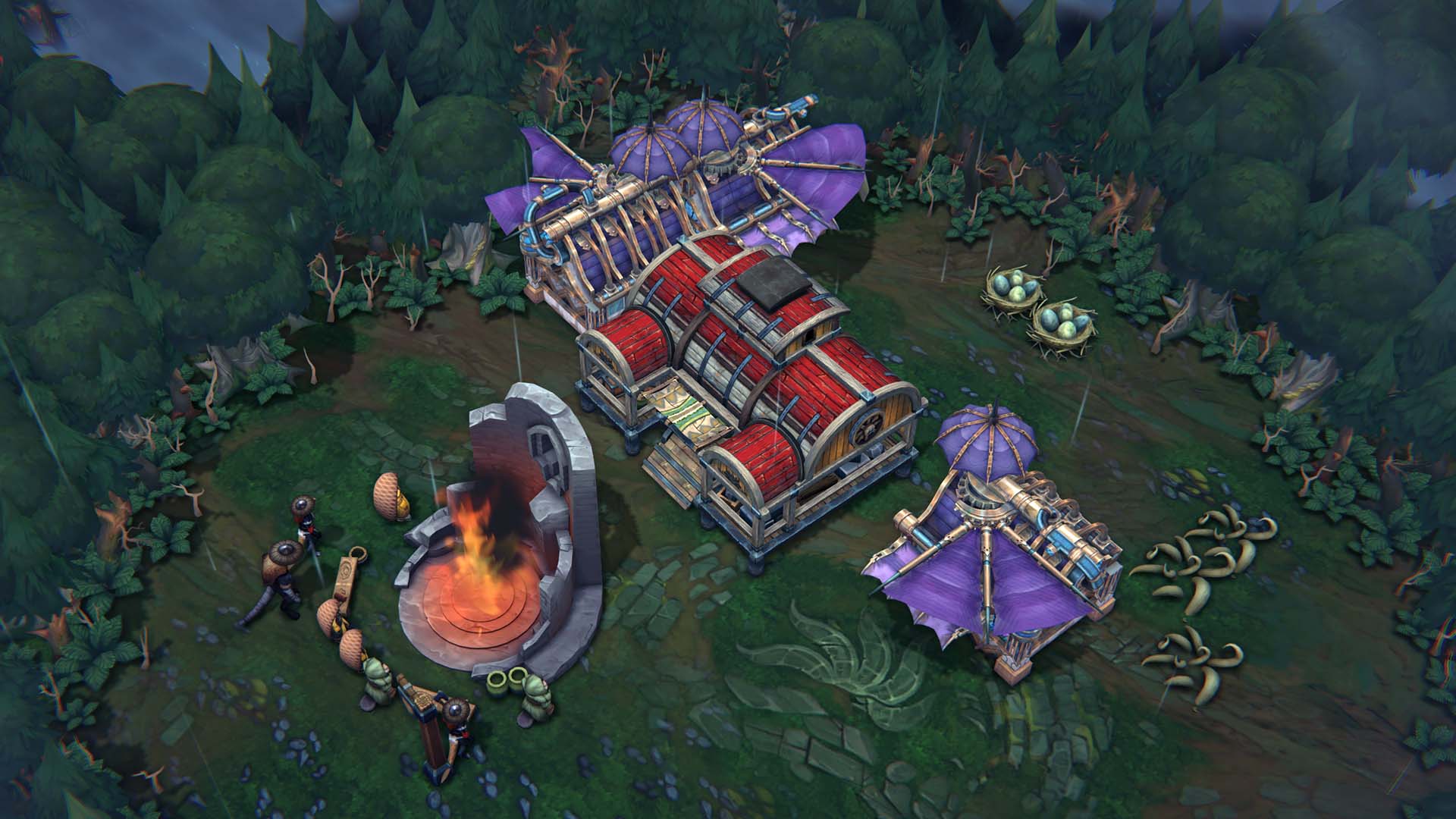 Harpies Building
We aim to release the Harpies Update sometime in February, so keep your eyes open for upcoming news!
WHAT ARE FOREST MYSTERIES?
If you know how the Hostility of the Forest and the Forest Mysteries work, click here to skip this section.
One recurring piece of feedback is that the tutorial is missing some steps and explanations of certain systems. We are aware of it and guarantee it will be improved in the future. Updating the scripted tutorial in a constantly changing Early Access environment is a Sisyphean labor. But you can take it for granted that we will expand the tutorial at some point in the future. In the meantime, we'll cover some of the requested topics in Update notes and in the in-game Help menu.
Hostility of the Forest
The Hostility of the Forest reflects the intensity at which the forest fights back against your expansion.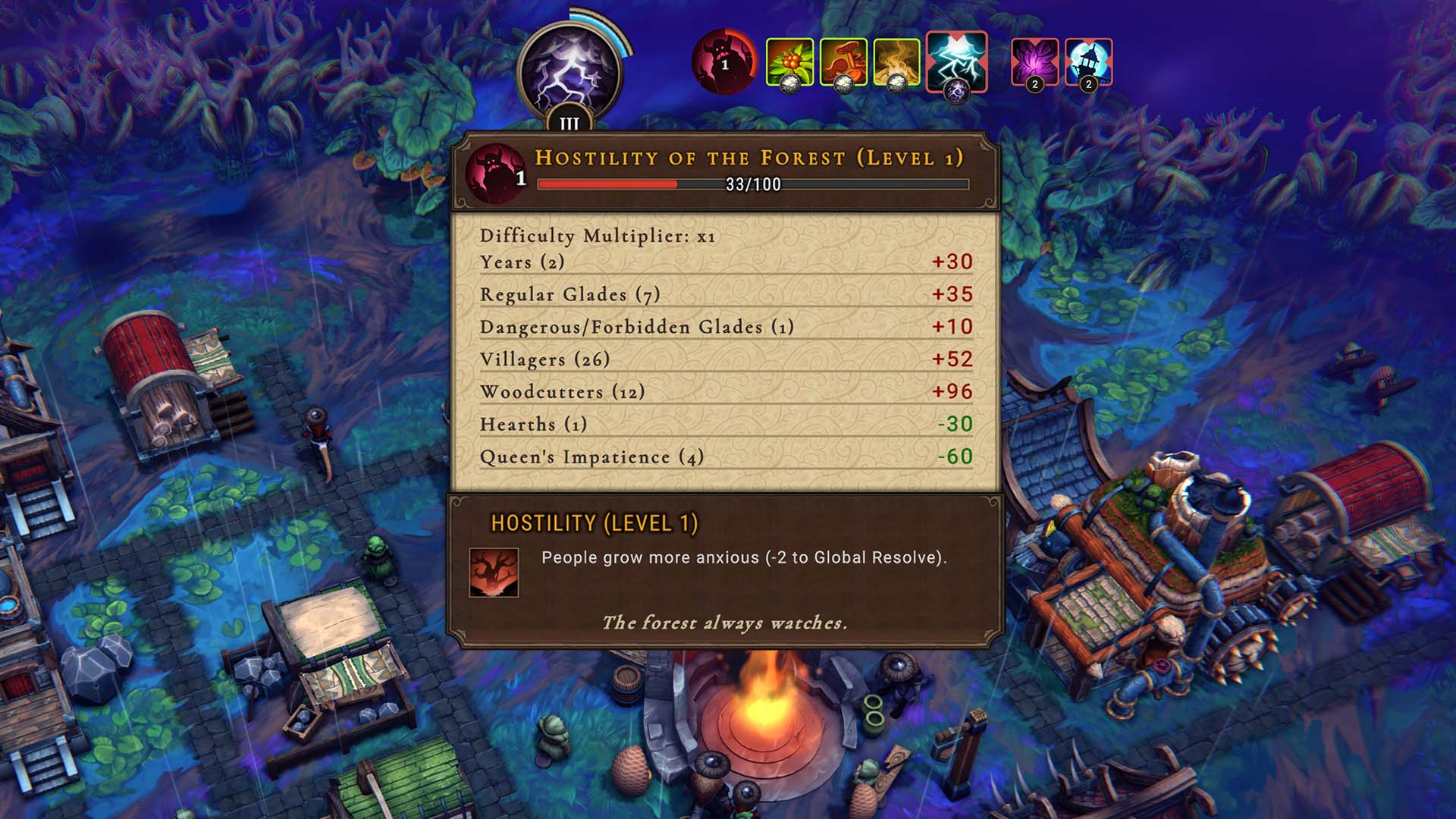 Hostility of the Forest Summary
There are multiple factors that anger the forest and increase the Hostility level:
Number of glades opened
Number of years passed
Number of Villagers
Number of Woodcutters
Difficulty level (multiplier)
But there are also factors that decrease the Hostility, such as:
The number of Hearths
Queen's Impatience
Each factor adds or subtracts Hostility points. The Hostility of the Forest level increases every 100 points. Your current level activates or deactivates certain Forest Mysteries.
Forest Mysteries
You start each game with a unique set of different Seasonal Effects (called Forest Mysteries). These are special conditions that modify how the game is played. There are two types of effects: positive and negative. The negative ones will be active during the Storm, and the positive ones only in Drizzle. These can be anything from "gain 5 Amber each year" to "villagers without Coats will have a 40% chance of dying during the Storm".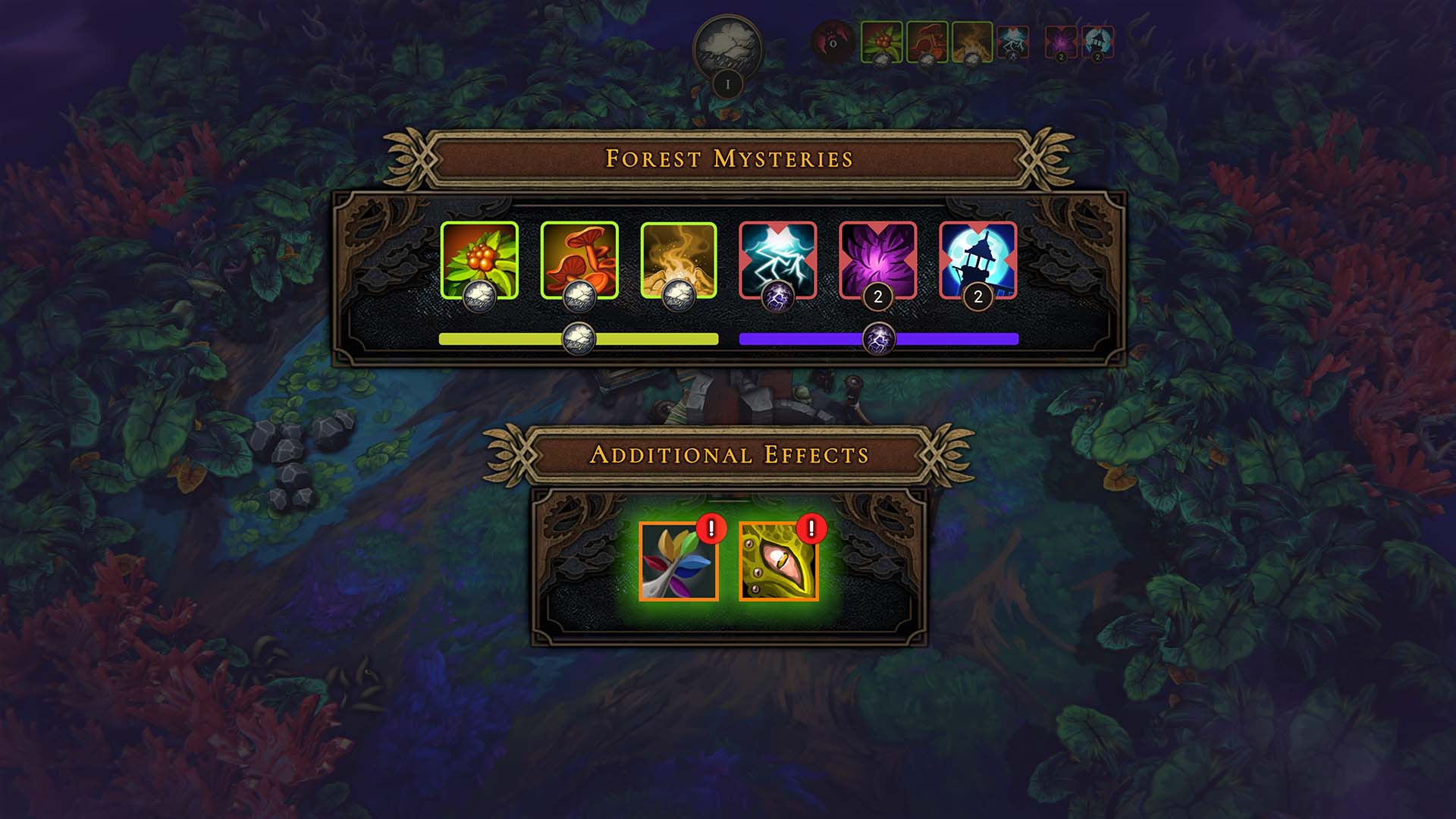 Forest Mysteries Panel
Some Forest Mysteries are active from the start of a game and some only activate upon reaching a certain Hostility of the Forest level. Additionally, some Forest Mysteries' effects scale every year or every Hostility level.
When selecting a new region for your settlement in the World Map layer, you can see the number of positive and negative Forest Mysteries that are randomly drawn on the map.
The generated Mysteries appear at the beginning of each game and are later displayed in the top panel.
COMMUNITY TRANSLATIONS
Recently, we also added the first community translations to the public version of the game. We can't express how much we're grateful to Poge, who single-handedly localized the entire game to Japanese. You're amazing!
We were always open to community translations, so if you'd like to participate and localize (or co-localize) Against the Storm to your native language, please join our Discord and let us know in #translations-general channel.
CHANGELOG
You can read the full list of changes here: Eremitegames.com
Please make sure to update the game! Also, you can always track the progress of reported issues on our Public Bug Tracker.
SUGGESTIONS TOOL
If you want to request new features or suggest changes to the existing ones, please use our new suggestions tool.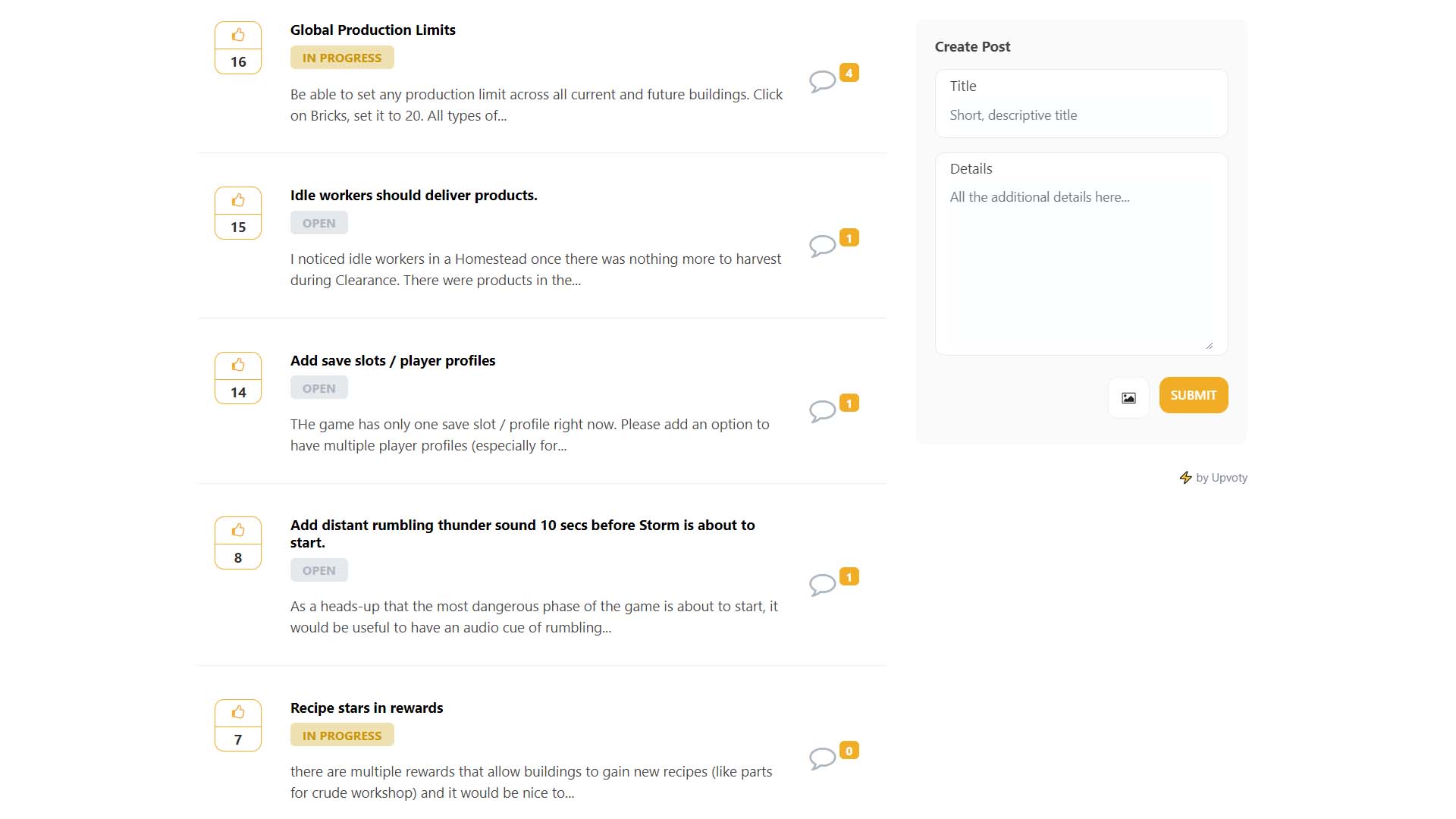 Suggestions Tool
Posting suggestions is easy:
Login or use anonymously
Make sure your suggestion hasn't been posted already
Start typing in the Create Post panel on the right
Submit
Make sure to vote on other players' ideas as well to help us identify their priority. We treat it as the main source of information for the purpose of planning new content.
Please continue to report bugs via the in-game Reporting Tool or on our Discord and Reddit.
SHOW YOUR SUPPORT
If you want to help us grow the Against the Storm community, there are a few things you can do:
Truth be told, we appreciate all kinds of support. Be it feedback, words of encouragement, or casual activity on Discord. It helps a lot and we're very much grateful!
Now, enjoy the new update and let us know what you think!
May the storm be gentle on you,
Eremite Games team
Current Early Access version: 0.16.3R