Every sandbox location now generates random caves for you to explore. Inside you will find new dangerous enemies and sweet loot guarded by them.

Currently random caves consist of three tiers, the deeper you go, the more powerful monsters you will encounter and the more valuable treasures you will find. To make caves prettier and easier to navigate we've added glowing crystals and mushrooms that light up surroundings.

To make getting out of caves easier we've made a big change - now you can travel from anywhere, you no longer need to reach edge of location or find a signpost to do so. We have also improved Mining profession, previously it only increased damage you do to blocks but now it will also increase the mining speed.

Please bear in mind that caves won't generate in locations you've visited before this update.




In caves you will encounter two new creatures: Cave Kobolds and Mole Rats.

Cave Kobolds are stronger and nastier cousins of usual Kobolds. Similar to their weaker counterparts they use hit-and-run tactics but with one major difference: instead of trying to hit you from up-close they are throwing their daggers from distance, which makes them much harder to defeat.




Similar to Cave Kobolds, the Mole Rats are more difficult variant of Giant Rats. Their special ability is that they will run away and regenerate when they are hurt. When you encounter one Mole Rat this ability may not appear that powerful but when need to fight several of them, then you could be easily overwhelmed.




Three new Blacksmithing materials have been added: Mithril, Cobalt and Thorium. Mithril and Cobalt ores can be found deep in caves, while Thorium is an alloy of Mithril and Cobalt, similar to how Tin and Copper together make Bronze.

With each material you will be able to craft new and more powerful tools, weapons and armors.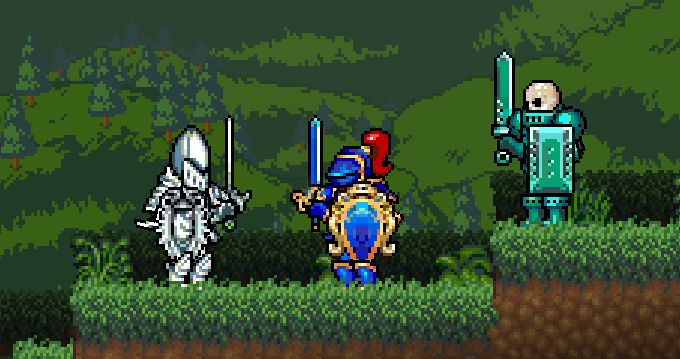 We've overhauled color palettes for each race and streamlined character customization. Now color options for each category will only show if your character is actually using them, for example you won't see hair color if your character is bald.

Our goal was to make sure that each character created when you hit Randomize button will look good, which wasn't usually the case before. This overhaul will not only make creating new characters easier and more fun but will also make NPCs you encounter in your adventures look better, as majority of them have randomly generated appearance.

This feature will most likely make your character look slightly different, if you are not happy with new colors then please remember than you can visit the Witch in the top-right corner of the map to change your appearance.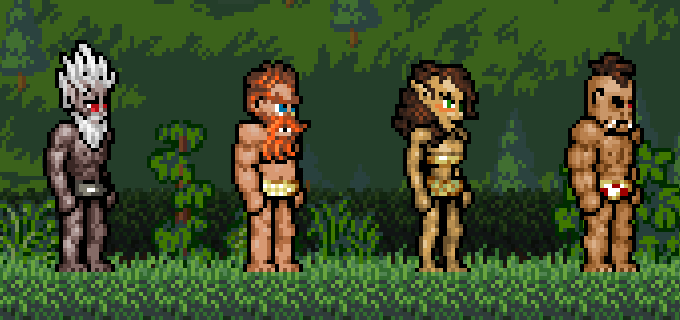 Very simple, yet extremely useful minor feature. Now when you look at piece of equipment, right next to it you will see item you have currently equipped in the same slot, which makes deciding if new item is an upgrade much easier.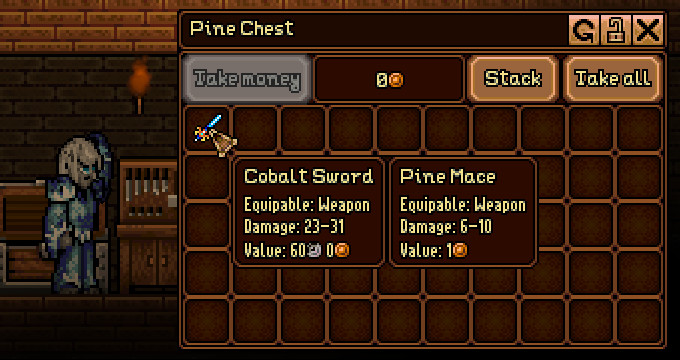 Player now spawns in Woodbury when starting a new game
Starting location was removed
You can now travel from anywhere if there are no enemies nearby
Smelting now always require only one ore
Mining profession now increases mining speed
Added new stone types
Rebalanced items craft times
Rebalanced item values
Imps now implode on death
Fixed dozens of spelling mistakes
Changed salt sprite to look more different from ores
Tutorial dungeon now shows step for potion bar
Fixed bug that caused ESC button to not close Backpack after trading
Fixed bug that made building rotated blocks difficult
Mouse scroll now works in sleep window
Journal now opens on the last page instead of first
Fixed bug that caused game logo to not display properly in title and loading screens
Clicking on save name in the save window now clears text inside
Scrolling now works on whole window instead of scroll area
Removed smooth camera option
Fixed bug that sometimes caused characters to not display in load save window
Clicking with item anywhere in character window will equip it


Along with new update we've released new Realms of Magic Trailer.


We think that Radikal Studio made an amazing job creating it, what do you think?




This update is a big milestone for us as it will be the last one in Early Access. With the next update, the glorious 1.0, we will be releasing Realms of Magic as a complete game in Spring 2020. More information on update 1.0 is coming soon, all I can say for now is that 1.0 will be much, much bigger than we initially announced. Stay tuned!

Yours Truly,
Polished Games Team