Players will still choose their desired path to completing the game - well, that's if the player is good enough to finish. However, that route can be one of least resistance, one riddled with side quests or anything in between.

Our story is simple:
The 9th Wizard was overcome by greed when he stole all nine rings of this realm to construct his own counter reality. He strategically took refuge underground within the Terra Gnome Caverns, knowing well enough the remaining eight wizards would have immense difficulty in their pursuit of him.
As stated in the above description, the game takes place in the "Terra Gnome Caverns", a cave system developed by the illusive Terra Gnomes. This is our clever way of adding a twist to the labyrinth-like commonplace of the dungeon-crawl while preserving it's mysterious but deadly feel. The Terra Gnomes are a race of land gnomes whom rarely interact with the above inhabitants. They sustain themselves with whatever they discover underground and barter with other underground gnome societies. Their caverns run deep and reflect the complexity of their rapidly growing societies.
The below illustration represents an ordinary Terra Gnome miner - one of our favorites. Every miner has a canary friend. Wild canaries are hard to tame but once trust is establish those little birds can protect their master's life in more ways than may be known.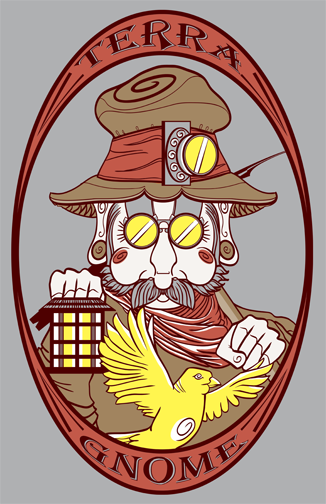 The world of the terra gnomes have been shaken with the arrival of the 9th wizard as he bends and morphs their home to his liking. Though the Terra Gnome are a resilient race of creatures, the 9th Wizard is difficult to overcome. He has turned their work dogs into his protector minions, raised the dead from the underground burial grounds, and much much more to suit his visionary realm. It's up to the remaining eight wizards to navigate through the subterranean world, stop their rogue colleague, and restore the caverns to the Terra Gnome people.